by
posted on April 27, 2021
Support NRA American Hunter
DONATE
A few years ago the Department of Defense (DOD) called upon the private sector to develop a caliber somewhere between the .223 Rem. and the .308 Win. that could: 1) fit in an AR-15's small receiver; 2) be effective beyond 1,000 yards from an 18-inch barrel; and 3) allow magazine capacity comparable to the AR-15, yet exhibit significant weight reduction over the .308. The DOD also wanted minimal recoil.
From Hornady's commercial perspective, it felt it could build on its technology from the 6.5 Creedmoor project and piggyback off that round's success to create a ballistically superior cartridge optimized for America's rifle, the AR-15; it would feature long-range capability in terms of energy, accuracy and wind drift; if Hornady was going to invest the money, it also wanted the resulting cartridge to be a capable hunting load for deer-sized game to 500 yards or more—varmints to 1,000-plus. And so the 6mm Advanced Rifle Cartridge (ARC) was created.


It's a short, fat, PPC-looking round that's very deceiving for the power it actually contains. In a nutshell, Hornady took a 6.5 Grendel case, necked it down to .243 (6mm) diameter and moved the 30-degree shoulder back .030 inch so the company's long, ultra-high ballistic coefficient (BC) ELD bullets could be seated as shallow as possible and yet still remain under the AR-15's max overall length of 2.260 inches. Hornady blended powders and experimented with charges and bullet weights until engineers smiled. From an 18-inch test barrel, the 6mm ARC launched a 108-grain ELD Match bullet at 2750 fps for 1,880 ft.-lbs. of energy at the muzzle.
But doesn't the 6.5 Grendel, with its heavier bullet but lower velocity, or even the .224 Valkyrie, with its smaller, faster bullet, accomplish the same thing from an AR-15? And what about the venerable .243 Win.? Is Hornady splitting hairs? Is this a marketing ploy?
Well, certainly these cartridges are close, just as so many are nowadays. For the guy shooting 200 to 300 yards, the ARC lends a bigger .244-caliber bullet selection over the Grendel. For the guy shooting beyond 300, there's a distinct advantage in wind deflection. As for the .224 Valkyrie, in some states you can't legally hunt big game with a .22-caliber; 6mm (.244) is the minimum. As for .243 Win., you are not going to hear me arguing in favor of any Johnny-come-lately over the .243 or 6mm Rem.—except when it comes to performance from a short-barreled AR-15.
All told, the 6mm ARC sends a 108-grain, .536 BC bullet that's still going 1440 fps at 1,000 yards for 500 ft.-lbs. energy with 320 inches of drop and a mere 75 inches of drift in a 10-mph, 90-degree wind. Compare that to a 73-grain ELD bullet from a .556 going 2700 fps resulting in just 157 ft.-lbs. energy at 1,000 yards with 393 inches of drop and 111 inches of drift. As for recoil, the ARC produces 9.9 ft.-lbs. from a 6.8-pound rifle. That's slightly less than a .243 Win.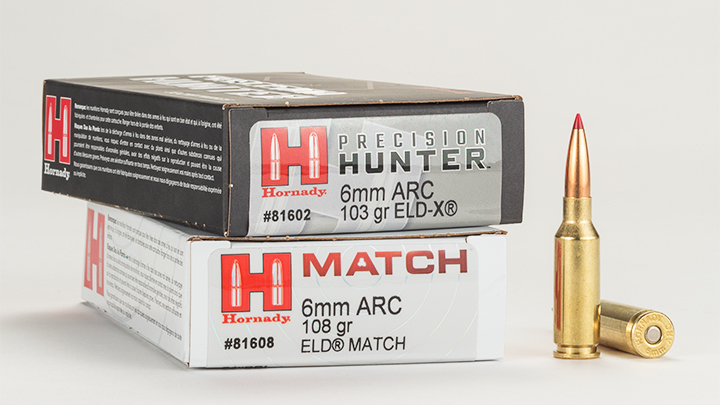 But this, too, is all on paper. I recently received CMMG's Resolute 200 Mk4 carbine chambered in 6mm ARC for real-world testing, and here's what I found:
Currently a couple dozen companies, including Adams Arms, APF Armory, Barrett, Brownells, Christensen, CMC Triggers, CMMG, GAP, Geissele, Howa, Lantac, Mile High Shooting Accessories, Mossberg, NEMO, Noveske, Odin Works, Proof, Radical Firearms, Ruger, San Tan Tactical, Seekins Precision, Uintah Precision and Wilson Combat chamber rifles in the 6mm ARC, but I chose CMMG's Resolute 200 for its features, accuracy and modest price. But why this particular AR-15 has become my favorite for deer, hog, coyote and prairie dog hunting is because it's chambered in 6mm ARC.
You see, I've plugged passels of pigs with a .223, and I'm ashamed to say I've also wounded more than several with it as well. Fact is, the .223 Rem. is too light and not ideal for big boars (watch my BullShooters w/Jeff video to see real-world testing); and it stinks for deer much past 100 yards, or anytime shot placement is less than stellar. Same goes for the .300 Blackout. A semi-auto 6.5 Creedmoor is perfect, as are a host of other calibers. The ARC gives me .243-type ballistics from a true AR-15—a gun I can easily suppress, mount a night-vision optic atop and take varmint hunting, yet be adequately powered if a 250-pound pig pokes its snout from the brush at 400 yards. I even let my 8-year-old nephew shoot it, because the AR—with its collapsible stock, suppressor and cool factor—quickly vaulted me to hero status afterward.
One evening as the sun dipped low, I saw a giant boar rooting my pasture, so I slipped to 160 yards and aimed just behind the shoulder. It ran about 70 yards before piling up. An autopsy revealed a complete double-lung pass-through, great performance considering the boar weighed 276 pounds. I later shot the dead boar again with a full-power .300 Blackout at 100 yards as a test, and it didn't pass through.
At the bench, the 108-grain load averaged 2633 fps from the Resolute's 16-inch, 1:7.5-twist barrel. Accuracy-wise, the CMMG consistently shot sub-inch groups for the first three shots then began stringing them vertically if I really piled on the trigger. Consequently, this suppressed, semi-automatic rifle chambered in 6mm ARC has become my go-to gun for riding around the ranch.
But do I think the 6mm ARC is the end-all caliber? No, because I love to see any and all small arms innovation, and I'm sure something will follow. (At the time of this writing, Winchester just launched the 6.8 Western, although it is intended for bolt guns.) Would I buy the ARC if I already had a Grendel? Maybe, maybe not, depending whether it becomes popular enough that a decent selection of loads can be readily found. I do, however, think it's the best all-around cartridge for the AR-15 to date; better than the .223, Grendel, 6.8 SPC and .300 Blackout. But even if it doesn't catch on, I commend Hornady for rising to the challenge. Options are a good thing, and so is American innovation. 


Technical Specifications
• Caliber: 6mm/.244
• Action Length: micro (bolt-action)/AR-15
• Bullet: 103-gr. ELD-X Precision Hunter; 105-gr. BTHP, 108-gr. ELD Match
• Ballistic Coefficient: .512 (ELD-X Precision Hunter); .536 (ELD Match)
• Muzzle Velocity (adv. fps): 2800 103-gr., 2750 108-gr.
• Muzzle Energy (adv ft.-lbs.): 1,793 103-gr., 1,813 108-gr.
• Uses: varmints, deer, hogs
• MSRP: $34.99 per 20-rnd. box; hornady.com