by
posted on October 22, 2020
Support NRA American Hunter
DONATE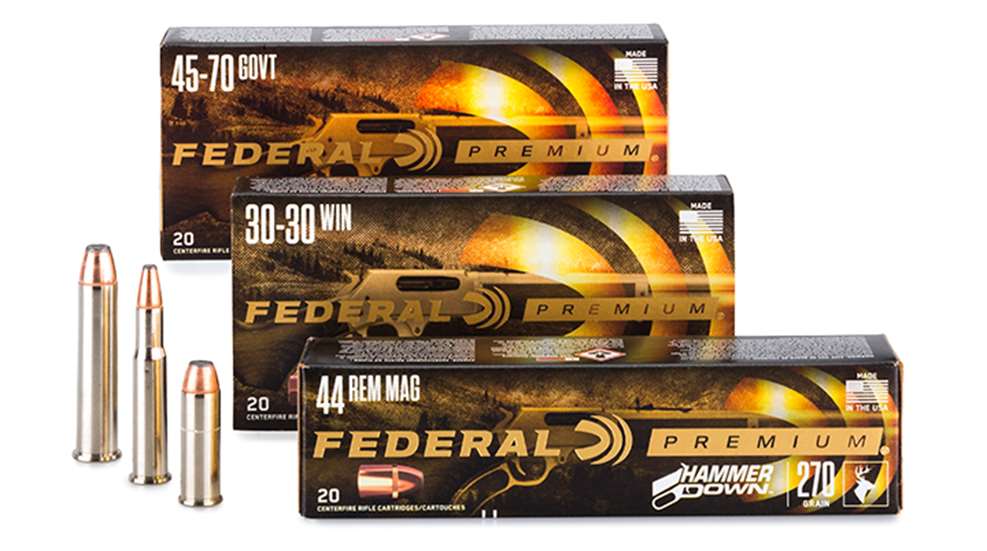 Regardless of the current fascination with cartridges and ammunition that allow hunters to shoot from ridgeline to ridgeline, there's still a lot of hunters who have no need for that kind of reach. During the last several years there's been a race to extend the distance, and ammunition manufacturers seem to have ignored those who hunt the thickets and hardwoods, or those who like to stalk up on deer and elk instead of lobbing bullets at them. Federal was not one of those companies; its new-for-2020 HammerDown line of ammunition was expressly created for the lever-action hunter.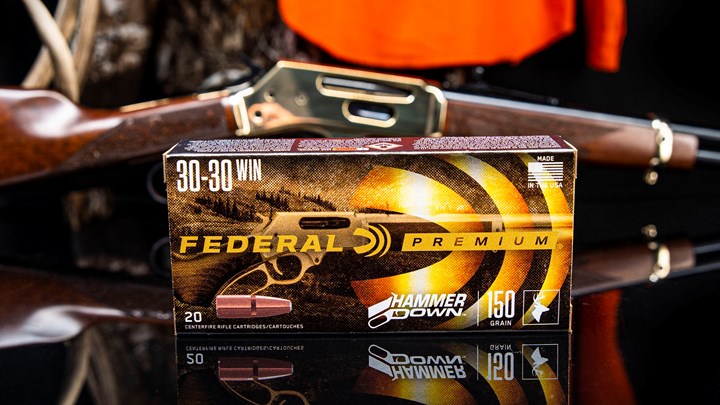 Federal's goal with HammerDown was to create a line of precisely tuned loads for cartridges commonly chambered in lever-action rifles. They focused on cycling/reliability, velocity, accuracy and terminal performance, in order to offer an ultimately comprehensive line of woods-ready cartridges, designed to maximize the effectiveness of what many consider America's most iconic rifles. Interestingly, the HammerDown line came about due to a collaboration with Federal and America's most prolific manufacturer of lever-action rifles: Henry Repeating Arms.
Initially, Henry reached out to Federal about a different project, but as those discussions progressed, both realized they wanted to do something on a larger scale. The close proximity of Federal in Anoka, Minn., to Henry at Rice Lake, Wis. allowed for an ease of collaboration in order to create what both now consider the best possible factory ammunition for those who hunt medium to large game with lever guns.
Does HammerDown live up to the hype? Obviously, the best test of any hunting ammunition is conducted in the field and on game. Short of that, there are other tests that, while they might not be definitive, do provide an indication with regard to what an ammunition is capable of. Those things include velocity verification with a chronograph, precision testing on targets, reliability assessments made on the range and terminal performance evaluations in various test mediums.
With the chronograph testing there were no surprises or disappointments. Velocities were about what you would expect from 16- to 18-inch barrels, with all three loads consistently registering within 100 fps of what's advertised. What was moderately surprising was the precision the three tested loads delivered. All averaged less than an inch for five, three-shot groups. Granted, the precision testing was conducted at 50 instead of 100 yards, however, it was done with open sights. Linearly speaking, this means the ammunition is capable of hitting a 4-inch target out to 200 yards, which is about the reasonable limit for most traditional lever-gun cartridges.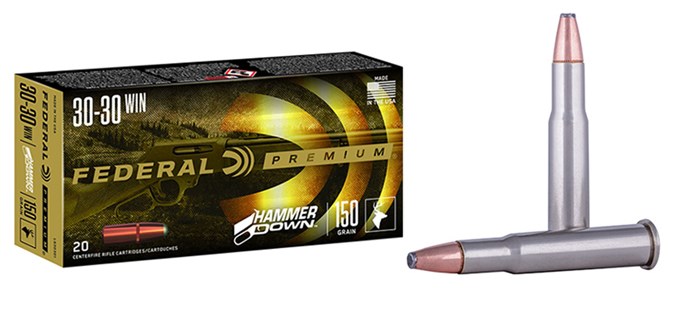 Reliability of course is critical; ammunition that will not feed and function is worthless, no matter how consistent it shoots. The .30-30 HammerDown load was tested in a new Marlin 336 Dark with a 16.5-inch barrel, and the .45-70 load in a first-year Marlin 1895SBL with a 16.5-inch barrel. The .44 Magnum load was tested in a new Ruger 77/44 with an 18.5-inch barrel, just to see if the HammerDown ammo had bolt-action compatibility as well. In all, 80-rounds of each load were fired. There were no stoppages or malfunctions, and cartridges loaded and fed through all three rifles with ease.
The corrosion-resistant nickel cases—standard with every HammerDown load—no doubt contributed to the smooth cycling, but HammerDown cartridges are also easier to load in lever-action rifles. This is because there's a modification to the front edge of the cartridge rim. Federal slightly bevels this edge to make cartridges easier to slide through the loading gate. It's a brilliant enhancement for ammunition intended for lever-action rifles, one of the features that sets HammerDown apart from conventional offerings, and it alone serves as justification for HammerDown to be considered a lever-action-specific line of ammunition.
The key to terminal performance is the bullet, and the bullets Federal is loading in the HammerDown line have been optimized for each individual cartridge. Three currently available HammerDown loads were tested in Clear Ballistics' gelatin blocks to assess wounding/killing potential. The standout was the 150-grain .30-30 load; the bullet deformed with a frontal diameter twice as wide as caliber and penetrated to a brag-worthy 24 inches. The 300-grain .45-70 Government and 270-grain .44 Magnum loads expanded to about 1.75 times bullet diameter and pushed to 22 inches. Bonding is key to this level of performance at such—by modern day standards—low velocities.
Bonding is typically most helpful at holding high-velocity rifle bullets together after impact. But by combining the technology Speer uses with its bonded Gold Dot defensive handgun bullets with what the company has learned building its bonded Fusion line of ammunition, Federal engineered the bonded HammerDown bullets to work exceptionally well at velocities generated by traditional lever-action cartridges. Here's the thing: Because of the bonding, HammerDown bullets deform with large frontal diameters while retaining nearly all their weight. This allows the bullets to damage larger volumes of tissue and still penetrate deeply. It also serves as a safety mechanism—if the bullet hits bone—by preventing fragmentation and core/jacket separation.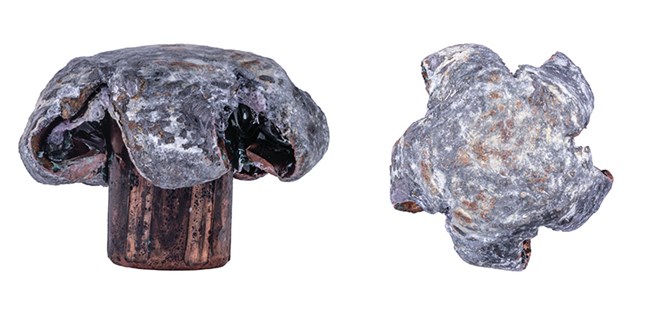 HammerDown ammunition is not just a collection of current Federal loads that have been repackaged to appeal to those who like traditional lever guns. It is a proprietary creation that's been ideally adapted to feed, cycle and function in lever-action rifles while also delivering the best level of terminal performance for hunting that can be extracted from each cartridge. For example, with HammerDown revolver cartridge loads—like the .44 Magnum and others that are soon to be released—the heavy-for-caliber bullets have been structured to withstand the 300 to 600 fps faster velocities that will be achieved when fired from a rifle; the bullets used in conventional revolver ammunition generally fragment at rifle velocities. Additionally, HammerDown loads should still show useful expansion when fired from a revolver.
In defiance of high-tech, high-velocity, long-range cartridges and precision bolt-action rifles, lever guns continue to remain popular for one simple reason: they work. With HammerDown ammo, it looks like they can now work even better, especially those chambered for revolver cartridges.
Federal will be expanding the HammerDown line. In addition to the .30-30 Winchester, .44 Magnum and .45-70 Government loads that were tested, the company will add .327 Federal Magnum, .357 Magnum, .45 Colt and .35 Remington to the mix. If those loads perform as well as those tested, HammerDown could be the best general-purpose, big-game lever-gun ammunition you can buy. Suggested retail prices for a box of 20 rounds ranges from $24.99 (.357) to $50.99 (.45-70). 


Technical Specifications
• Caliber: .30-30 Win. (150-gr.); .45-70 Govt. (300-gr.); .44 Mag. (270-gr.); .327 Fed. Mag. (127-gr.); .357 Mag. (170-gr.); .45 Colt (250-gr.)
• Bullet: bonded soft-core or bonded hollow-point
• Ballistic Coefficient (G1): .268 (.30-30 Win.); .290 (.45-70 Govt.); .193 (.44 Mag.); .195 (.327 Fed. Mag.); .185 (.357 Mag.); .165 (.45 Colt)
• Muzzle Velocity (adv. fps): 2390 (.30-30 Win.); 1815 (.45-70 Govt.); 1715 (.44 Mag.); 1650 (.327 Fed. Mag.); 1240 (.357 Mag.); 1400 (.45 Colt)
• Muzzle Energy (adv. ft.-lbs.): 1,902 (.30-30 Win.); 2,280 (.45-70 Govt.); 1,763 (.44 Mag.); 768 (.327 Fed. Mag.); 580 (.357 Mag.); 1,088 (.45 Colt)
• Uses: medium big game
• MSRP: $24.99-$50.99 (per 20-rnd. box); federalpremium.com