by
posted on August 9, 2018
Support NRA American Hunter
DONATE
Light makes right in the optical world, and that's a conundrum. The Cabela's Instinct Euro HD 8x32mm binocular by Meopta can help solve it.
The "light" dilemma is inherent in the two definitions of that word. When it refers to mass, less is better. Who wants a 3-pound binocular hanging round his neck? But when light refers to illumination, more is better. No one wants a dim binocular. Unfortunately the same instrument can't optimize both, but this 8x32mm Instinct comes close.
A bright and light binocular is always a compromise. Larger objective lenses let more light in, but higher magnification lets less out. In low light when your pupils are dilated to 7mm, the 4mm exit pupils of this compact 8x32mm cost you some light. To get all the brightness you could use at 8X would require a massive 56mm objective. Do you want to put up with that much bulk and mass from sunrise to sunset just to gain the extra five minutes of brighter viewing at dawn and dusk?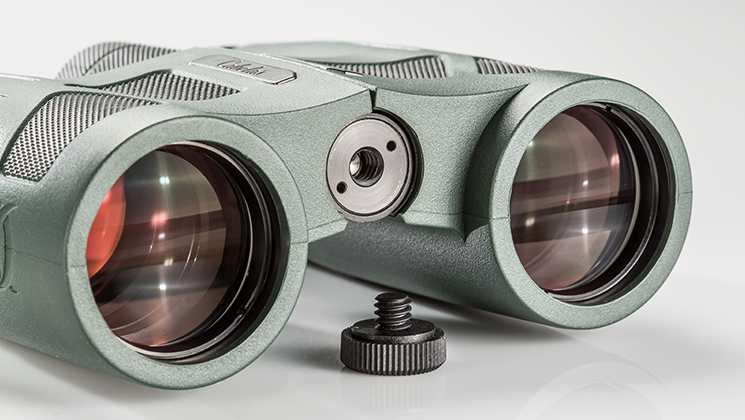 For me the answer is no, especially when I can glass with a binocular as sharp, high contrast and bright as this Cabela's Instinct. An hour after sunset, under a full moon, this 8x32 revealed four moons around Jupiter. It showed me texture in rocks and boulders 80 yards away, trees and buildings 400 yards away. I could see individual yellow grass stems at 85 yards. If a deer had been there, I'd have clearly seen it. How can this happen with a binocular many think is way too small for anything but full daylight use?
My educated guess is Meopta engineers, at the request of Cabela's, built this 8x32 with the highest quality parts, coatings and manufacturing tolerances. Meopta has been in business since 1933 and builds a wide variety of high-quality binoculars, riflescopes and spotting scopes for many other, well-known optics brands. Cabela's has been branding Meopta optics for many years, and this 8x32 might be its smartest selection yet.
This little Instinct is essentially Meopta's top-of-the-line instrument using the highest quality matched glass lenses with the fewest inclusions and bubbles, minimal stress birefringence (subtle mechanical or heat-induced stresses that compromise sharpness) and consistent surface contours. The unit is advertised as having phase-coated Schmidt-Pechan prisms, and per Cabela's, the prisms are dielectric-coated. This little unit projects an impressively sharp, bright, high-contrast image, thanks in part to anti-reflection multi-coatings on all air-to-glass surfaces plus HD objective lenses that minimize color fringing. Cabela's claims 99.9 percent light transmission per lens surface. The unit is nitrogen-purged and guaranteed to be dustproof, fogproof and waterproof, of course.
In real life I'm an 8x32 binocular junky. I've owned and hunted with most of the top-end brands, and this Instinct ranks right with them. It rides discreetly under my right arm or against my chest and lifts easily, my thumbs finding the small indentations beneath the barrels instinctively (sorry, I couldn't help that) and my index finger landing perfectly on the finely knurled, smoothly turning focus wheel. Balance isn't critical with a unit this light, but it's perfect nonetheless.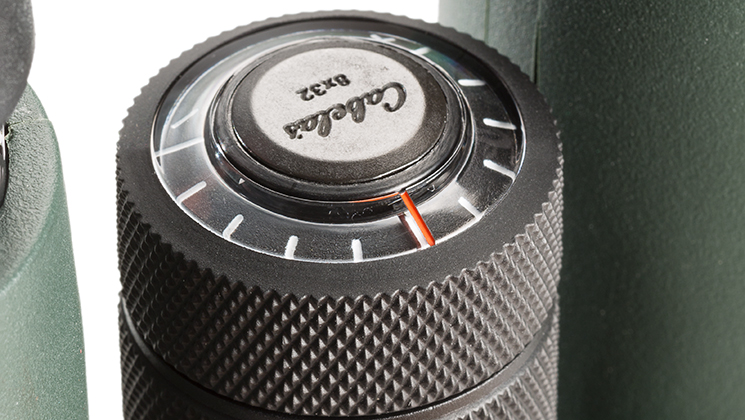 Rubberized, stippled black insets on the lower barrels and bridge appear to be designed to enhance grip. They did contribute subtly, but to be most effective they should have corresponding sections on the bottom of the barrels. When new, the textured armor coating provides sufficient traction, but over time such texture tends to get polished smooth on frequently used binoculars. A textured insert might be a better idea.
The twist-up eyecups locked solidly in place, yet adjusted quickly without a hitch. With my eyeglasses removed, the cups fit neatly and snuggly against the upper edge of my eye socket, lending stability. Their soft rubber edges didn't scratch my glasses, but once those rims got dirty they, like all binocular eyecups, smeared my lenses. Comes with the territory.
At first glance I feared the diopter adjustment wheel. It's one of those center-mounted designs that I can so easily confuse with the focus wheel—except I didn't. It's far enough forward that I had to consciously extend my finger to reach it. Plus it locked up and down with a decisive click. No inadvertent adjustments are likely to happen with this design.
The focus wheel turned beautifully and stopped precisely with no hint of backlash. Images snapped in and out of focus—and those images were laser sharp. I did a side-by-side comparison with an 8x32 from another top European brand and called the resolution a tie. But the Cabela's Instinct won hands-down in flare control and contrast. Colors were richly saturated even when I came within a whisker of letting the low morning sun shine right onto the objective lenses. This is just what hunters need for detecting the subtle differences in color between, say, naked branches and antler tines in the shadowed edges of trees at dusk.
I applaud Cabela's for offering this fine 8x32. It is not a binocular size most hunters grab, but those who do soon discover they are using their binocular more frequently and effectively than they ever did when carrying larger, heavier instruments. For any kind of active hunting, from still-hunting whitetails in hardwood forests to stalking sheep on tundra mountains, the Cabela's 8x32mm Instinct Euro HD is perfect.
Technical Specifications
• Type: roof-prism binocular
• Magnification: 8X (tested), 10X, 12X, 15X
• Objective Lens Diameter: 32mm (tested), 42mm, 50mm, 56mm
• Focusing Range: 5.5′-infinity
• Eye Relief: 15.5mm
• Exit Pupil: 4mm
• Field of View @ 1,000 Yds: 416′
• Coatings: fully multi-coated lenses w/MeoBright 5501; dielectric, phase-corrected prisms
• Construction: aluminum-alloy chassis, rubber armor; tripod-adapter mount; nitrogen-filled; waterproof to 6.5′, fogproof, dustproof
• Dimensions: height 4.8″; width 4.9″; weight 21.1 ozs.
• Accessories: lens covers, neck strap, case w/shoulder strap
• MSRP: $899.99; cabelas.com