by
posted on March 10, 2020
Support NRA American Hunter
DONATE
Meopta USA Inc. has entered the extreme-range riflescope competition with a fleet of scopes labeled Optika6. We test drove one powered by a 3X-18X behind a 50mm objective. Vroom vroom! This baby should win a few races.
The name Optika, I'm guessing, is a marketing title designed to ring bells with a wide variety of European as well as U.S. shooters. Optic in English. Optik in German. Optique in French. Optica in Spanish. Whatever your language, Optika sends the message.
The No. 6 in the name describes the magnification range—six times. Several years ago, Swarovski made a big deal of this broad range with its Z6 scopes. Now many brands are pushing 8X zoom ranges. But, really, do you need a scope that zooms from 3X to 24X atop an elk rifle? Or even a whitetail rifle?
I might be a bit too old and pragmatic for this much zoom range. Over the decades I've somehow managed to consistently strike game out to 400 yards at 7X magnification, so I have a hard time opening my arms to extreme-range tools that I don't really need.
But that's just me. You might need 3X magnification while sneaking through doghair timber for a bull. You might want a mid-range 6X zoom while hiking rolling mule deer country. You might appreciate 18X magnification when watching a half-mile-wide beanfield for whitetails or pastures for coyotes. Well, step right up. Meopta has a scope for you: the Optika6 3X-18x-50mm SFP (second focal plane) with side parallax adjustment.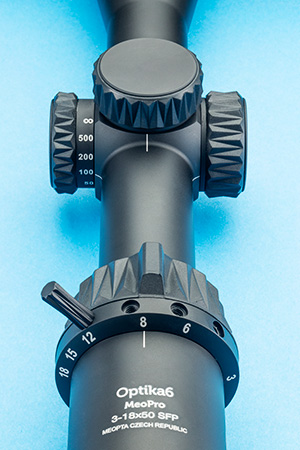 As always, the more elaborate a scope, the more parts there are to malfunction or break. With larger lenses, higher zoom ranges, dialing turrets, parallax dials, etc., a scope had better be built precisely and properly. And it had better be rugged. This Optika6 sure seems to be. It's made with the best materials, tightest tolerances and top-quality workmanship. It's solid and hefty with tight, smooth tensions on the power and diopter rings. The latter is the Euro-style quick-adjust, so it should be tight to resist accidental change. It pays to have a fairly tight zoom ring, too, since it will wear and loosen with use. In my tests, a one-third turn of the power ring cycled it through its entire zoom range. There are holes for mounting a quick-throw lever (included) on this ring, too.
The Optika6 turret caps are short but wide and deeply knurled with some kind of compressible rubber, the same as used on the easily gripped power and parallax adjustment rings. The caps twist off easily to reveal user-friendly turret dials that snap with sharp, loud, distinct clicks you can feel.
Optical quality of this instrument speaks to Meopta's long history (since 1933) in the optics field. At all magnifications I found the views impressively sharp and high contrast with surprisingly good edge sharpness and minimal color fringing at the edges. Meopta claims 91 percent light transmission in daylight, 88 percent at twilight, which I assume includes dawn as well as dusk. These are the times when blue light dominates and contrast is low—when game is slipping from their daytime hiding spots.
Don't be confused by bodacious light transmission claims by optics makers. Some claim transmission as high as 98 percent. I think I've seen some claims of 99 percent. Meopta itself claims 99.7 percent in this Optika line. But this references light transfer through just one lens, not the entire instrument. With current technology, it's impossible to build a scope with 98 percent transmission. Why? Because raw glass lenses reflect about 4 percent of the light that strikes them and another 4 percent that exits. That's an 8 percent light loss per lens, and there can be as many as 10 lenses in a scope.
This loss can be reduced by applying multiple layers of anti-reflection coatings. A single layer can cut reflection loss in half. A second layer cuts it in half again. Continue this and loss can be reduced to something like .04 percent per lens surface—or so optics makers claim. How accurate such claims are I do not know, but let's round it off to 1 percent light loss for each lens. Most scopes will include eight to as many as 10 lenses, putting total light loss at 8 to 10 percent. So, if this Optika6 really transmits upward of 90 percent of light, it's near the top in the industry.
In the field, however, few of us can detect the difference between 95 percent, 90 percent and 85 percent light transmission. More useful, to me at least, is high resolution and contrast, which I clearly can detect in this Meopta. I can also feel what seems to be durability and repeatability.
Durability I could not test; I wasn't about to start bashing the scope with a rubber mallet. Firing often enough to make a reasonably valid test atop a high-recoiling rifle was beyond my pay grade. It's quite possible to break something in a scope with a single, high-recoil shot. But even low recoil is cumulative. Repeated jarring eventually wears out materials, but that could require thousands and thousands of shots.
I was able to test repeatability by dialing windage and elevation turrets repeatedly and significantly, taking the reticle left, right, up and down as many as 8 MOA while the rifle and scope were focused and locked on a 1-inch target grid. No matter how far or fast I turned the turrets, the reticle always came back to dead center. This unit is precise. Even though its turrets are capped, I wouldn't hesitate to use it for distance dialing. The positive click turrets are clearly marked in MOA numbers with click values of .26 inch at 100 yards. That is precisely ¼ MOA because MOA isn't really 1 inch at 100 yards, but 1.047 inches.
Meopta offers its Optika6 scopes with a variety of reticles including transparent DichroTech models you can see through. They change color automatically in response to different wavelengths of light at various times of the day, maximizing visibility in all lighting situations. No batteries required. Reticles include plex styles, BDC types, cartridge specific (6.5 Creedmoor and .223 Rem.) and more. Locking dialing turrets are also offered on some models.
The 3X-18x-50mm as tested had a more traditional black BDC reticle befitting a traditionalist hunter like me, so I found it comfortable, quick, uncluttered and more than adequate for the brand of hunting I indulge (500-yard max range). By fine-tuning the parallax adjustment, I was able to see a sharp reticle and target at all distances and all magnifications.
At 30 ounces, this is more scope than I want to carry in the mountains, but for plains hiking, stand hunting and day hikes, it shouldn't wear out anyone. It is nitrogen-purged and waterproof with an oil-shedding, hydrophobic MeoShield coating on external lens surfaces that resists scratches. With its extreme range and versatility, this scope will handle virtually any and all sighting chores on any hunt. If you're looking for extreme versatility in a bright, sharp, high-contrast scope, the Optika6 should more than meet your needs. 
Technical Specifications
• Type: variable-power riflescope
• Magnification: 1X-6X, 2.5X-15X, 3X-18X (tested), 4.5X-27X, 5X-30X
• Objective Lens Diameter: 24mm, 44mm, 50mm (tested), 56mm
• Eye Relief: 3.94ʺ
• Exit Pupil: 9.5mm (3X), 2.8mm (18X)
• Field of View @ 100 Yds: 33.6ʹ (3X), 5.7ʹ (18X)
• Adjustments: 90 MOA in .25-MOA increments
• Coatings: fully multi-coated, MeoBright, MeoShield
• Dimensions: tube diameter 30mm, length 14.61ʺ, weight 30 ozs.
• Construction: one-piece aircraft-grade aluminum alloy tube; rubber-armored; metal turret caps; ED glass; zero-reset, locking turrets; throw lever; waterproof, fogproof, shockproof
• MSRP: $549.95; meoptasportsoptics.com