by
posted on May 27, 2019
Support NRA American Hunter
DONATE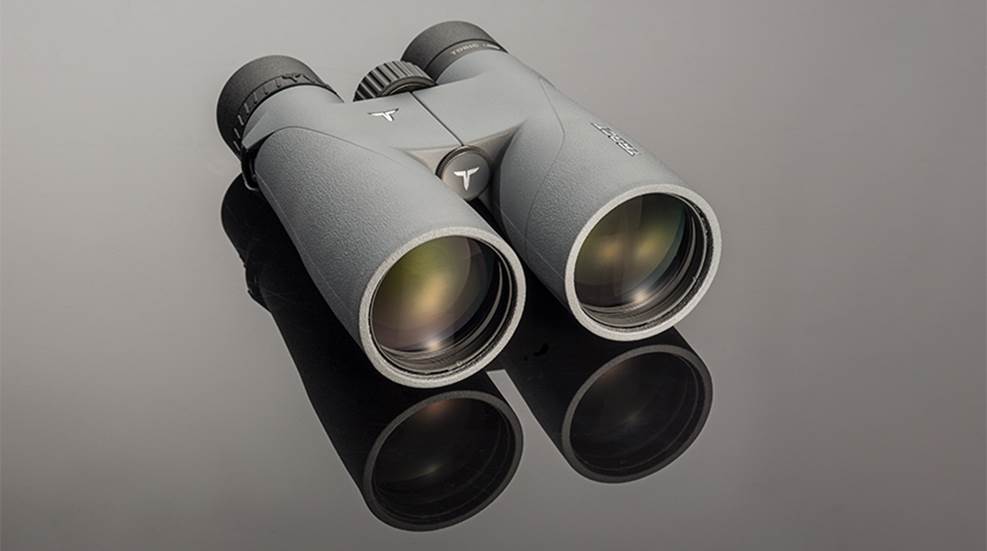 The Tract Toric 12.5x50mm roof-prism binocular impressed me before I even removed it from the box. Printed on the lid was this uplifting information: "Please note that in an effort to keep things simple and easy, our lifetime warranty requires no paperwork or formal registration."
That's a warranty that speaks volumes about the company's commitment to its product. My take on warranties is: Who cares who bought it, when or where? If it malfunctions, stand behind it. Tract apparently does.
Pick up this armored, gray-and-black binocular, pop off the objective lens covers, spread the barrels to your interpupillary distance, nudge the focus wheel and see the light. Sharp. Bright. Magnificent. This instrument might change my longstanding bias against binoculars greater than 10X.
The disadvantages of excessive magnification concern experienced hunters and wildlife watchers. The narrow field of view (5.2 degrees through the 12.5x50mm Toric) makes it harder to find targets and easier to miss creatures moving outside of it. Any hand shake or tremor is magnified more than 12 times, compromising a good look almost as much as soft focus. This unit's 4mm exit pupil is almost 3mm smaller than what your pupils could accommodate at maximum dilation after sundown.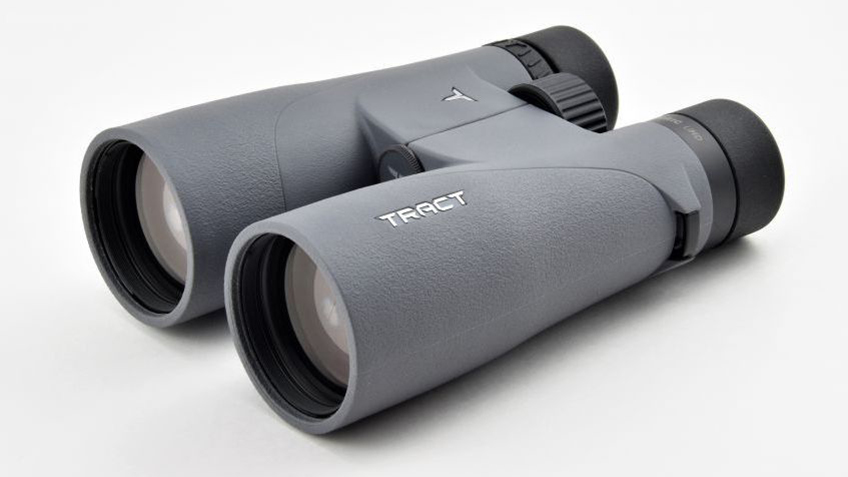 But at 12.5X you can pick out crouching coyotes and hidden mule deer, if not tigers and dragons, thanks to the top-grade Schott HT glass lenses fully multi-coated with what Tract calls Flat Multi-coating. These are anti-reflection coatings that reportedly maximize light transmission across the electromagnetic spectrum from 400 to 700 nanometers. The human eye can detect light waves from about 380 to 700 nanometers, so Tract brightens everything but the very deepest, darkest violet rays, making the 4mm exit pupil more than adequate for effective use long after sunset. The result is enhanced contrast—crisp, bright, razor-sharp images with minimal flare and glare, even when looking at or near the rising or setting sun. By preventing internal reflections, Tract's Flat Multi-coating helps you see things like a dark elk or bear emerging from a shadowy draw with the sun setting over the ridge just above it. Augmenting this great light management are phase-coated Schmidt-Pechan prisms.
The best way to judge these things is always by looking, because what you see is what you get.
What I saw through the Toric is impressive. During a bright, full-sun day on a uniform field of snow, I focused 35 yards into my unlighted barn with the vehicle door rolled up halfway. Despite the contrast and low internal light, I could clearly read lettering on a ladder and see individual pebbles in the dark corners. I detected no waves, distortions or soft spots across the field of view through either lens. Edge sharpness held up very well. I saw no gross barrel or pincushion distortion (convex and concave curvature, respectively) when panning across straight lines. This suggests the Toric could be used for extensive glassing without eye strain or headache.
Some of this unit's clarity could be attributed to its extra-low-dispersion (ED) glass. The density of ED glass reduces the separation of white light into its rainbow of colors (differing wavelengths) as it exits the lens. This makes it easier to bring all those colors back to the same focal point for crisp, sharp images without fuzzy edges known as color fringing. Color fringing is seen at the hard edges of high-contrast images like horns and antlers. It's usually yellow or purple. With the Toric I could see a thin purple fringe along the edges of railings and roof lines in the outer third of the field of view. To put this in perspective, my $3,600 10x42mm Swarovski EL Range (nearly five times the cost of the Toric) showed a much thinner fringe of paler purple in the outer limit of each lens. If you concentrate on the center of your binocular view, you'll probably never see color fringing through the Toric.
Tract has put all of this optical performance in a waterproof, internally fogproof, dustproof, magnesium-alloy chassis purged with argon gas and armored in nitrile rubber. Carry-strap attachments barely protrude beyond the barrel with no sharp edges. External lens surfaces carry scratch-proof (scratch-resistant sounds more realistic to me), oil-phobic coatings to keep dust, tears, food particles and fingerprints from adhering. Rubber eyecups with contoured rims twist up and lock in three places. Eye relief is a generous 16.6mm. The locking diopter ring under the right eyecup is stiff and located so you cannot accidentally bump or change it while turning the knurled focus wheel.
To use the stabilizing technique of placing my thumbs against my cheek bones while pressing the eyecups against my orbital bones, I had to use my second finger to adjust focus. Consistent and proper focus-wheel tension made this smooth and easy, however. Adjustment stopped and started precisely with no backlash. One revolution took me from infinity to the 13-foot minimum focus range. You could study butterflies with this thing.
A logoed cap on the front of the center hinge twists off to expose a standard ¼x20 threaded hole for attaching tripod mounts—extremely useful with a binocular of this power. The inch-wide, stretchy, neoprene carry strap that came with the Toric is adequate, but I'd replace it with a broad harness to better disperse weight for long carry. Rubberized eyecup covers and tethered objective lens covers are typical for binoculars at this price point. Either could be lost easily if not tied down.
I've been hand-holding this Toric while watching birds and scanning the surrounding mountains. Shake and quiver are manageable. I don't know if the balance and optical quality are offsetting my vibrations or what, but I think I could hunt effectively with this as my primary optic. A 12.5X may not be the ideal, all-round hunting binocular, but if your hunting involves sitting in one ZIP code while spotting game in another, 12.5X beats the lenses off 8X and even 10X. Mount the Tract Toric on a tripod or rest it over a pack, and go find 'em!
Technical Specifications
• Type: roof-prism binocular
• Magnification: 12.5X
• Objective Lens Diameter: 50mm
• Focusing Range: 12.3′–infinity
• Eye Relief: 16.6mm
• Exit Pupil: 4mm
• Field of View @ 1,000 Yds: 272′
• Coatings: fully multi-coated lenses w/Flat Multi-coating, scratch-proof, oil-phobic; dielectric-coated, phase-corrected prisms
• Construction: magnesium-alloy chassis w/rubber armor; Schott HT lenses; Schmidt-Pechan prisms; tripod-adaptor mount; argon-filled, waterproof, fogproof, dustproof
• Dimensions: height 7″, width 5.5″; weight 32.6 ozs.
• Accessories: lens covers, lens cloth, neoprene neck strap
• MSRP: $794; tractoptics.com