by
posted on November 24, 2022
Support NRA American Hunter
DONATE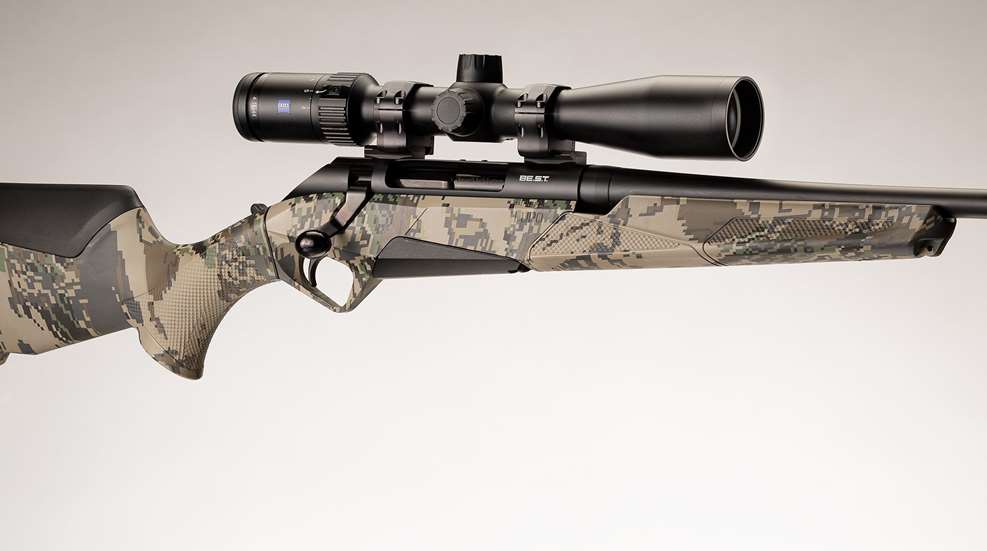 Benelli's Inertia Driven semi-autos revolutionized the shotgun market, and in 2020 Benelli decided to do the same to the bolt-action rifle market when it launched the Lupo rifle. This year, Benelli added more members to the Lupo (Italian for wolf) family tree with the introduction of the BE.S.T. (Benelli Surface Treatment) Lupo models, which offer the same quality construction and impressive accuracy as earlier models with upgraded aesthetics.

BE.S.T. first appeared on Benelli shotguns in 2020, but by then the company had already spent over a decade perfecting its proprietary surface treatment. Benelli's engineers realized using physical vapor deposition (PVD) and plasma enhanced chemical vapor deposition (PECVD) nanotechnology could create the ultimate surface coating for firearms by applying a layer of scratch- and corrosion-resistant diamond-like carbon particles to its firearms, but traditional PVD and PECVD applications require tremendous heat. The team in Urbino cracked the code to apply these surface treatments at low heat, and they're not sharing the recipe. That same BE.S.T. armor is now available on Benelli hunting rifles.
The Lupo's three-piece stock design enhances accuracy. As with its shotguns, Benelli Lupo rifles feature independent buttstocks, and this allows for the use of stock shims and over 30 different drop and cast adjustments. The buttstock attaches to an aluminum alloy lower receiver that mates with the tubular steel upper receiver. A hardened steel barrel extension is bedded into a steel block within the receiver, and there's a separate polymer forearm. Essentially, the Lupo is a chassis rifle dressed as a sporter, and that's one reason these guns are extremely accurate. Other features include a Crio-treated, free-floated threaded barrel and a 2.2- to 4.4-pound trigger that is clean and crisp. There are three sets of holes drilled atop the tubular upper receiver for mounting optics. Benelli offers rail and base options, but the drilled and tapped holes will also work with two rear Model 700 bases should you elect to use them. Lupo rifles come with front and rear sling studs molded into the polymer stocks, but there's also an attachment point for a standard sling stud on the forearm.
Benelli's Progressive Comfort recoil reduction system, which uses a series of interlocking, finger-like polymer baffles that absorb recoil, first appeared on its shotguns but has found its way to Lupo rifles. Combtech soft-touch, interchangeable polymer combs allow you to adjust comb height and replace the hard comb surfaces found on most rifles that jab the shooter's face during recoil.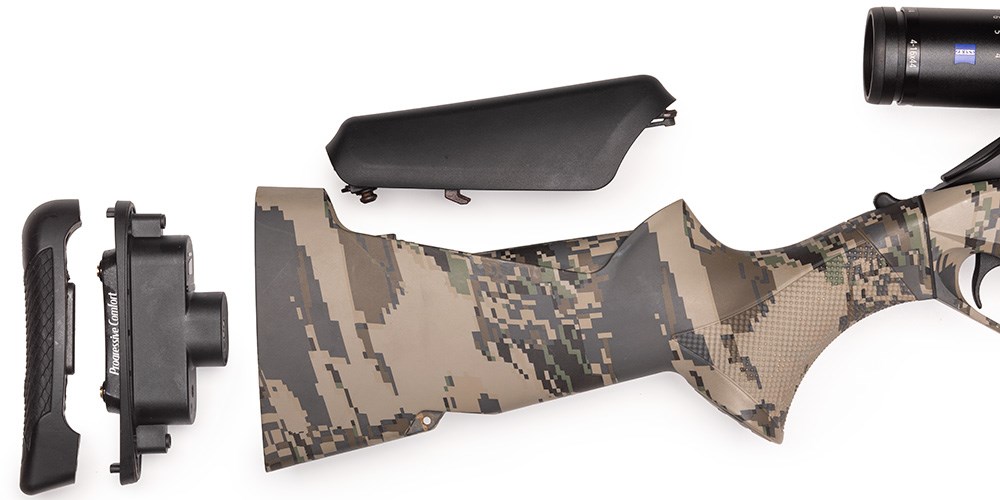 The Lupo's three-lug bolt sports a signature wasp-waisted profile. This narrowing reduces friction and allows for smooth cycling, but it also provides space for one more round in the detachable box magazine, which holds five .300 Win. Mag. cartridges. Benelli rifles are equipped with a two-position tang-mounted safety, and the action can be operated with the safety engaged.
The BE.S.T. Lupo I tested in .300 Win. Mag. weighed just over 7 pounds without a scope. With its 24-inch barrel, the test rifle measured 46.6 inches long. MSRP is $1,899, which competes with other premium guns like Springfield's steel-barreled Waypoint 2020 ($1,923 with adjustable stock) and Seekins Precision's Havak PH2 ($1,895).
Accuracy
Benelli promises MOA accuracy from the Lupo and, as stated, all three rifles I've tested would place five shots under an inch at 100 yards with at least one factory load. The .300 Win. Mag. test gun came with a GORE Open Country camo stock and produced sub-MOA five-shot groups with Hornady's 200-grain ELD-X Precision Hunter ammo (.79 inch) and Remington's 200-grain Swift A-Frame load (.91 inch). A .300 Win. Mag. rifle that shoots those two loads well is suited for hunting just about any game under any circumstances the world over. Reliability was excellent, and the detachable box magazine works as advertised and doesn't require a lot of maneuvering to secure into place. For range and field testing I used a Zeiss Conquest V4 4-16x44mm scope with ZBi ballistic reticle and mounted a Silencer Central Banish 30 suppressor to the rifle's ⅝x24 threads.
Field Testing
American Hunter's Jon Draper and I headed to Alaska in the spring of 2022 to test the Lupo BE.S.T. on black bears on Alaska's Kenai Peninsula. The greatest test for the rifles likely wouldn't be performance on the animals themselves but rather how well the guns withstood the abuse they would receive in the remote wilderness, since the Kenai's southern tip is a landscape of steep mountains, heavy alders and mazes of deadfall. The rifles would likely be exposed to salt spray and precipitation. If the guns performed under those conditions, they would perform anywhere.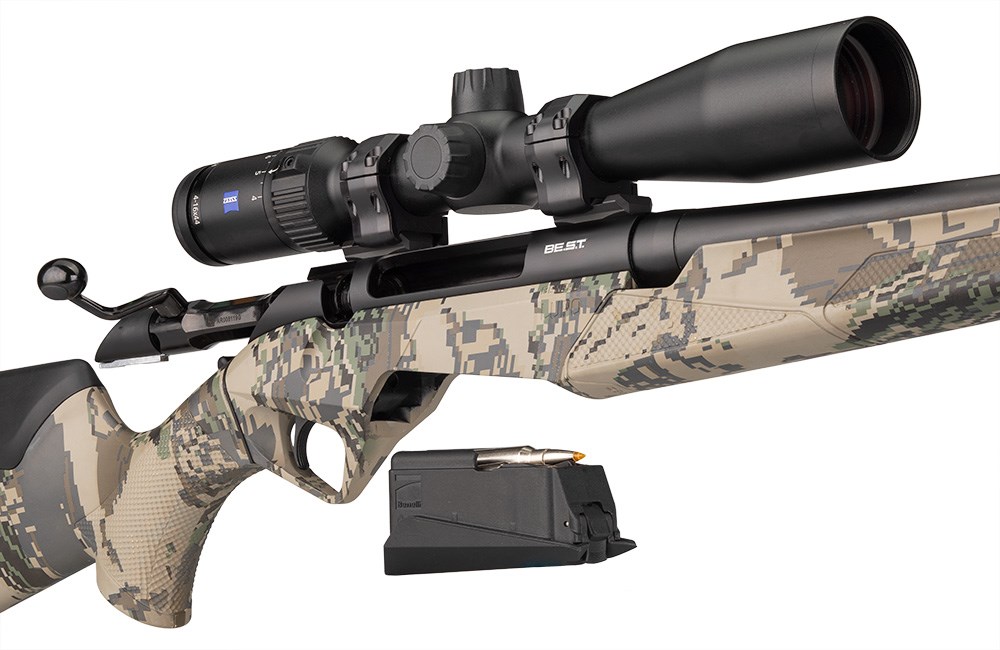 Draper killed an old bruin with a blocky head on Kenai's coastal grass flats early on the first day. It took me a bit longer to find an opportunity. I spotted bears, hiked through jungles of deadfall and alders to find them, and missed out on several opportunities. During these adventures the Lupo BE.S.T. was dragged overtop and underneath fallen hemlocks and was thumped against granite rocks along steep trails without any damage to the metal surface.
There were 10 minutes left on the last day of the trip and Jon and I were on the 67-foot liveaboard boat Sea Shed, which had been our home for the hunt. We spotted a bear on a beach that, ironically, was only about 100 yards from where we'd zeroed the rifles on the first day. Jon and I took a quick ride in the skiff to another nearby beach, and I worked my way down the rock pile toward the ocean. To my surprise, I found the bear standing in the open grass very near the water. I took a knee as the bear lifted its head, and at the shot the animal piled up.
The BE.S.T. Lupo is Benelli's bid to reinvent the hunting rifle, and there's no doubt the Italian brand is taking that task seriously. An accurate rifle that's overflowing with forward-thinking rifle technology, the Lupo is going to continue to win fans as more hunters learn to love all that these guns offer.

Technical Specifications
• Type: bolt-action centerfire rifle
• Caliber: .300 Win. Mag. (tested), 6.5 Creedmoor, .308 Win.
• Barrel: 24" (tested); Crio treated; sporter profile; 1:11" RH twist; ⅝x24 threaded muzzle w/ thread protector
• Magazine: 5-rnd.; detachable polymer box
• Trigger: single-stage; adjustable pull weight 2.2.-4.4 lbs.
• Sights: none; Picatinny bases included
• Safety: tang-mounted, two-position
• Stock: three-piece (aluminum lower receiver and polymer forearm and buttstock); GORE Open Country camo finish; Progressive Comfort recoil reduction; Combtech cheek pad; adjustable LOP
• Metal Finish: Benelli Surface Treatment (BE.S.T.), matte black
• Overall Length: 46.6"
• Weight: 7 lbs., 1 oz.
• Accessories: stock shims, thread protector, gun lock
• MSRP: $1,899; benelliusa.com