Support NRA American Hunter
DONATE
With its new-for-2020 Lupo, Benelli is one of an increasing number of gun makers that have recently introduced their first bolt-action rifles. The Lupo isn't the Italian maker's first or only hunting rifle—that would be the semi-automatic R-1 introduced in 2003, a design obviously related to the inertia-driven shotguns that have made the company a household name with American hunters. The Lupo (wolf in Italian) falls further from the tree, but still leverages the family DNA to excel in its own bright way.

Unlike many newcomers, Benelli decided to do more than put its stamp on an established template, producing instead a model that emphasizes handling ergonomics, complemented by fresh, modern styling. Right off the bat you'll notice the two-piece stock, featuring a butt squarely attached behind the trigger guard, plus a separate fore-end that neatly joins angled metalwork in the front. Nearly all shotguns have such stocks, and so do many single-shot and semi-automatic rifles, but it's a rarity in turnbolts.
The Lupo's most striking innovation, and the key to maximizing accuracy, is a two-piece receiver, which bears resemblance to the upper/lower structure found in AR-type rifles in that it provides greater stability—and greater consistency—than mating a barreled action directly to stock material. Benelli calls the aluminum lower part a "chassis," and indeed it works like the mini-chassis or bedding blocks embedded in some rifle stocks, but makes for a sleeker profile and helps keep weight in check. Free up two screws and the upper receiver—including the bolt, trigger unit and barrel—lifts right out. Such modularity could also lead to caliber-change versatility, though for now, Benelli isn't showing those cards.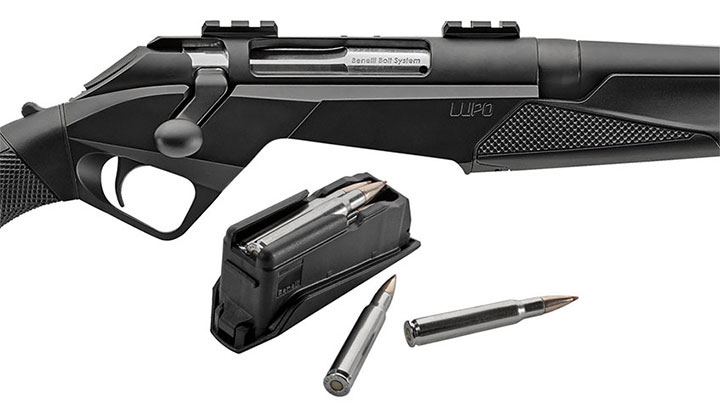 The hardened-steel upper receiver contains a fat-bodied, smooth-gliding bolt bearing three locking lugs. After hammer-forging and polishing, Lupo barrels are subjected to Benelli's proprietary Crio deep-freeze treatment that makes the steel's molecular surface structure more uniform. The muzzle end is threaded.
The rifle's ambidextrous safety is a rounded slider that sits where the buttstock and receiver meet. Conveniently placed for thumb operation, in the off position it reveals a bright red indicator dot. Also installed is the proprietary Perfect Shot trigger, which can be owner-set to break between 2.2 and 4.4 pounds. Ours broke crisply at 3.8 pounds pull weight, a delight to all who fired the rifle.
Our range sessions, exclusively firing heavy hunting loads, produced mostly sub-minute-of-angle groups and a handful that were much tighter; only four shots (of 45 fired) were what could be considered fliers, which likely were the shooter's fault (see accompanying chart). It appears to us that from sandbags, the Lupo can hold its own with any lightweight hunting rifle, even custom jobs costing twice as much. But it was also clear that this is a rifle meant for real time afield, to be used when things are fluid and exciting.
For now, the Lupo comes only in black synthetic livery shaped so that the shooter's hands wrap comfortably around gripping areas, including a minimalist fore-end whose flattened shape is reminiscent of a double gun's. The trigger sits high in an oddly canted integral guard, a distinctive look that minimizes strain on the shooter's wrist.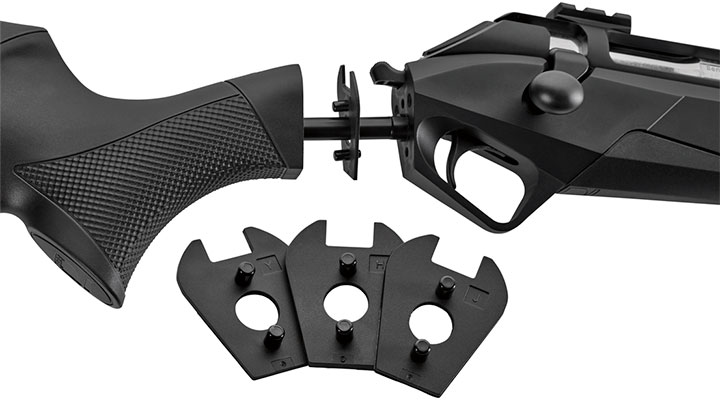 Fitted inside the buttstock is a rifle version of Benelli's Progressive Comfort onboard recoil-reduction system that uses interlocking buffers to absorb rearward thrust. The crushable, interchangeable Combtech cheekpad that ensures natural sight alignment. Both features were co-opted from Benelli shotguns and effectively tame the kick from a .30-06 round just as they do from a 12-gauge shotshell. Buyers also get a variety of shims and spacers that allow owners to personalize length of pull, drop and hand angle to their stature and preferences, what the company calls Perfect Fitting. If your preference is a rifle that fits like a glove, comes up fast, settles quickly in field positions, and can practically point like a shotgun, this is it.
So why would big game hunters want a rifle that handles like a shotgun? Is that about shooting running game? Possibly, but there's more to it than that. Spot-and-stalk hunting in big, wild country typically requires many tough miles hiking and carrying one's rifle before encountering game. Sometimes those encounters result in deliberate shots, but often as not, in my experience, the hunter must react at once. At 7 pounds, the Lupo is a relative lightweight. It won't slow you down, either on the march or when you have to climb and hustle to reach a distant quarry, and will shoulder fast and intuitively when your only option is to shoot right away.
Rifle-handling dynamics have been a sore subject since a missed opportunity at a whopper moose a few years ago. My 8¾-pound long-range rifle, topped by two more pounds of glass, was lights-out at the range, but when an approaching bull suddenly changed course and forced me to hop up and side-step for a clear lane, it was nothing but awkward. When I finally got the bull in the scope, he looked like a runaway train and there went my chance. Blown stalks happen, but in that case, I took a risk using a rifle that, as our outfitter remarked at the sight-in bench, was "unsuitable."
Contrast that to my introductory hunt with the Lupo last fall. Mostly I posted in a tree stand bordering a Nebraska cornfield in hopes a husky whitetail would happen by. Though unprepared to shoot the entire 500+ yards out to the center pivot, I was confident for much of that distance. By the last day I was ready to gamble, so the guide and I hiked out to the pivot before sunup, only to discover the two deer spotted in the moonlight were youngsters. We turned to leave and opportunity knocked—a heavyweight buck hustling a doe at top speed, nearly on us. Up came the rifle and I swung as they passed. The hit—low in the chest—rocked the buck, and I kept tracking and fired again to drop him in the stubble.
The dilemma for all big game hunters at a time when so many fine rifles are available is finding one that best fits the opportunities we work hard to achieve. Long-shot scenarios aren't unusual, but neither are close-up, fast-unfolding encounters where rifle-handling prowess makes the difference. I want a rifle that can do both. Based on what I've seen, the Lupo is both a shooter and a hunter that will help lots of us come home with the animals we want.


Technical Specifications
• Type: bolt-action centerfire rifle
• Caliber: .270 Win., .30-06 Sprg. (tested), .300 Win. Mag.
• Barrel: 22" (tested), free floated, cryo-treated, medium sporter contour, 1:11" RH twist (tested), 5/8x24 threaded muzzle
• Magazine: detachable box, 5-rnd. capacity
• Trigger: single-stage, adjustable 2.2 lb.–4.4 lb. pull weight; adjustable for reach
• Sights: none, two-piece Picatinny rail
• Safety: ambidextrous, two-position, tang mounted
• Stock: black synthetic w/modular Combtech cheek pad; Airtouch Grip surfaces; Progressive Comfort recoil system; integrated front and rear swivel mounts; semi-beavertail fore-end; LOP adjustable 13.8"–14.75"; adjustable for drop and cast
• Metal Finish: matte blued
• Accessories: shim kit; LOP spacers; Combtech cheek pad
• Overall Length: 44.625"
• Weight: 7 lbs.
• MSRP: $1,699; benelliusa.com