Support NRA American Hunter
DONATE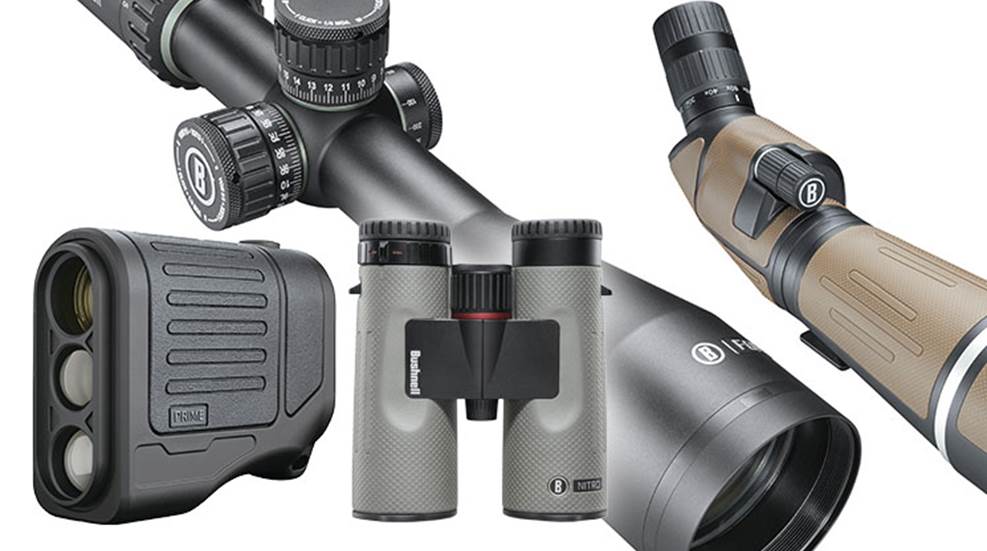 Yesterday, Bushnell unveiled three new lines of optics at the 147th NRA Annual Meetings & Exhibits—top-tier Forge, mid-level Nitro and entry-level Prime, with over 50 products being introduced. The launch was the biggest Bushnell has ever done.
All the innovative optic designs have been engineered in the United States by Bushnell engineers—none of the optics in the lineups are reskinned of old products, making this a unique launch of new optics that should excite hunters and shooters. One of the big points Bushnell is stressing with the release is that each optic will showcase the best feature set and performance at each price point. Bushell tested each new product head-to-head with the competition and followed up with comprehensive third-party scrutiny. One of the most exciting breakthroughs, used on all three lines of optics, is an EXO Barrier lens coating. The revolutionary lens coating resists water, oil, dust and will not fog. The coating causes water to bead up and allows you to see clearly and make the shot, no matter the conditions.
The easiest way to explain the different levels of the optics lines is to compare riflescopes, as that's where most differences occur.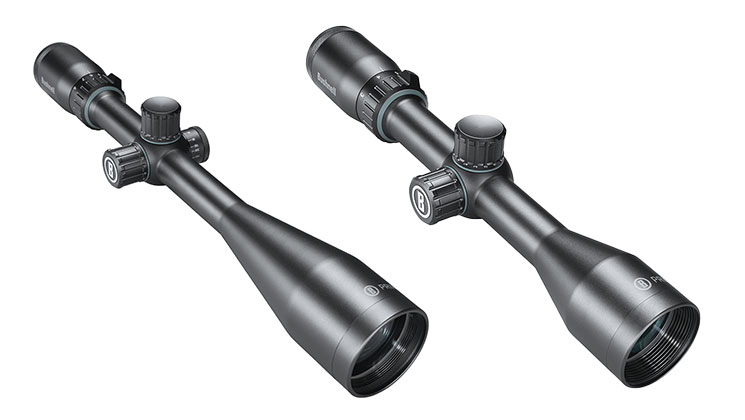 Prime Riflescopes
Prime is the entry-level line of new optics, offering great value with premium components. A 1-inch tube is used on riflescopes, with some models available with side parallax. The scopes have standard capped turrets, 3x magnification, are feature the company's new Exo Barrier lens coating and have an ultra-wide band coating for transmission.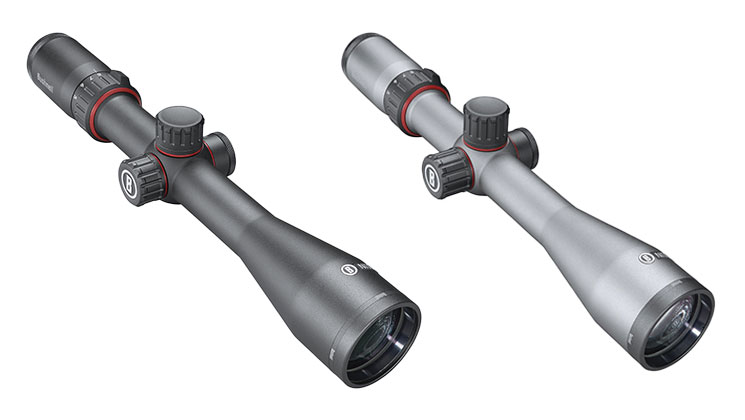 Nitro Riflescopes
The Nitro line can be described as upper mid-range optics. Again, looking at the riflescopes, the units have better ELD glass, 30mm tube construction, ultra-wide band coating, EXO Barrier coating and large objectives, with powers ranging from 2.5-10x44 to 6-24x50. Nitro scopes are available in both first and second focal plane. With a wide range of reticles, there are many options for hunters and shooters to consider to match-up with ballistic systems. Users will appreciate the easily-adjustable turrets, side parallax adjustment and standard lens covers. Discerning shoppers will find the best resolution and contrast for the specific price points in the Nitro line. There is excellent light transmission with noticeably better color resolution. Turrets offer a zero stop, which the Prime line does not have.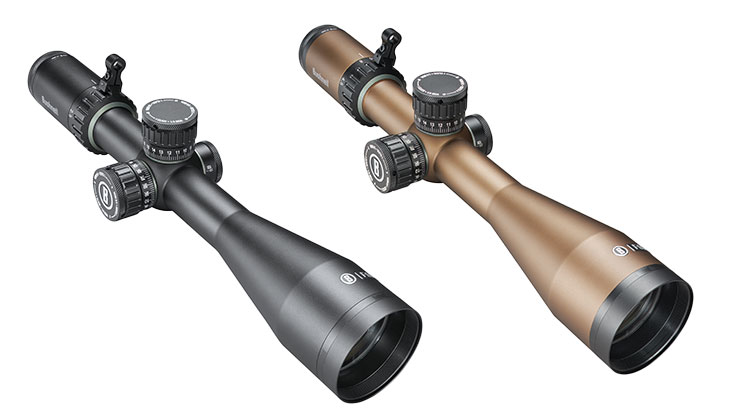 Forge Riflescopes
Forge is the top-end offering, going head-to-head with the leaders in the industry. Forge riflescopes are constructed with elite, tactical-quality glass. All Forge riflescopes feature side parallax adjustment, an ultra-wide band coating, zero stop on the turret and high-end performance. Turrets are marked, operate with an easy pop-up design and are lockable. All Forge scopes offer 4X magnification with models ranging from 2.5-15x50 to 4.5-27x50. First and second focal plane options are available, depending on reticle and sighting preferences. A Quick-Throw Lever makes it easy to dial up or down in power without ever taking your eye off the target.
The riflescope descriptions and glass features will extend into binocular and spotting scopes in all three lines. The Prime and Nitro lines will also have new rangefinders, with Forge coming later in the year.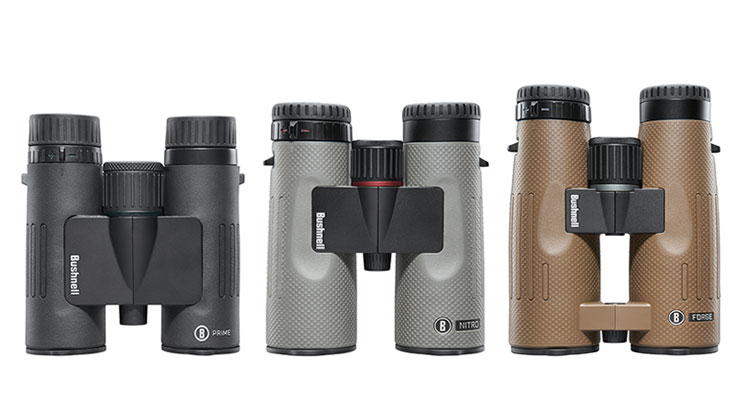 Prime, Nitro and Forge Binoculars
Prime binoculars are available in various options from compact to 12x50. All have the new EXO Barrier coating and are fully multi-coated. Nitro binoculars use ELD Glass which captures and transfers more light through the optic. This line is noticeably brighter than prime. Forge binoculars also have the EXO Barrier coating, but utilizes PC3 and dielectric prism coatings for ultimate true color and brightness. The binoculars in the Forge line are remarkably sharper and more defined.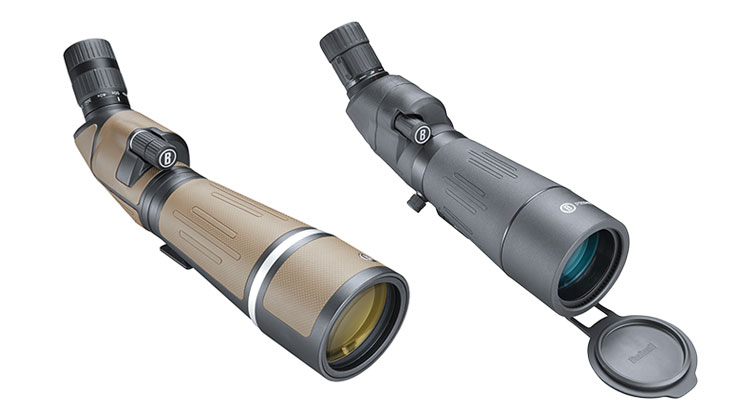 Prime, Nitro and Forge Spotting Scopes
There are spotting scopes in all three lines that offer the same quality and construction described for riflescopes and binoculars.
Color Conventions
• Prime optics come with a black skin.
• Nitro optics sport slate-gray skins.
• Forge optics come in terrain brown.
• Riflescopes are all available in black.
Bushnell expects the product to start arriving in stores early this summer. The offerings in each line are so expansive it's hard to quantify which is right for you. To help determine what is best for you, Bushnell is developing a new webpage that will be operational this month where you can easily review all the new products at bushnell.com.