Support NRA American Hunter
DONATE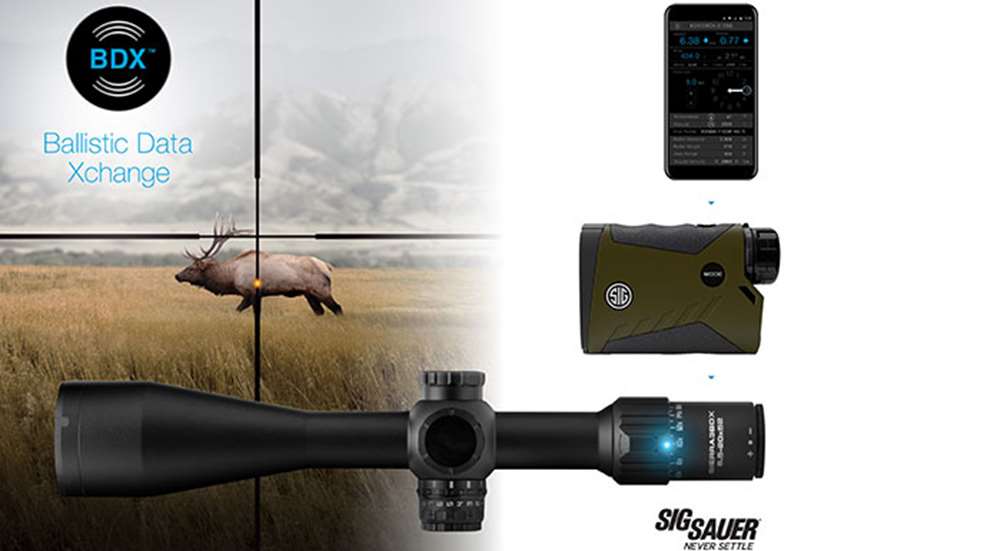 With the launch of its new line of BDX (Ballistic Data Xchange) rangefinders and riflescopes, SIG Sauer brings precision optics squarely into the information age, allowing for a seamless exchange of data between one's riflescope, rangefinder and smartphone.

So what exactly is a "Ballistic Data Xchange", and how does it work? The system provides a quick and easy way for hunters to set their dope. Simply download the "SIG BDX" app (available on both the Android and IOS platforms), set up a ballistic profile, and pair it with your BDX rangefinder and riflescope. You are now ready to hunt. Once you've spotted your target, range it as you normally would, and the BDX rangefinder will instantaneously send the dope to the scope. The BDX equipped scope will then consult your ballistic profile, and illuminate the Digital Ballistic Reticle with the appropriate holdover and windage data. The phrase "point-and-shoot" has never been more applicable.

The lineup features four rangefinders: the KILO1400BDX, the KILO1800BDX, the KILO2200BDX, the KILO2400BDX, and the KILO3000BDX, the last of which is a rangefinder binocular. These rangefinders, in addition to their BDX capability, still provide many of the standard KILO features, such as RangeLock, Hyperscan, and the Lumatic auto-adjusting display.

On the scope side of things, only the SIERRA3BDX is available, but it comes in four different iterations: 3.5-10x42mm, 4.5-14x44mm, 4.5-14x50mm, and 6.5-20x52mm. The line features HD glass, 30mm tubes, the LevelPlex digital anti-cant system, and the BDX-R1 Digital Ballistic Reticle, which can provide a ballistic solution out to 800 yards with 1 MOA of accuracy.
In a direct nod to the hunting market, SIG has also opted to include its signature kinetic energy transfer indicator: KinETHIC. This indicator uses your ballistics data and target range to calculate when energy-on-target drops below a pre-set threshold selected by the hunter, ensuring a shot that is up to the hunter's ethical standards every time.

Though not on the shelves yet, both the KILO BDX rangefinders and the SIERRA3BDX riflescopes will be available at dealers in July (2018). The rangefinders will MSRP for $299.99, while the scope will come in at $599.99.