Support NRA American Hunter
DONATE
Burris released at the 147th NRA Annual Meetings & Exhibits the Oracle, an electronic, rangefinding bow sight that eliminates distance estimation and therefore eliminates picking the wrong pin.
A built-in rangefinder, activated via a button the archer squeezes along the bow grip, measures the exact distance to the target to remove guesswork from the equation. With the sight, bowhunters no longer need to aim between pins.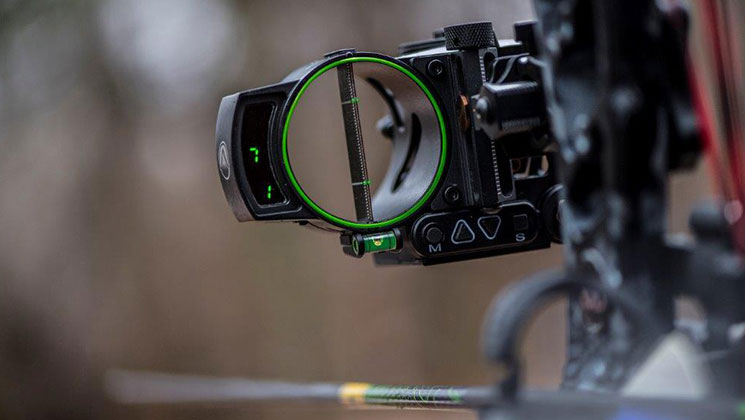 After sighting in at 20 yards and two more distant points, the sight learns your entire arrow trajectory curve. Much like the Burris Eliminator rangefinding riflescope, the Oracle Rangefinder Bow Sight measures the exact distance to the target while at full draw then instantly calculates the trajectory compensation for distance and shot angle. The exact aiming point is displayed along a vertical LED bar centered in the sight. The LED bar is capable of displaying numerous aiming points along its vertical axis. Up to 176 MOA of adjustment (184 inches of drop at 100 yards) is accommodated.
Construction is all aluminum. There is no glass to glare, scratch or fog. Along the LED light bar is a fixed 20-yard pin as a failsafe. A rear peep improves accuracy and consistency. It also helps eliminate grip torque and the need for a string peep; however, archers who use a string peep will add a third point of reference at the rear of the sight plane. A bubble level helps eliminate cant. Also included are locking micro-adjustment knobs, and second and third axis adjustments. The sight stores two different trajectory curves for different arrows or draw weights. It is compatible with arrow speeds from 200-420 fps; and right- or left-handed use. It's water-resistant, weighs 17 ounces and runs on one CR123 battery (life is 1,000-2,000 activations).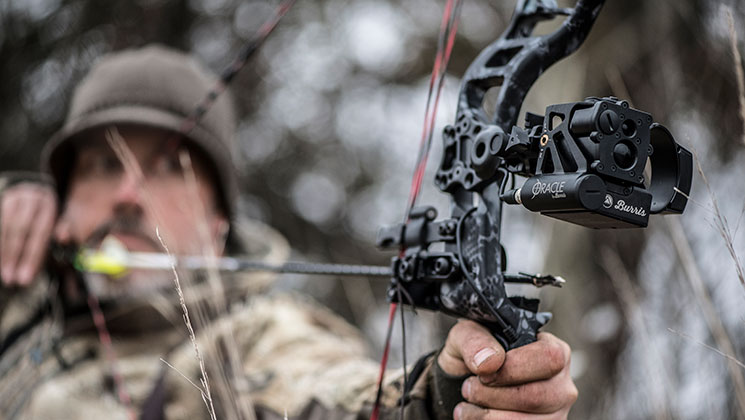 The Burris Forever Warranty includes repair or replacement without charge if the sight is damaged or defective, and fully transferable benefits without a warranty card or receipt. Even the electronics are covered.
The Burris Oracle Rangefinding Bow Sight is expected to appear on dealer shelves in mid-June at a retail price of $799.