by
posted on October 31, 2022
Support NRA American Hunter
DONATE
Opening day of Wyoming's pronghorn antelope rifle season saw Yours Truly festooned in blaze orange, crawling through the sage brush with guide Mike Lilygren, in an honest attempt to close the gap between us and a decent buck. We were participating in the Lander One Shot Antelope Hunt, a friendly competition which gives the shooter one shot to take his or her antelope; should you require a second shot, or should you miss, you are disqualified from the competition. There wasn't any real pressure, except for the fact that my teammates—Chris Sells of HeymUSA and Larry Weishuhn, Mr. Whitetail himself—were counting on me. Oh, did I mention that Wyoming Governor Mark Gordon was also participating?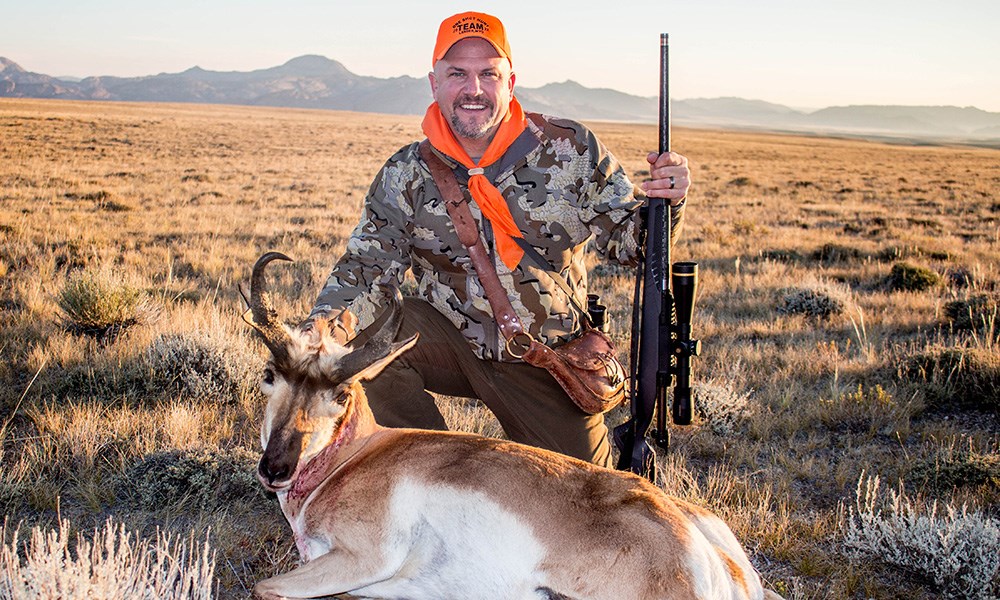 Lilygren and I worked a short piece of fence line, to get into a spot where we could lie prone to get a good rest—you see, the One Shot Antelope Hunt rules prohibit any unnatural rest, like a bipod, pack, fence post, etc.—to take that buck. Mike ranged him at 330 yards, as I cranked the Leupold to 12x and asked him what he thought. "He's more than legal, probably 12 inches, but he's 330 yards …" I snicked off the safety and asked again, as time was part of the competition. "Well, he's still at 330…" The trigger broke, sending a 175-grain Hornady ELD-X downrange, and the resultant whunk of the bullet striking flesh back to our ears. I asked once more what he thought. "I think he's dead," Lilygren deadpanned.
One week later, I'd be in northern British Columbia, this time paired with Leupold's Shawn Skipper on a combination moose-elk-black bear hunt, as the weather took a disappointing turn to unprecedented warm temperatures. Driving from one glassing point to another, with moose being our priority, I spotted a bear hiding in the shade of some brush during the midday hours. Stopping the truck to put on a little stalk to get a clear shot, that ELD-X bullet once again did its job, putting the boar in the salt. That 75-yard shot would be the only opportunity I'd have all week.

I used the same rifle for both legs of the back-to-back hunt: Savage's new Impulse Mountain Hunter, chambered for Hornady's new 7mm PRC. The straight-pull rifle is the second iteration of the Impulse line, and in my opinion is a decided improvement over the original. Mind you, the Impulse was a wonderfully accurate rifle, and the straight-pull action certainly allows for quick follow-up shots, but the rifle was on the heavy side of things. This is not the case at all with the Impulse Mountain Hunter; in fact I found it to be a pleasure to carry, while offering just enough weight to settle down for the shot.
Looking at the new Mountain Hunter, the first thing you'll notice is the Proof Research carbon fiber wrapped stainless steel barrel; in 7mm PRC it measured 22 inches, with a ⅝-24" threaded muzzle, with cap provided. The carbon fiber greatly reduces weight while maintaining rigidity and it handled the heat generated by the magnum-class cartridge just fine. Savage uses their famous barrel-nut to attach the Proof Research barrel to the Impulse's aluminum receiver, which features an integral one-piece 20-MOA rail with a right-hand ejection port, and dual gas vents on either side of the receiver. The receiver is mated to the stock with Savage's three dimensional aluminum bedding.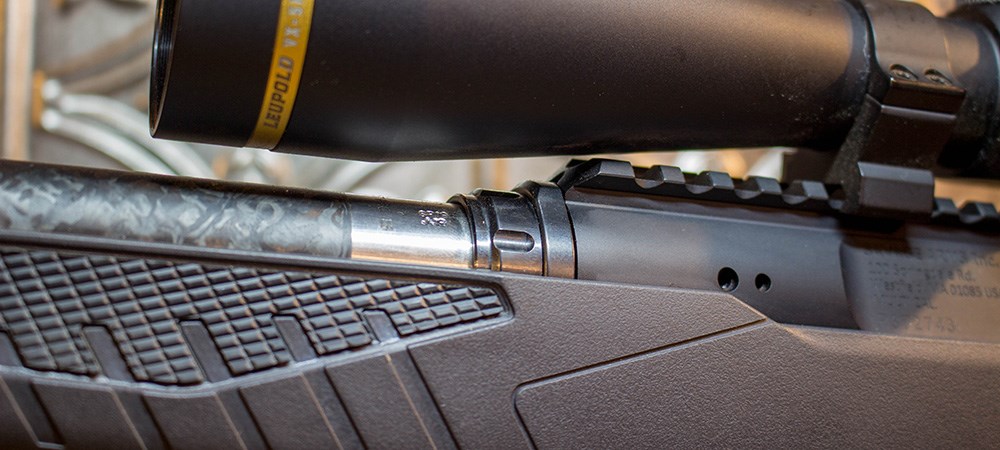 The Impulse bolt locks up via a series of steel ball bearings, which radiate outward into the receiver when the bolt is closed (by rotating the bolt handle forward), and this design has proved to be as strong, if not stronger, than the convention locking lugs we've all employed for over a century. To release the bolt, there is a lever on the rear of the bolt housing; simply depress the lever and rotate the handle backward, releasing the bolt to unload the rifle.
Other than that right-hand ejection port and the left hand bolt release, the Impulse Mountain Hunter is designed to be as ambidextrous as possible, with a two-position tang safety, a symmetrical stock and a bolt handle which can easily be moved from one side to another. The Impulse Mountain Hunter features the gray polymer AccuStock, which is adjustable for both length of pull and for comb height. My rifle had a 13¾-inch length of pull, and a recoil pad which took all the sting out of the 7mm PRC's recoil, whether from the bench or prone. In lieu of any sort of checkering, the AccuStock has textured, rubbery areas on the pistol grip and forend to afford a good grip. Savage has provided sling swivel studs fore and aft, though I did switch the front stud for a Javelin bipod mount, as I felt the carbon fiber bipod made a good match for this rifle.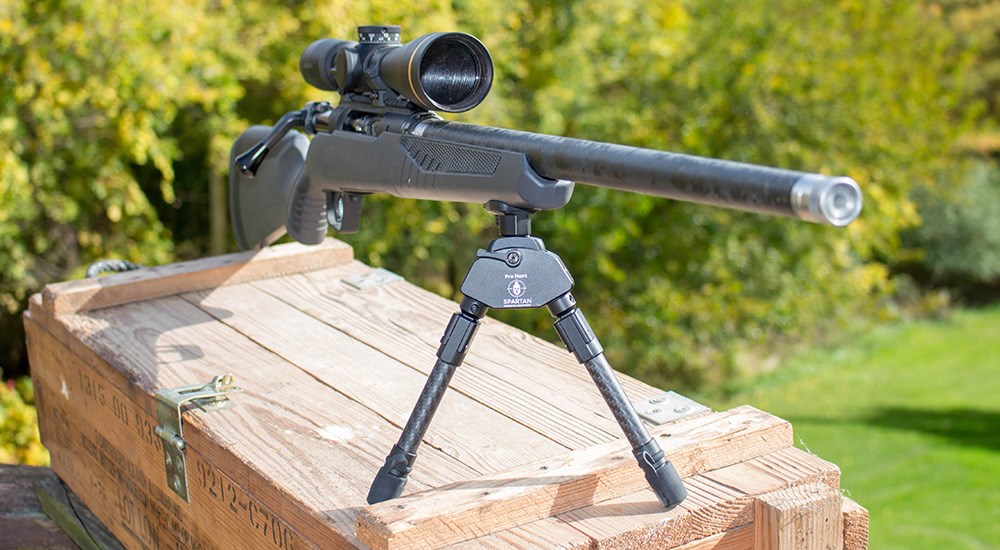 The Impulse Mountain Hunter comes equipped with the Savage AccuTrigger, and my Lyman digital trigger scale indicated that my test rifle broke consistently at 2 pounds, 4 ounces, with a nice, crisp feel. There is a three-shot, detachable polymer magazine (my rifle came with a spare magazine) to fuel the Impulse, and I had no issue whatsoever with feeding, extraction or ejection over the course of the range time or either of the hunts.
Leupold's VX-5HD 3-15x44 riflescope—equipped with their excellent CDS elevation dial marked specifically for the 175-grain ELD-X load—complimented the abilities of the rifle/cartridge combination very well. At low power, I had no issue getting on that black bear offhand at 75 yards, at higher magnification and longer distance, it was simple to quickly adjust the parallax, dial for 330 yards and put that goat down with one shot. At the bench, that scope was an absolute pleasure, and remains one of my favorite all-around choices.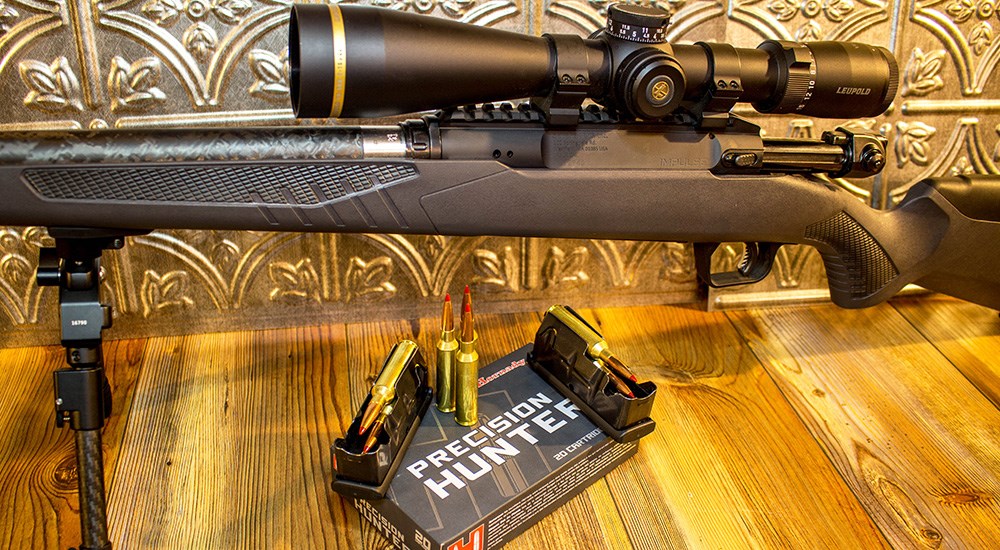 There are currently three loads available for the new 7mm PRC: a 180-grain Match load featuring the ELD Match bullet, a 175-grain Precision Hunter load with the ELD-X bullet and the 160-grain Outfitter load, using the 160-grain CX monometal. When it comes to a magnum cartridge (all three loads hover around 3000 fps) I prefer to shoot three-shot groups to avoid overheating the barrel and fighting those effects; all three loads printed sub-MOA groups, with the 175-grain ELD-X averaging 0.72-inch groups. Observing the muzzle velocities on my Oehler 35P, I found the Match load clocked 2935 fps, the ELD-X at 2988 fps and the 160-grain CX at 3014 fps, and all ran rather consistently. With a very useable trajectory and more than enough striking power for anything I'd use a 7mm bullet for, the combo of the 7mm PRC and Impulse Mountain Hunter made for a solid all-around choice.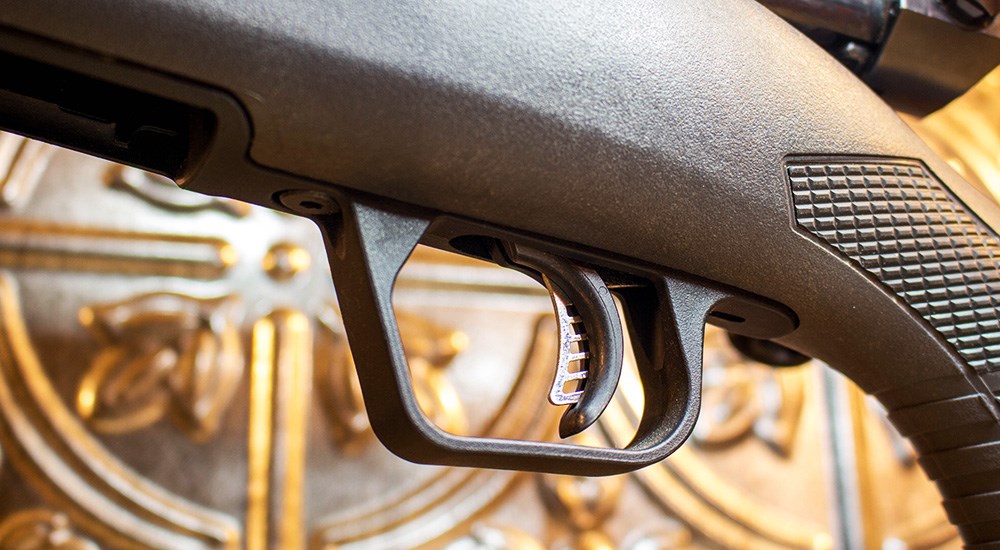 Does the straight-pull design make or break the deal? I am, unabashedly, a traditionalist when it comes to rifle designs, and I will happily argue that Peter Paul Mauser's Gewehr 98 is as good today as it was in 1898. However, as a writer who reviews all sorts of stuff and is forced to adapt to new (and often unfamiliar) products, I had no issue spending a fortnight on hunts with the straight pull Impulse. In fact, though I initially tried to pull upward on the bolt, I quickly adapted to the straight-pull mentality; loading and unloading the rifle many times per day as we climbed different vantage points to glass for bull moose and elk had me bond with the rifle rather quickly. I use lever guns, break action double rifles, conventional bolt guns and falling block single shots as well as varying autoloaders, so the straight pull wasn't difficult to adapt to.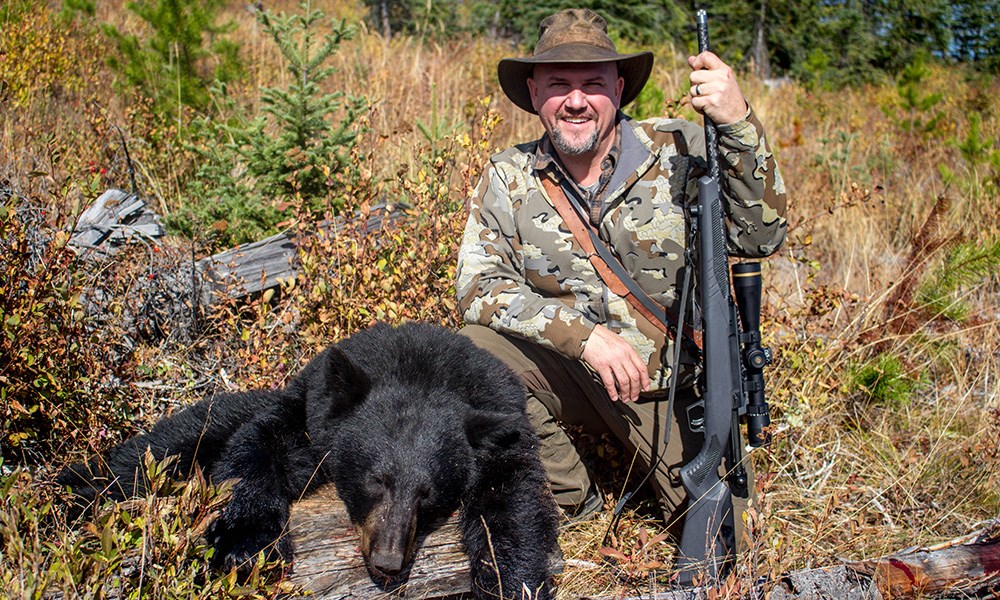 With an MSRP of $2,437, the Impulse Mountain Hunter doesn't join the ranks of the entry-level rifles, but I do feel it is a good value. For a hunter who wants a reliable design capable of fine accuracy when relying on that first, precise shot, yet also which can deliver a succession of rapid shots on running game, the Impulse Mountain Hunter checks the boxes. It has a weight to balance ratio that I appreciate (with the Leupold scope, my rifle weighed 8.5 pounds), an adjustable trigger which allows the shooter to accurately place his or her shots, and a stock which can easily be configured to best fit the shooter. It is available in 6.5 Creedmoor, 6.5 PRC, .270 Winchester, 28 Nosler, 7mm Remington Magnum, 7mm PRC, .308 Winchester, .300 Winchester Magnum, .300 WSM and .300 PRC, so there is something for everyone pursuing the common big game species.
Author's Note: Though the test rifle did not come with one, Savage has indicated that they have decided to equip the Impulse Mountain Hunter with a muzzle brake.