by
posted on March 29, 2023
Support NRA American Hunter
DONATE
Wandering the aisles of the SHOT Show in Las Vegas, I am always intrigued by the amount of new firearms, cartridges and optics released each year. Being a rifle junkie, I pay special attention to the new hunting rifles, and this year has an interesting crop. Some wear walnut and the steel is blued, others are housed in synthetic stocks and have carbon fiber appointments. Some are new designs chambered for familiar cartridges, others are familiar designs chambered for all new cartridges, but all are interesting and should prove to be worthy investments for the hunter. Let's take a look at some of the most exciting introductions this year.

1. Remington Model 700 Alpha 1
Remington is back, but with the firearms division being separated from the ammunition division (the latter becoming part of the Vista Outdoor group). RemArms has introduced their first new rifle—the Model 700 Alpha 1. While the rifle may seem instantly familiar, there are differences from the standard Model 700, including a larger ejection port, one-piece fluted bolt body, Timney Extreme Hunter trigger with flat blade and a bolt which is field strippable. I spent time with the rifle last summer at the FTW Ranch in Texas, where we put the Alpha 1 through its paces. Chambered in 6.5 Creedmoor, using a 22-inch barrel with 5R rifling, the Model 700 Alpha 1 has a slightly elongated magazine box, allowing for the use of longer projectiles. The rifle was plenty accurate and had no problem ringing steel out to 1,000 yards. The synthetic stock fit well, and the barrel was threaded for a brake or can, but you'll need to be aware of the fact that the receiver profile is slightly different than other model 700s. You'll need a unique set of scope bases for this one. Offered in .223 Rem., .22-250 Rem., .243 Win., 6.5 Creedmoor, .270 Win., 7mm-08 Rem., 7mm Rem. Mag., .308 Win., .30-06 Sprg. and .300 Win. Mag. MSRP: $1,759.99; remarms.com.

2. Ruger American Rifle in 7mm PRC
It's no secret that a good many hunters have embraced the Ruger American rifle for its value, and this new variant allows those on a budget to enjoy the new 7mm PRC cartridge. Bedecked in GO Wild I-M Brush camo pattern and Burnt Bronze Cerakote for the metal work, and equipped with a muzzle brake, this Ruger American comes in with an MSRP under $800. This rifle comes with the Ruger Marksman Adjustable trigger, Ruger's Power Bedding system and a three-lug bolt with a 70-degree bolt throw; you get a great value for those who want the new 7mm PRC. Ruger even throws in a factory installed Picatinny rail for mounting your scope. MSRP: $789; ruger.com.

3. Marlin 336 Classic
If you are a fan of lever guns, there is no denying the fact that the Marlin 336 has been a very popular choice, serving hunters well for decades. There is also no denying the fact that since the Ruger acquisition of Marlin, that model has been missed—but no longer. Featuring a 20¼-inch barrel and a tube magazine which will hold six cartridges, the side eject Model 336 Classic is sure to put smiles in the faces of yet another generation. Marlin indicates that their 336 will be available in both .30-30 Winchester and .35 Remington, will feature a walnut stock, and hooded front sight with brass bead. I had a brief opportunity to lay eyes on the new Marlin 336 at the SHOT Show, and it was immediately recognizable as one of the most iconic lever guns ever produced. I'm happy that Ruger has taken the proper steps to reintroduce an icon. MSRP: $1,239; marlinfirearms.com.

4. Savage Impulse Mountain Hunter
Savage introduced their Impulse rifle a couple years ago now, and as one of the few American straight-pull rifles, it met mixed reviews. The straight pull concept is very popular among European hunters, who can encounter multiple targets during a driven hunt, but because of the popularity of the autoloading rifle in America, it hasn't been very popular here. Savage's Impulse opened some eyes, though the original iteration was a heavy rifle. New for this year is the Impulse Mountain Hunter, a lighter version of the ambidextrous design featuring a carbon-fiber wrapped barrel from Proof Research and an aluminum receiver. I got to take this rifle to Wyoming for pronghorn antelope, and to British Columbia for black bear, and it became a fast friend. Chambered in the new 7mm PRC, it was wonderfully accurate, hit hard, and the straight pull action was no hindrance at all. In fact, follow up shots can come very rapidly once you are used to the action. With a detachable steel magazine and ergonomic synthetic stock, the Savage Impulse Mountain Hunter is a great choice for those looking for something a bit different. Available in 6.5 Creedmoor, 6.5 PRC, 7mm PRC, 28 Nosler, .308 Winchester, .300 WSM and .300 Winchester Magnum. MSRP: $2,437; savagearms.com.

5. Henry Steel Lever Action Side Gate
Here's another lever gun, one you're probably already familiar with. Like the Marlin 336, this is a side-gate loading, tubular magazine lever-action rifle. However, this one is different, because it's chambered in the new .360 Buckhammer from Remington.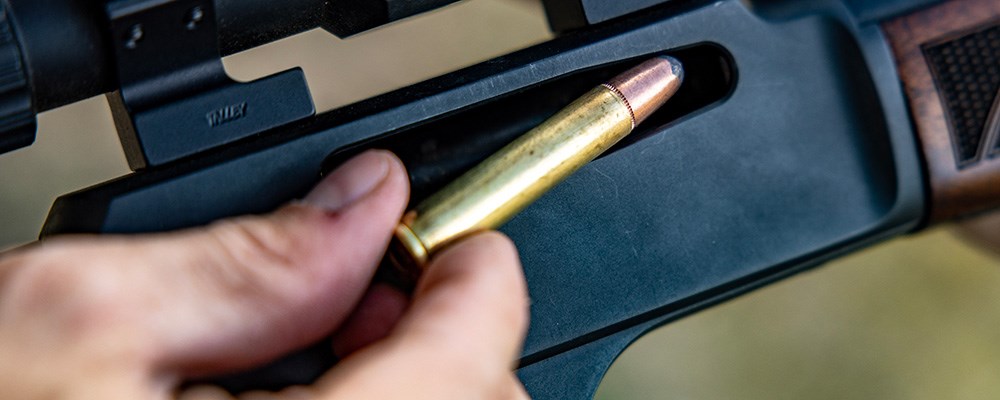 Henry has partnered with Big Green to bring the new cartridge to life, giving a sound rifle platform to the new rimmed cartridge. Remington has taken the .30-30 Winchester case, shortened the case to 1.80 inches and removed the bottleneck in order to comply with the regulations of a number of Midwestern states. Driving 180- and 200-grain .358-inch-diameter bullets to 2400 and 2200 fps respectively, a Henry rifle chambered for this new cartridge is sure to make an impression in the deer and bear woods. MSRP: $TBD; henryusa.com.

6. Browning X-Bolt Stalker Long Range
While I normally lean toward classic designs when it comes to a bolt rifle, I have always liked the Browning X-Bolt. The 60-degree bolt throw, the tang safety and, of course, the consistent accuracy make an almost irresistible package. The Browning X-Bolt Stalker Long Range is a no-nonsense workhorse of a rifle, built to deliver your bullet precisely where it needs to be, while giving you the features you need with nothing you don't. The black composite stock is textured at the pistol grip, which has a nice palm swell, and at the fore-end. The heavy sporter contour barrel features a Recoil Hawg muzzle brake which can take up to ¾ of the recoil out of the rifle—a thread protector is supplied for those who don't like the brake (my ears ring constantly). An adjustable comb allows proper sight alignment for those who wish to use a scope with a larger objective lens, requiring the optic to be mounted higher over the bore. Like other X-Bolt models, the barrel is free-floated, and I've always appreciated that the two-position safety is enhanced by the bolt unlock button, allowing the shooter to safely unload the rifle. The X-Bolt Stalker Long Range wears a 26-inch barrel, an alloy trigger guard and a detachable rotary magazine, making for a great package for those who want to wring all the velocity out of their cartridge, yet keep the weight to a tolerable level.  Available in 6.5 Creedmoor, 6.5 PRC. 6.8 Western, .280 Ackley Improved, .28 Nosler, 7mm Remington Magnum, .308 Winchester, .300 PRC, and .300 Winchester Magnum. MSRP: $1,129.99-$1,179.99; browning.com.

7. Stevens Model 334
Well, it's been a bit since we've seen a new hunting rifle from Stevens, and the Model 334 won't fail to please. For under $500, you get a push-feed action, with a three-lug bolt and 60-degree throw, a free-floated button-rifled 20-inch barrel, detachable magazine and choice of walnut stock or synthetic stock. With a three-position safety, an 11-degree target crown, a Picatinny rail and an adjustable trigger, the Stevens 334 follows suit with the Savage line of offering a great value to the hunter on a tight budget. Available in .243 Winchester, 6.5 Creedmoor or .308 Winchester, there is a choice for hunters of nearly all big-game species, packed with a bunch of very useful features. MSRP: $489; savagearms.com.

8. Winchester Xpert .22 LR
Winchester brings us a new bolt-action rimfire—the Xpert. With a modernistic polymer stock—the butt is hollow—and the adjustable Rimfire M.O.A. Trigger, the Xpert's steel receiver and button-rifled barrel will deliver consistent accuracy in any weather or season. The Xpert uses a 10-shot rotary magazine (it will accept 10/22 magazines as well), with ambidextrous magazine releases, and has a ramped front sight and adjustable rear sight, while being drilled and tapped for a scope mount. That polymer stock is adjustable for length of pull, and the comb can be adjusted as well. The Xpert features a Bentz-style chamber (developed for autoloading rifles) to enhance accuracy. In spite of an 18-inch steel barrel and steel receiver, the Xpert weighs in at 4 pounds, 8 ounces, making it a good choice for a youngster. With a price tag of just under $320, the Xpert represents a good way of getting a new shooter behind the trigger of the universal .22 Long Rifle, whether at the target range or in the squirrel woods. MSRP: $319.99; winchesterguns.com.