by
posted on March 21, 2016
Support NRA American Hunter
DONATE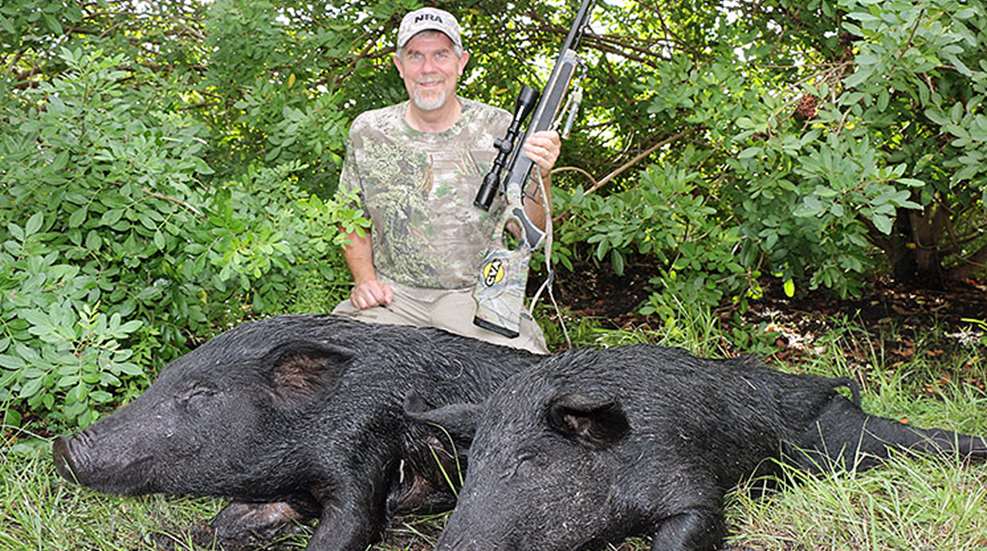 Knock inventions-by-committee all you want, but the deliberate process that led to CVA's Accura V2 LR Nitride was a thing of genius. Since the debut of the original Accura in 2008, the company has hatched one meaningful upgrade after another, ranging from small tweaks to major innovations, the cumulative result being this new model that offers the all the best performance and durability features for as little as $528 (based on current online pricing). We are so impressed, that the slow-cooked Accura V2 LR was unanimously selected as American Hunter Muzzleloader of the Year for 2016. 
The Accura offers a break-open action that grants instant access to the breech, thereby easing priming and cleaning. A few years later, the Accura V(ersion)2 introduced the ingeniously simple Quick-Release Breech Plug—a large knurled knob that's easy to grip with considerable leverage. It was the first tool-free design and remains the only one I've used that reliably can be finger-loosened after a dozen shots or more.
Along the way, CVA re-issued the Accura with a mind-boggling array of top-shelf accessories. These include:
• Crush Zone recoil pad;
• DuraSight Dead-On one-piece scope base-ring set;
• Quake Claw sling;
• A clean-breaking trigger that's user-adjustable from 3.0 to 4.75 pounds pull weight;
• And Palm-Saver aluminum ramrod.
Another plus is the gun's thumbhole stock, decked out in a Soft-Touch coating in Realtree Max-1 camo. It sports a high, straight comb optimal for scope use and solid cheek weld, and contains large rubber inserts in the grip areas.  
However, they are a pair of major components that set this top-of-the-line CVA apart from competitors. Foremost is the gun's Bergara barrel, an in-house brand established by CVA's parent company in Spain expressly for the purpose of upgrading their muzzleloaders' accuracy. Operating in a brand new, high-tech factory, Bergara actually exceeded that objective, and soon many frontline firearm manufacturers from around the globe sought out this new source whose quality rivals top custom barrels. Today, Bergara barrels can be found all sorts of hunting and tactical arms, and their performance makes it possible for CVA to offer a money-back accuracy guarantee with the Accura V2 LR. Specifically it sports a fluted, 30" tube made from 416-grade stainless steel.
More recently, CVA improved barrel life with a nitride treatment it says results in a muzzleloader that's as close to corrosion-proof as has ever been developed. The Salt Bath Nitride process, applied on exterior surfaces and inside the bore, affects a molecular change that hardens the steel to the point where it becomes more durable than chrome, previously the top choice for bore toughening.
I've been shooting CVA Accuras since the beginning and couldn't help but note all those periodic improvements that (to paraphrase the company slogan) just kept making it a better gun. Most recently I used a V2 with its Bergara Nitride-treated barrel on a Florida wild hog hunt. The conditions weren't what we'd consider harsh, but in fact it was extremely hot and humid with sudden thunderstorms. The muzzleloader got drenched, and along the way I perspired all over it. But when opportunity knocked, shots between 130 and 150 yards, the Accura V2 was dead-on accurate, as it had been posting a 1-inch group when we checked the zero. There was no sign of the subtle 'orange-peel' corrosion that often pops up when gun metal gets exposed salt air and sweat, especially where blackpowder is in use. And so it really is the closest I've ever seen to a rust-proof muzzleloader 
The award-winning LR (Long Range) variant tip the scales at 8 pounds and offers extra barrel length to coax increased muzzle velocity by more thoroughly burning the powder charge. And if flatter trajectory doesn't provide an advantage, the longer, heavier barrel should at least help open-country shooters hold steadier. Eastern tree-stand hunters can opt for the baseline Accura V2 Nitride, 7.35 pounds/27-inch barrel; or if high-country trails are in your plans, there's a scaled-down Accura MR Nitride with a 25-inch barrel weighing a trim 5.35 pounds.