by
posted on June 24, 2018
Support NRA American Hunter
DONATE
Editor's Note: Editorial Director John Zent recently had the chance to put the following gear to use on a Cape buffalo hunt in Mozambique. You can catch up on that story here.

CVA Accura V2
In contrast with centerfire rifles, most hunters could use the same muzzleloader for Cape buffalo that they take to the deer woods. Today's popular .50-caliber inlines have proven capable, and not just according to our small sample, but also in the hands of a certain TV celebrity whose original claim to fame was hunting the world one blackpowder shot at a time. Not long after returning, one of the CVA Accura V2s I used in Mozambique went whitetail hunting.
CVAs have come a long way from the DIY kits of the 1970s. Today the firm is a leader in manufacturing technology and practical design, and accordingly has earned multiple American Hunter Golden Bullseye Awards. Major advances include state-of-the-art Bergara barrels from CVA's parent company in Spain and nitride metal finish, innovations since adopted by other firearm makers. Add in smart touches like the Quick-Release breechplug, Palm Saver ramrod and recessed barrel crown, and it's no wonder CVA dominates.
My opinion on which Accura V2 model variant would be best differed from Dudley McGarity's, and while I was welcome to it, we ultimately came to an accord. Where he liked the shorter, straight-stocked Accura V2 MR for its slick handling, I felt that the LR model, with its long 30-inch barrel and thumbhole stock, would help me make a dead-on first shot. After practicing with both, I stuck with my preference right up until we sighted-in at camp. The streamlined MR shot so well and since it would be handier in a close encounter, I had second thoughts. When time came to set out on a stalk, I grabbed the MR. MSRP: $420.50-$722; cva.com.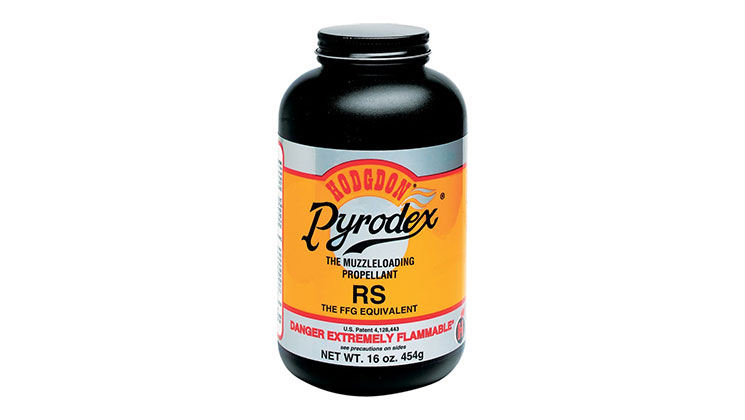 Hodgon Pyrodex RS Powder
To thump those hefty black bulls we deviated somewhat from typical deer loads, but perhaps not so much as one might think. Because of limited propellant availability in Africa, our group ended up using loose Pyrodex RS, which suited me just fine. Though I mostly opt for the convenience of pellets, loose powder produces more consistent velocities and consequently tends to be a bit more accurate. Better yet, loose powder will post higher velocities than an equal volume of corresponding pellets, and while that translates to a minor uptick in terminal energy, why not hit the buffalo with everything we could muster? Even so I settled on a 130-grain charge rather than going for the full-house 150 grains because it has been my observation that accuracy degrades with the stouter loadings. MSRP: $19.99; hodgon.com.
PowerBelt Safari Bullet
The wild card in the mix was the 480-grain PowerBelt Safari bullet. You won't find this heavyweight in deer or elk camps, and you won't find it on retailers' shelves. Available by special order, the Safari is strengthened with a steel tip—actually a flat-nosed cap—that expedites penetration while shielding the bullet's lead core. This unique construct was developed by PowerBelt's Michael McMichael to meet his personal hunting ambitions; he's used it not only on buffalo but also to take elephant. A handful of customers have likewise used the fortified, black-coated Safari on dangerous beasts worldwide.
In preparation, my groups, both from the bench and off sticks, were perfectly fine considering a buffalo's big vital zone and the close-range shots we'd likely be taking. It was a confidence booster being able to keep all my shots from sticks inside 4 inches out to 75 yards.
When it mattered the big muzzleloader slug produced end results akin to what we expect from leading centerfire bullets. With correct placement, Dudley's buffalo was dead on its feet and mine was dead before it could get to its feet. The lead cores from those shots penetrated all the way through the respective bulls' chest anatomy before coming to rest under the opposite hide, thus delivering full energy transfer and decisive internal damage. The steel tips separated and were found apart from the cores, which deformed a bit, but still managed to penetrate fully. MSRP: $varies; powerbeltbullets.com.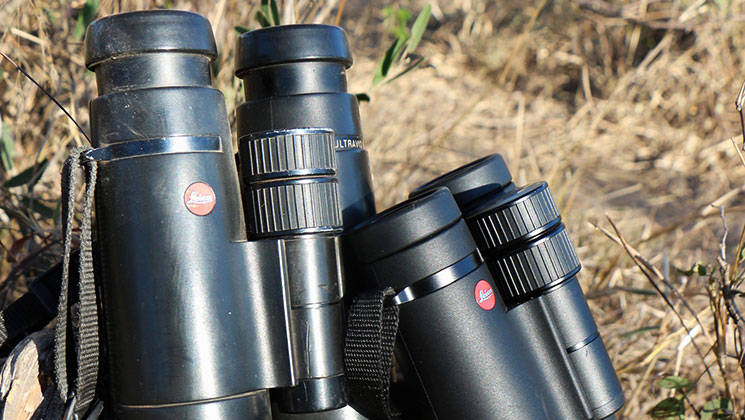 Leica Optics
Leica binoculars have long been a draw for hunters willing to pay the price for best-quality glass, and over the past decade the German firm has gotten serious about riflescopes as well. Its flagship Magnus scopes, including a compact unit with 1X-6.3X magnification and an illuminated dot reticle, are as brilliantly capable for dangerous game as its award-winning Ultravid binos are for spotting and watching game. With so much on the line and so many wonders to see, legendary Leica glass was much appreciated. MSRP: Magnus i 1X-6.3X-24mm riflescope, $2,199; Ultravid HD-Plus binocular, $2,149-$2,299; us.leica-camera.com/sport-optics.