by
posted on October 15, 2018
Support NRA American Hunter
DONATE
If you have been thinking about getting a new scope for your hunting rifle, maybe that's why your ears have been burning.
Following up the debut of its red dot sight and battlesight line on Oct. 1, today Crimson Trace announced more good news for American hunters and shooters as it unveiled its innovative Sport riflescope line—a move topped off with a new company logo to boot.
Making headlines just in time for the National Association of Sporting Goods Wholesalers Expo, Oct. 16-19, in Pittsburg, Pa., the new Sport riflescope line showcases 11 models catering to hunters, target shooters and tactical and long-range shooting enthusiasts. The line features three custom-designed series for short, medium and long-range applications all engineered to "elevate your confidence in moments that matter." Choose from one-piece 30mm and 34mm tubes in a variety of magnification options with objective lenses ranging from 24mm to 56mm. Spanning from a 1-4X24mm model in the sporting lineup to a 5-25X56mm long-range tactical model, the riflescopes offer seven custom reticle designs to best serve the user's needs.

"We're extremely excited to enter the large and diverse riflescope market with these feature-packed products," said Lane Tobiassen, President of Crimson Trace and American Outdoor Brands Corporation's Electro-Optics Division. "Consumers can expect the same high-quality engineering and design that Crimson Trace has been providing for nearly 25 years."
Thanks to being avid hunters and shooters themselves, Crimson Trace's engineers delivered advanced exterior and interior components. State-of-the-art ED (extra low dispersion) multi-coated Japanese glass compensates for any color fringing and protects the riflescopes from scratches and debris. The waterproof and fog-proof scopes feature a fully-illuminated reticle in the first focal plane. This means the reticle size, which appears to grow smaller (or larger) as the user decreases (or increases) magnification, remains consistent in relation to the size of the target regardless of magnification level so holdover points remain the same for windage and elevation. The reticle's illumination intensity level is easily adjusted for the conditions to deliver a clean, bright image.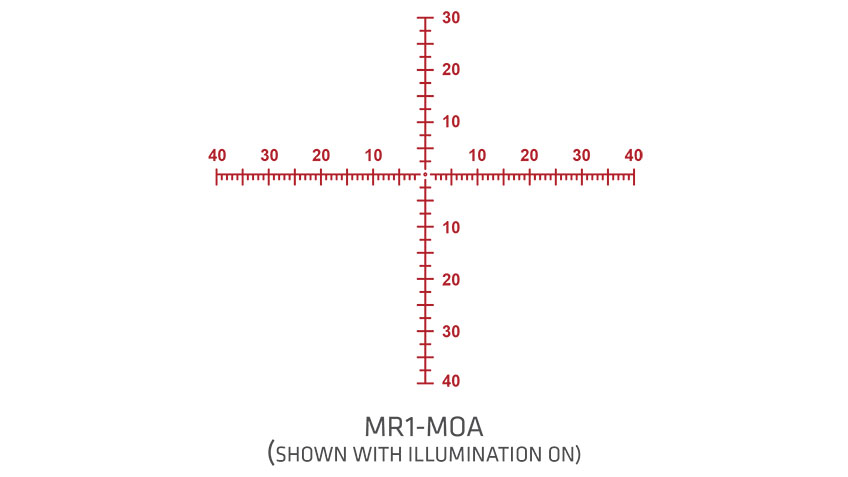 One of the most noteworthy features is perhaps what Crimson Trace calls its Red Alignment Ring (RAR) Technology. An innovative red ring appears as you take aim in the scope but disappears once your eye is properly aligned, helping shooters to attain the correct sight picture. Hunters whose hands tend to get cold will appreciate that the scope turrets sport Crimson Touch Lands and Grove Slots to make adjustments easier when wearing gloves. Handy flip-up caps on the ocular and objective lenses protect the glass and keep it clean.
I got a sneak peek at the Sport riflescope's 3-9X40mm model (34mm tube) this summer while hunting with Mike Faw, the company's public and media relations manager, to test the new CTS-1100 3.5X battlesight for hunters that debuted on Oct. 1. For starters, I was impressed with the fact this mid-range riflescope was built from scratch. Its custom-designed MR1-MOA fully-illuminated reticle in the first focal plane was right in step with longer-range shooters' preferences. Hunters who mount this scope will appreciate its EZ Mount Leveling Indicators, which simplify installation but also ensure precise mounting, aiding accuracy at longer ranges. Rounding out the offerings, the line includes two 1-8X28mm riflescopes—a sport version and a tactical version—with 34mm tubes.
For added bonuses, the entire Sport riflescope line offers generous eye relief and is covered by the company's "free batteries for life" program and a Lifetime Protection Guaranteed Warranty. Scopes come with an owner's manual, reticle manual, adjustment tools and a lens cleaning cloth. Packaging features the new and distinct red Crimson Trace packaging and "CT" logo. MSRPs run from $499 to $1,999.
Of course, true to company roots, while making its foray into the hunting market, Crimson Trace continues to expand its cutting-edge laser sight and tactical light offerings for which it is so well known. As Faw noted, not one product line was sacrificed to launch the Riflescope Sport line. Crimson Trace is merely bringing its dedication to accuracy and precision into yet another product category as it strives to meet consumer demands.
For more details on the Crimson Trace riflescope launch or on the other new products it is unveiling in its traditional product categories—or on the 350-plus laser sights the company already manufacturers—visit crimsontrace.com or call 800-442-2406.

New Logo for a New Era
Getting back to that new logo I mentioned, as Crimson Trace gets set to celebrate its 25th anniversary in 2019, it felt it was time to update its look. Its new logo with distinct CT lettering helps the company to come on stronger than ever with sighting options for hunters, long-range shooters, 3-gun competitors and other clientele.
"As Crimson Trace reaches the end of the first 25 years in business and moves into the future, our new brand ID and new product line launches also signal Crimson Trace's expansion into the broader Electro-Optics market," said Lane Tobiassen, President of Crimson Trace Corporation and the American Outdoor Brands Electro-Optics Division.  "We will apply all our well-recognized principles of product development and innovation, along with our legendary customer service, into this new brand and into these product lines. It's a new era at Crimson Trace on many levels."
And that is exciting news for hunters as Crimson Trace fans get set to head to their local dealers to check out the new Sport riflescopes and other products adorning its ever-expanding product lines.