by
posted on October 26, 2016
Support NRA American Hunter
DONATE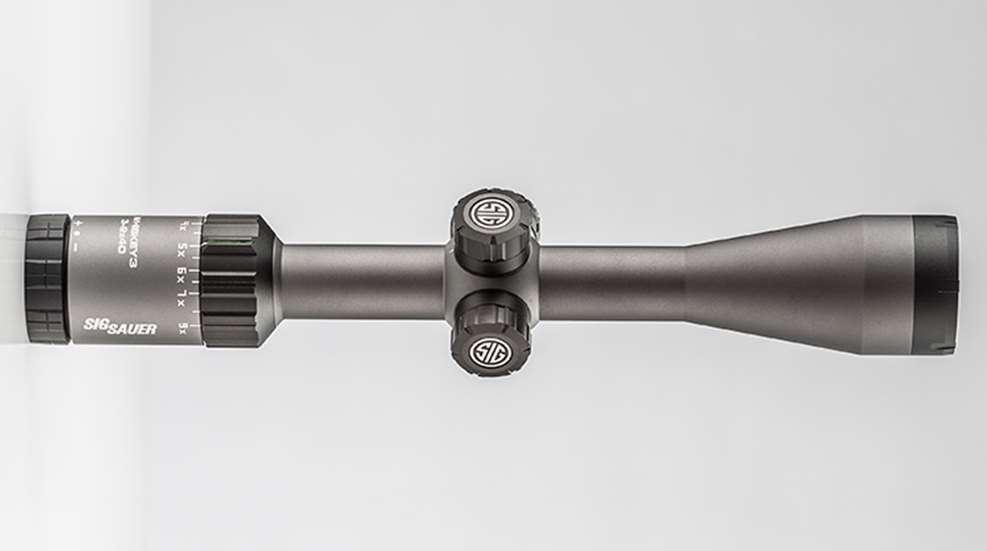 SIG Sauer is known as a quality producer of military and law enforcement firearms that come at a premium price. Previously SIG had an association with the hunting market by way of its sister brands, Blaser, Sauer and Mauser, until they were separated approximately 10 years ago to serve the hunting market as stand-alone entities.
But then in 2014 SIG Sauer created an electro-optics division in Portland, Ore., under the leadership of Andy York, who has more than 25 years of experience in the optics industry and is an avid big-game hunter. Together with his team of engineers and support staff, York quickly brought to market a series of products that complemented SIG's law enforcement and military offerings—but he didn't forget his passion for hunting. York was firm in his resolve to enter the hunting market with quality riflescopes differentiated from his competitors by more features and the best warranty available, at lower price points. The results were the Whiskey3 and Whiskey5 lines of riflescopes, offering 3X and 5X magnification ranges, respectively.
Often when reviewing new products I tend to focus on what I perceive would attract the majority of potential users, particularly those at the entry level. Economy plays a part here because for many of us, investing hundreds of dollars in hunting equipment is more likely than shelling out thousands to meet a similar objective. With that in mind I selected the Whiskey3 3X-9X-40mm riflescope, a good multi-purpose option that retails for about $200.
Before I mount a scope on a rifle for evaluation, I like to put the scope through some preliminary tests that, if not passed, save me the time and ammunition of going any further. In no particular order, I drop the scope on the ground several times from shoulder level just to see if it rattles after I pick it up for the last time. I put the scope in the freezer for a day or two, after which I immediately submerge it in a container of warm water to see if there are any gas leaks or if the lenses fog from the environmental extremes. The Whiskey3 passed these initial tests without incident.
I tested the moving parts of the ocular lens and power-selector ring by simply moving them through their full range of motion several times to check for consistency of movement. On the Whiskey3 both were consistent and tight.
Perhaps the windage and elevation adjustments are of most interest to an average riflescope owner. I first "exercised" the dials by moving them to both ends of their range of motion several times, feeling for irregularities and ensuring that I got the same amount of turns and clicks each time. I then counted the well-defined clicks from each extreme and compared that number to the printed specifications. The specs for the Whiskey3 call for 90 MOA of adjustment in both windage and elevation. I got 96 MOA for both, which later proved to be accurate when I tested the scope on a rifle.
I found eye relief to be optimum for my eyes at 3.8 inches. Advertised eye relief is 3.5 inches. I look at the extra .3 inch as an advantage even though it is practically insignificant.
The Whiskey3 is a second-focal-plane scope, which means the Quadplex or optional Triplex reticle (both available with illumination) appears the same regardless of power setting. The European-style quick-adjust ocular lens makes quick work of clearly seeing the reticle, which is necessary for best performance.
Resolution and brightness are subjective to the user in that the individual's vision is a variable in the equation. To gain perspective, I compared the Whiskey3 side by side with other known high-quality optics. At multiple distances and in varying light conditions to determine the level of contrast and detail, the Whiskey3 held its own against much more expensive scopes. Target clarity was sharp with good definition at all light levels.
I mounted the scope on a Sauer 100 rifle to see how it would perform under fire. The first three shots with Hornady American Whitetail ammunition printed a 1-inch cluster 6 inches low and 5 inches left at 100 yards. After adjusting the scope up 24 clicks and right 20 clicks to correspond with its .25-MOA adjustments, I fired another three-shot group. This time the bullets impacted right where I was aiming for another 1-inch group, and I knew this was a winning combination.
In the 120 rounds I fired while testing the Whiskey3, I was never disappointed. When I fired a 12-MOA box drill, the scope adjustments were right on the money. The optical center of the internal mechanism was validated when I shot groups at each power setting with no change in point of impact. It is rare to test an economy-priced riflescope (this one is assembled in the Philippines) that performs as would be expected from an optic many times the price.
On top of that, a Whiskey3 purchaser can provide SIG Sauer with specific ballistic data and get a free SIG Ballistic Turret custom-engraved for his rifle and ammunition combination. The icing on the cake is the no-questions-asked, Infinite Guarantee on all SIG Sauer electro-optics products. You can't get much better than that!
Technical Specifications:
• Type: variable-power riflescope
• Magnification: 2X-7X, 3X-9X (tested), 4X-12X
• Objective Lens Diameter: 32mm, 40mm (tested), 50mm
• Eye Relief: 3.5"
• Exit Pupil: 13.3mm (3X), 4.4mm (9X)
• Field of View @ 100 Yds: 33.9' (3X), 11.3' (9X)
• Reticle: second focal plane; Quadplex (tested), Triplex; Hellfire illuminated versions optional
• Adjustments: .25 MOA
• Coatings: fully multi-coated; SpectraCoat anti-reflective, LensArmor abrasion-resistant
• Dimensions: tube diameter 1"; length 12.3"; weight 15.7 ozs.
• Construction: one-piece anodized aluminum tube; low-dispersion glass; nitrogen-filled; waterproof, fog-proof, shockproof
• Accessories: Lens covers, lens cloth, coupon for free SIG Ballistic Turret
• MSRP: $219.99