by
posted on October 1, 2018
Support NRA American Hunter
DONATE
For nearly 25 years, America's 80-million-plus gun owners have relied on Crimson Trace to deliver innovative, award-winning laser sights and lights for personal protection, law enforcement and military applications. But today's news trickling out on the company's new products marks big news for hunters, 3-gun competitors and home defenders alike as the company launches a new red dot sight and battlesight line featuring the following five models: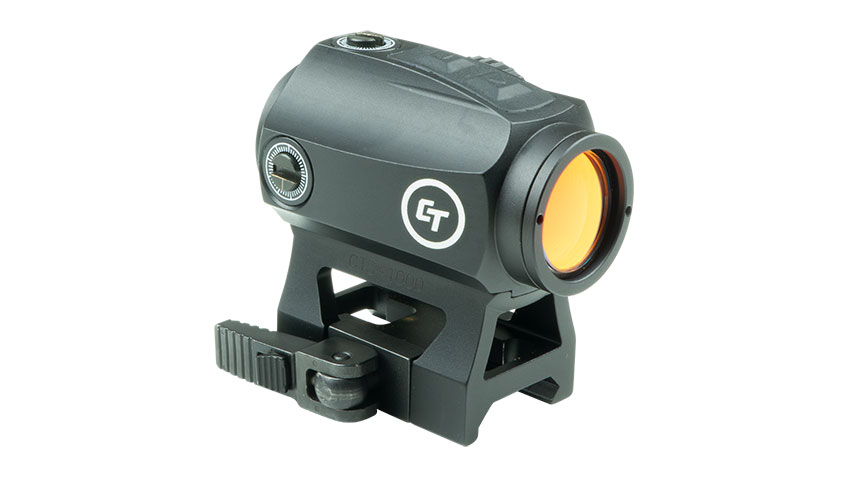 • CTS-1000: This closed red-dot sight with a 2 MOA aiming reticle is specifically designed for use on a rifle. It offers adjustable brightness settings, multi-coated lenses with an advanced notch filter to maximize clarity and a sturdy aluminum chassis. Easily adjusted for windage and elevation as well as intensity level, it features a quick-release mount and comes with a battery destined to provide the user years of service. MSRP: $329; crimson trace.com.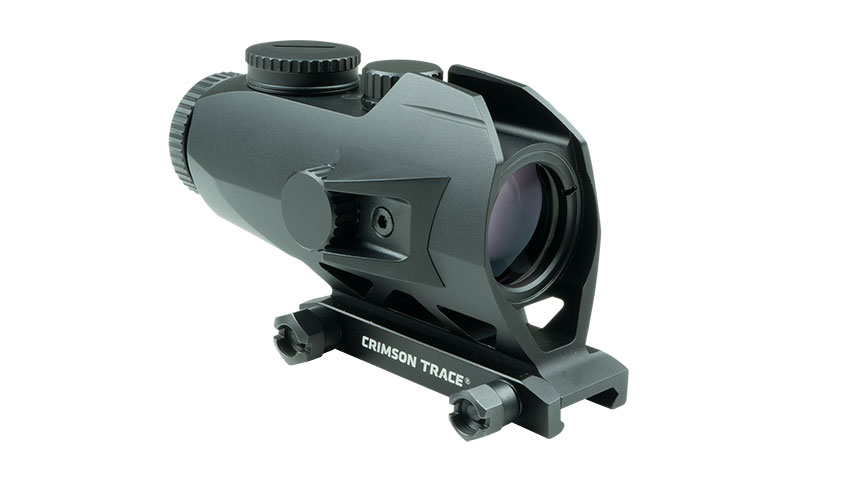 • CTS-1100: This cutting-edge 3.5X battlesight with a 30 mm objective lens features a custom, fully-illuminated advanced hybrid BDC reticle designed by the Crimson Trace engineers. My personal favorite (partly because I personally tested this one on a hunt prior to today's new product launch) the sight is designed primarily for use on a long gun, offers a much-appreciated wide field of view and installs easily with an M1913 mount. Long-term operation is take care of thanks to the provided CR2032 battery. MSRP: $599; crimsontrace.com.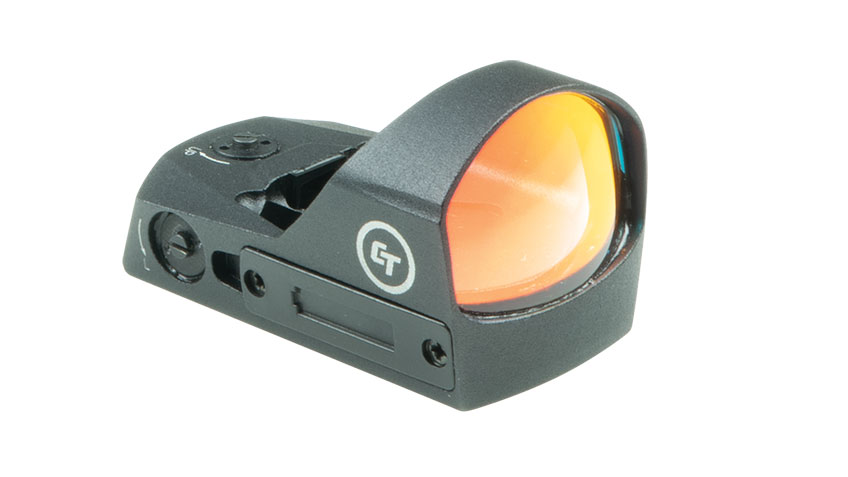 • CTS-1200: This compact red-dot reflex sight with a 3.25 MOA aiming reticle is specifically designed for mounting on a pistol. The battery can be changed easily through a side-opening access slot without removing the sight from the firearm.The controls are easy to reach, enabling quick adjustments in light intensity as needed. MSRP: $399; crimsontrace.com.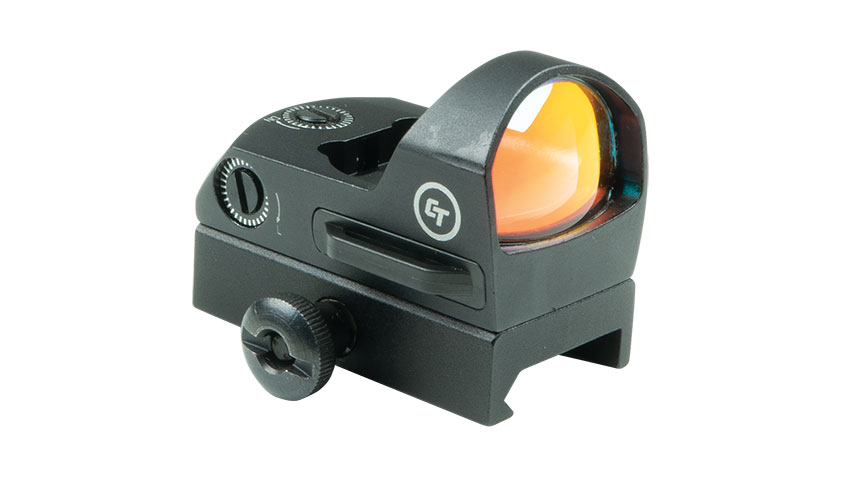 • CTS-1300: This compact, open red-dot sight provides a 3.5 MOA aiming reticle. As with the CTS-1100, it is designed for use with long guns, delivers a wide field of view and provides for easy windage and elevation adjustments. Fully multi-coated optics and an advanced notch filter improve clarity. The sight has a removable Picatinny rail mounting system so it can be adapted to work with other mounting systems. MSRP: $249; crimsontrace.com.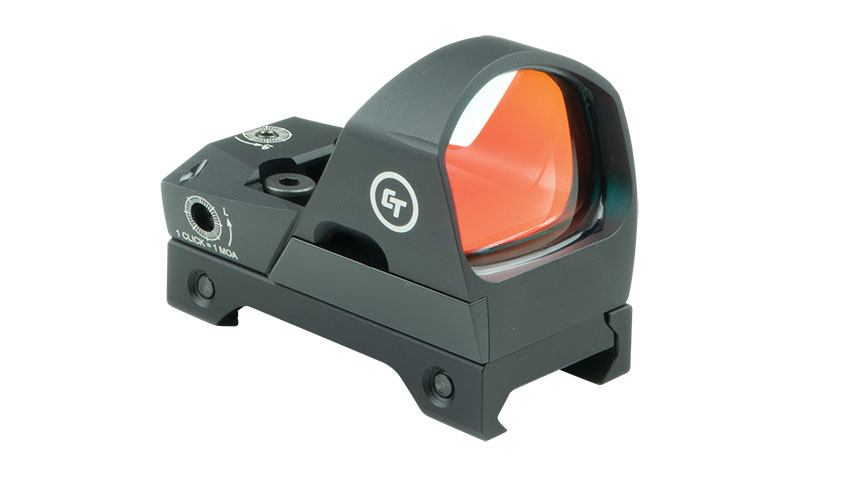 • CTS-1400: In step with the CTS-1300, this open red-dot sight also houses a 3.25 MOA aiming reticle, offers a large field of view and is designed for use with long guns. Stepping things up a notch, the CTS-1400 also features an advanced motion detection system that notes periods of inactivity resulting in automatic shut-off to save on battery life. MSRP: $469; crimsontrace.com.
I represented American Hunter during some field-testing and a buffalo hunt in Bozeman, Mont., in July with my friend and Crimson Trace's Public and Media Relations Manager Mike Faw. We visited Noreen Rifles based in nearby Belgrade and borrowed a .300 Win. Mag. that we topped with the new CTS-1100. Worth noting, not just this model but the entire red dot line is produced in step with current industry standards and installation features to guarantee after-market compatibility with a variety of firearms and mounting systems.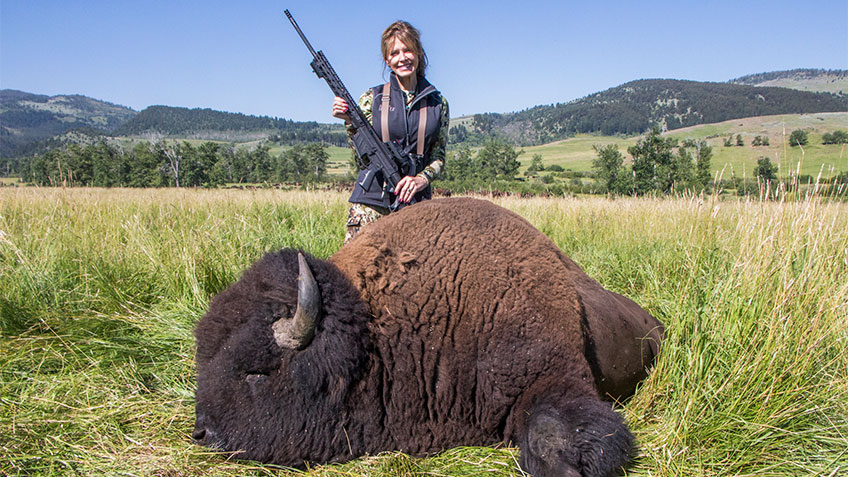 As I took aim with the 3.5X scope on the range, I appreciated the Crimson Trace engineers' attention to detail in creating the CTS-1100's custom hybrid BDC (Bullet Drop Compensator) reticle. As the reticle image shows, the hybrid features a standard duplex reticle with lines representing bullet drop. Its adjustable diopter ensures the sight can be focused to the shooter's eye so the reticle is sharp. Hunters and target shooters alike will benefit from how the red dot sight provides for quick close-range target acquisition and that it is built to withstand anything one encounters in the field, thanks to its aircraft-grade anodized aluminum housing and the fact the sight is fog-proof, water-proof and shock-resistant. At 5.4 inches long and 2.3 inches wide, the 16-ounce sight offers 10 brightness settings and, as a testament to its clear-coated glass, delivers a crisp, edge-to-edge image. In terms of ergonomics, I like that the brightness buttons and on/off switch are easily accessible on the scope's right side, even when wearing gloves. The brightness intensity buttons are stacked for ease in attaining one's preferred brightness setting and when quick adjustments are needed in changing light conditions. Windage and elevation adjustments are in .5 MOA increments, making for one ultra-adjustable sight that performed as promised on my buffalo hunt, marking Crimson Trace's foray into the hunting world.
The new red dot sight and battlesight line is packed with a few extras that gun owners have come to expect from Crimson Trace as it gets set to mark its 25thanniversary in continuous laser sight design. Every model is night-vision compatible and provides stellar light transmission. MSRPs begin at $199. For an added customer service touch, the line is covered under the company's Free Batteries for Life program.
For more details on the new sights—or any of the other 350-plus laser sights the company manufacturers—visit crimsontrace.com or call 800-442-2406.