It's no secret that hunting big, open country requires the glass to conquer it. Whether you're chasing trophy elk in the Rocky Mountains or bighorn sheep in British Columbia, a high-quality spotting scope can save you invaluable time spent tracking down the wrong animal or being shocked by serious ground shrinkage.
In the early days of my hunting adventures, I didn't much see the need for a multi-thousand-dollar piece of glass. For one thing, a crisp big eye can easily cost more than your monthly mortgage payment. Likewise, if you're hunting the fairly quaint confines of private property or mostly thick timber, the true need for long-range optical performance doesn't quite set in. But it's when you step into the limitless vistas of the West, the necessity for a good spotting scope really comes into focus.
Where a quality spotting scope really shines is in low-light conditions and maximum magnification when trophy animals tend to be most active. As I've continually experienced, crystal clear glass with enough magnification and optimal color contrast is often the difference between properly evaluating a 330-inch bull at dusk or making the wrong call, which leads to precious time afield being wasted. Likewise, a good spotter can save you time at the range, especially when you're dialing in for longer shots. Here's a look at eight spotting scopes that will help you get the most out of your next hunt or trip to the range.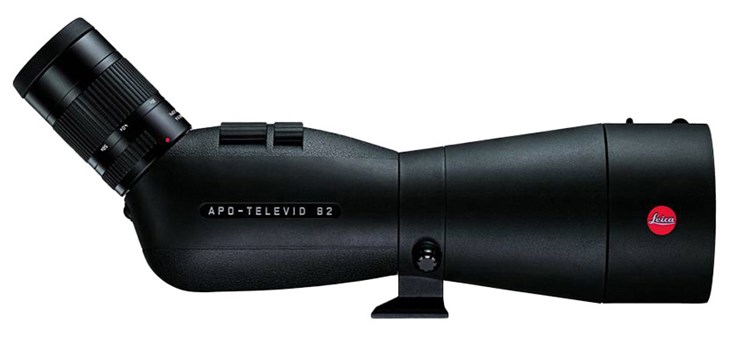 1. Leica APO-Televid 82
Featuring pure fluorite crystal and an 82mm objective lens, the Leica APO-Televid is one of the brightest pieces of glass in its class and meets the expectations of top-shelf spotting scopes. The scope features AquaDura water- and dust-resistant coatings on exterior glass, while overall image brightness, clarity and color is nothing short of remarkable. Leica sells the eye piece separately, with your choice of angled or straight body, which is currently available in the 25x-50x configuration. Wide-angled and aspherical, the zoom eye piece doesn't offer as much zoom as other 60x models on the higher zoom range, but doesn't seem to be any less stunning. Uniquely, the Televid features two zoom dials with different ratios, giving you a broader and finer focus adjustment. Digiscope-friendly and a top low-light performer, the APO-Televid is among the best spotting scopes available today. MSRP: $3,578 (with eye piece); leica-sportoptics.com.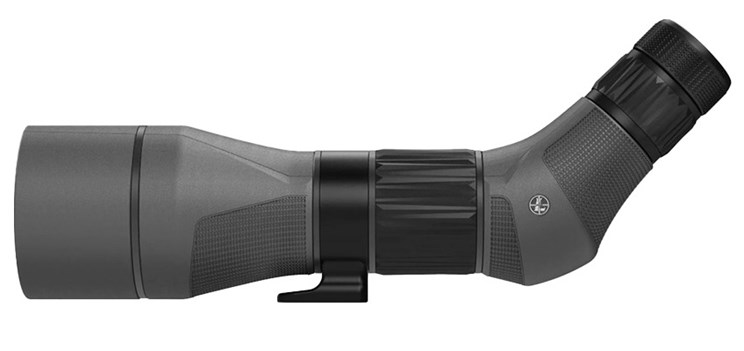 2. Leupold SX-5 Santiam HD 27x-55x-80mm
Built for competition shooting and serious hunting expeditions, Leupold's new SX-5 Santiam HD 27x-55x-80mm features the company's Twilight Max HD Light Management System, allowing you to get the most out of your glass when light is at a minimum. Durable enough to take the most extreme conditions in the field, the SX-5 features a DiamondCoat 2 treatment on the exterior lens surfaces, as well as an ion-assist lens coating for premium light transmission and abrasion resistance. Focusing is smooth with fine adjustments so you don't waste precious seconds tracking a trophy animal or target. A retractable lens shade aids in midday viewing, while twist-up eyecups deliver exceptional eye relief. Loaded with features, the SX-5 Santiam HD comes with a soft-sided case that stays on while in use, helping protect your investment from abuse. It's is available in either straight or angled configurations and offers supreme value for your dollar. MSRP: $2,339.99; leupold.com.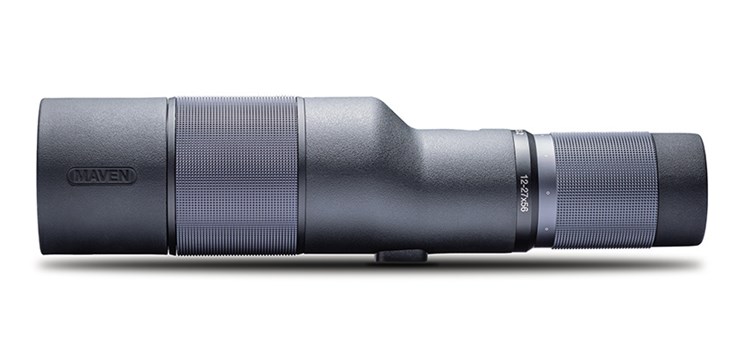 3. Maven S.2 12x-27x-56mm
While Maven offers more magnification with the company's S.1 series spotters, its newest S.2 scope carves out a spot in the lightweight backcountry hunting niche at half the weight of many other models. Weighing in at just 34.4 ounces, the S.2 12x-27x-56mm scope is made to travel light in a pack when you're going deep in the wilderness. Despite its compact 11-inch housing, the 56mm objective lens delivers fantastic light transmission, while extremely sharp fluorite glass limits distortion and provides color clarity. An Abbe-Koenig prism and generous field of view make for edge-to-edge clarity, perfect for covering serious country without weighing down your pack. Durable and compact, the S.2 comes with a twist-up eye cup and generous eye relief, as well as a zippable soft case for stowing in a pack. MSRP: $950; mavenbuilt.com.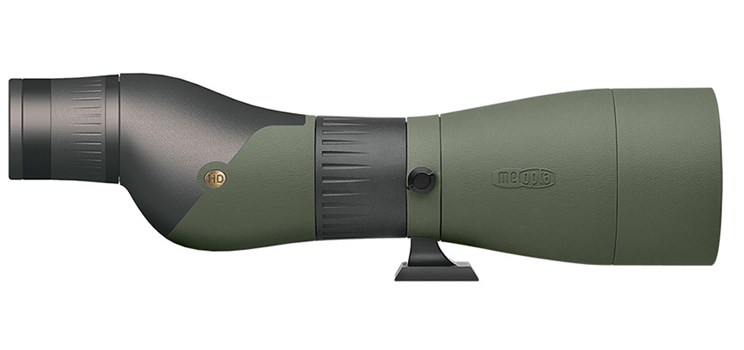 4. Meopta MeoPro 80 HD Straight
After years spent making premium glass for larger names in the optics industry, Meopta made a huge splash with the MeoPro 80 HD angled spotting scope a few years back. The newest scope to its top-tier lineup is the 80 HD Straight spotter, which offers high-definition glass and phenomenal quality at an affordable price. The 80mm fluoride objective lens provides hunters and shooters with excellent resolution, brightness and color clarity, features that really stand out in early morning and late evenings when chromatic aberration does its worst. The CentricDrive mid-body focus control offers fine-tuned adjustment, while a rubberized chassis is fully waterproof and incredibly durable. If you're looking for optimal performance in a scope that doesn't cost more than many used vehicles, the MeoPro 80 HD deserves serious consideration. MSRP: $1,599.95; meoptasportsoptics.com.
5. SIG Sauer Oscar8 27x-55x-80mm
SIG continues to expand its empire with the Oscar8 27x-55x-80mm angled spotting scope, which features an HDX optical design with extra-low dispersion glass. Delivering impressive light transmission with an 80mm objective, the Oscar8 is constructed with a Schmidt-Pechan prism and multi-coated lenses for superior resolution and color clarity. Likewise, the scope produces impressive image brightness in low light settings, making it a great option for hunters and competition shooters alike. A durable, non-slip rubber exterior adds protection in the harshest climates and terrains, while a LensArmor coating protects against scratches and dings in the field. Most impressive of all, the Oscar8 can be had for less than $2,000, ideal for those who need a quality optic on a budget. MSRP: $1,699; sigsauer.com.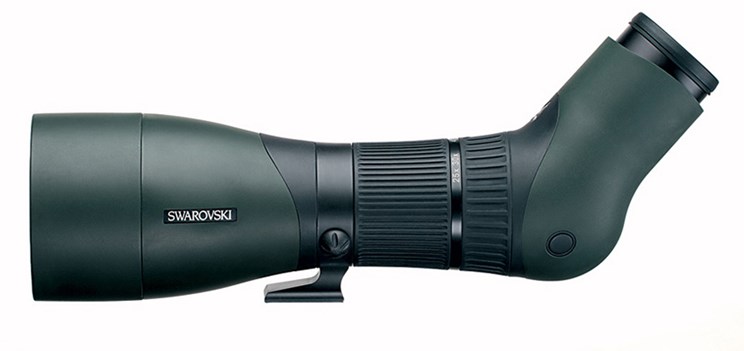 6. Swarovski ATX/STX/BTX 95mm
The massive objective on Swarovski's 95mm spotting scope ranks at the very top of nearly every serious glass expert's list, and for good reason. Swarovski offers the 95mm module with either ATX (angled), STX (straight) or BTX (dual vision) eye pieces, each of which delivers unparalleled resolution, color contrast and clarity. Razor sharp from edge to edge, the 95mm objective makes it easy to spot game and count the curl in horns at ridiculous ranges, even when at maximum magnification and in low light. Despite its powerful zoom and stunning sight picture, the 95mm scope weighs just 47 ounces, only slightly more than many 80-85mm variants. The ATX eye piece carries a magnification range of 25x-60x when attached to the 85mm or 30x-70x when attached to the 95mm module. Best in class? Without question. MSRP: $4,430; swarovskioptik.com.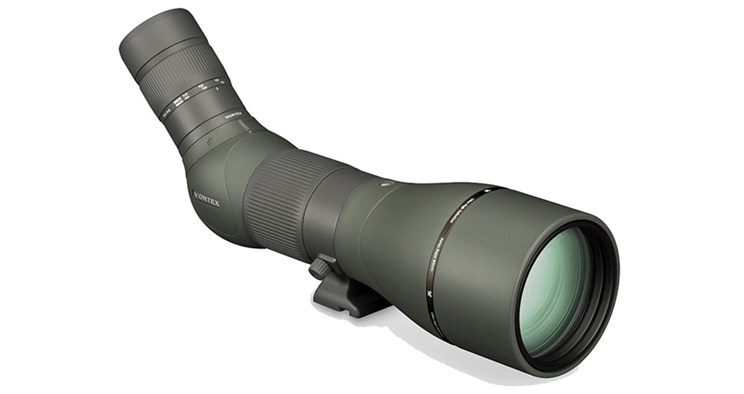 7. Vortex Razor HD 27x-60x-85mm
Delivering high-end technology without a high-end price, Vortex has earned a solid reputation among competitive shooters and hunters alike. The newest member of the Vortex scope family, the Razor HD 26-60x85mm, is no exception. The 27x-60x magnification range gives plenty of horsepower for long-distance scoping on hard-to-find trophies, while the 85mm objective lens makes for crisp clarity, impressive resolution and great color contrast. Vortex employs HD lens elements on this scope, giving it high-definition images thanks to extra-low dispersion glass. Anti-reflective coatings aid in midday or high-glare use while delivering great light transmission in low-light settings. ArmorTek coatings provide scratch resistance and protect against oil and dirt. Fog- and waterproof, the Razor HD comes with a neoprene case and is available in both straight and angled designs. MSRP: $1,999.99; vortexoptics.com.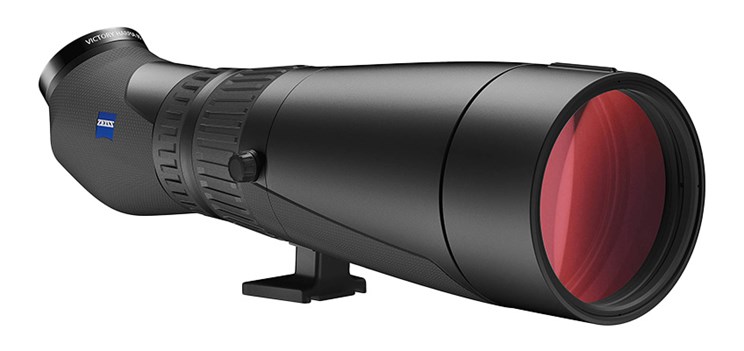 8. Zeiss Victory Harpia 95
Boasting a massive 95mm objective lens, the Victory Harpia 95 is one of the most powerful and amazingly sharp spotting scopes on the planet. Gathering massive amounts of light in the early and late parts of the day, the Harpia 95 is constructed with extra-low dispersion fluoride glass that all but eliminates color fringing and chromatic aberration, giving hunters sharp, accurate colors with amazing clarity. Likewise, the scope maintains clarity even at maximum magnification thanks to a 23x-70x eye piece that pairs with the 45-degree body. Fully multi-coated lenses aid in light transmission and color rendition, while contrast is, to put it mildly, remarkable. When you're in the market for the best money can buy, the Harpia 95 does not disappoint. MSRP: $4,799.99 (with eye piece); zeiss.com/sports-optics/en_us.