by
posted on May 17, 2019
Support NRA American Hunter
DONATE
If there's one trend that stands out among the rest for riflescope development in 2019, it's the continued addition of long-range, military-style features to glass marketed for the hunter. A large reason for that course is the crossover between those participating in precision rifle shooting and those heading afield in search of game. As a result, there's been an increase in first focal plane reticles, MOA turrets and reticles, and the use of technology, apps and Bluetooth capabilities to extend long-range performance.
On the other hand, companies like Leica and Maven pushed in the opposite direction, introducing optics with less magnification, lighter weights and greater fields of view to serve close-range, fast-shooting applications and the backcountry hunter. The good news is there's an optic for every interest, ranging from $500 to $5,000. Here's an inside look at the hottest new hunting riflescopes for 2019.

1. Burris XTR III
Burris expanded its long-range-worthy scope line in 2019 with two new models in the third generation of the XTR series, 3.3X-18X-50mm and 5.5X-30X-50mm, both of which feature a 34mm main tube and a first focal plane reticle for enhanced durability and greater range of adjustment. The XTR III offers greater light transmission and a larger eye box, providing a crystal-clear sight picture in any light condition. With incredible performance and quality glass in a rugged, compact package, the XTR also makes itself right at home among hunters, especially those who moonlight as weekend long-range warriors. With 120 MOA of elevation adjustment, it's a perfect pairing for a .224 Valkyrie or 6.5 Creedmoor, two loads that are as popular among the long-range crowd as they are among diehard predator and varmint hunters. Available in MOA or MIL with either SCR or SCR2 reticle, the XTR III measures 13.3 inches in length, weighs 29.8 ounces and pairs well with a chassis rifle or AR. MSRP: $2,039-$2,159; burrisoptics.com.

2. Leupold Mark 5HD
Boasting superior clarity across the sight picture, as well as one of the lightest in-class weights, Leupold's new line of Mark 5HD scopes give hunters access to premium glass that's at its best in low-light conditions. Built to take a beating, it's the perfect combo for the new generation of long-range, fast magnums, from the .28 Nosler to the .300 PRC. Featuring the company's Twilight Max HD Light Management System, Leupold's Mark 5HD adds valuable minutes to shooting light and cuts glare up to 90 percent more than other in-class offerings. The Mark 5HD is available in several variants, including 5X-25X-56mm with MOA adjustments and a beefy 35mm main tube. Offering 120 MOA of elevation adjustment, the scope utilizes a first focal plane Combat Competition Hunter reticle, which is designed for rapid target acquisition in either competition or hunting scenarios. MSRP: $2,399.99-$2,989.99; leupold.com.

3. Leica Fortis 6
A premier manufacturer of German glass, Leica made its mark this year in the 6X zoom range with two new Fortis 6 scope options, the 1X-6X-24mm and 2X-12X-50mm. Each scope is designed with a 50 percent larger exit pupil and wider field of view that allows for quick target acquisition. With 92 percent light transmission, a second focal plane reticle and illuminated red dot with nine brightness settings, the Fortis 6 is a dream when hunting involves moving targets at close to moderate distances. Whether you're on a driven boar hunt in Europe or hog hunting in west Texas,  the Fortis 6 allows for snap shooting and fast target acquisition. The red dot features auto on/off capabilities based on movement and positioning. Weighing around 20 ounces, both Fortis 6 variants utilize a 30mm main tube and feature Leica's L-4a reticle. MSRP: $1,960; leica-camera.com.

4. Maven RS.2
While so much of hunting optics development has been on the side of longer ranges and more electronic enhancement, Maven's newest scope, the RS.2, is geared toward the demands of the backcountry hunter and an ultralight mountain rifle setup. Constructed with high-quality Japanese glass, the 2X-10X-38mm RS.2 weighs just 12.4 ounces and features capped turrets with .25-MOA adjustments per click. Engineered with a single-piece aluminum tube and precision-machined adjustments, the RS.2 is made to take a beating in the toughest elements. The scope offers 50 MOA of adjustment for windage and elevation. MSRP: $550; mavenbuilt.com.

5. Nikon Monarch M5
The new flagship hunting line for 2019, Nikon's Monarch M5 scopes are available in several configurations from 3X-12X-42mm to 5X-20X-50mm. The 3X-12X-42mm features a 30mm main tube with side focus parallax, as well as spring-loaded, instant-zero-rest elevation and windage turrets for quickly returning to zero. The Monarch M5 comes with the choice of three different reticles, including the MK1-MOA, BDC or Nikoplex. Compatible with Nikon's Spot On turret system, the M5 can be easily configured for a custom long-range shooting experience. The beauty of the Monarch M5 is that it allows for customizable long-range capability without the complexity, price or weight of other optics. MSRP: $499.95-$649.95; nikonsportoptics.com.

6. Swarovski dS
One of the most advanced riflescopes on the planet, Swarovski's dS can range a target with the push of a button and instantly give you an illuminated reticle with exact shot placement. Along with distance, the scope calculates air pressure, temperature and angle of the shot. About the only thing the dS doesn't do is make you an espresso while you're waiting for the animal to turn broadside. Available in one configuration, the 5X-25X-52mm dS offers a high-resolution heads-up display with 64 adjustable brightness levels, while a 40mm main tube offers enough elevation and windage adjustment for a 1,120-yard shot. The rangefinder works from 33 to 1,500 yards, and the scope can be programmed through an app and synced to your iPhone or Android via Bluetooth. Swarovski quality, with a Swarovski price tag. MSRP: $4,999; swarovskioptik.com.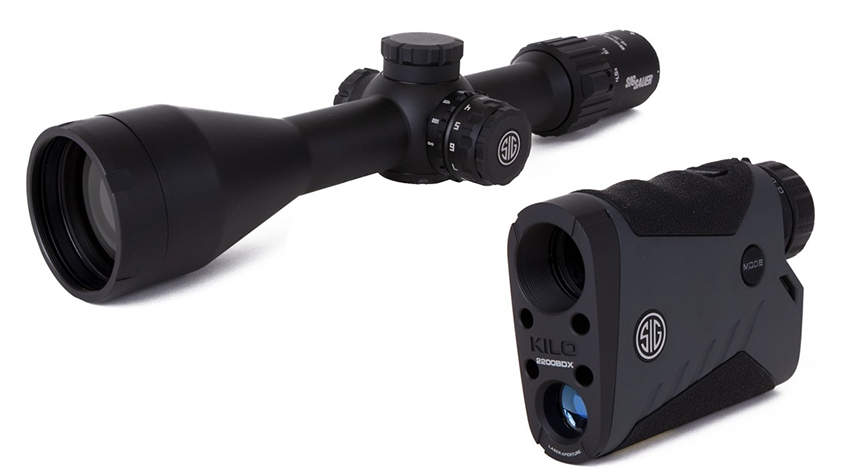 7. SIG Sauer Sierra 3BDX/Kilo2400 Combo Kit
SIG has continuing to expand its Electro-Optics family with the Ballistic Data Xchange (BDX) system, giving hunters greater capabilities for ethical, accurate shots on game. One of the newest options is the combination of the Sierra 3BDX 6.5X-20X-52mm riflescope and Kilo2400 rangefinder, each of which can be configured via the BDX ballistic data app on Android or iPhone and tethered via Bluetooth technology. In the field, it means you can range the target and, based on the ballistic data you enter in the app, the Sierra 3BDX will generate an illuminated aiming point in the reticle. The scope and Kilo2400 are incredibly durable, deliver premium light transmission and offer ranging capability out to roughly 3,400 yards on reflective targets and 1,400 yards on game. MSRP: $1,679.99; sigsauer.com.

8. Vortex Diamondback Tactical
The newest offering from Vortex, the Diamondback Tactical 6X-24X-50mm gives hunters a first focal plane optic that retails for less than $500 and carries the company's lifetime warranty. Weighing in at a nimble 24.6 ounces and measuring 14.5 inches in length, the Diamondback Tactical features a 30mm main tube and 65 MOA of total elevation adjustment. The scope is built with an EBR-2C MOA or MRAD reticle and extra-low dispersion (XD) glass for greater clarity and crispness of color, especially in low-light conditions. By simplifying the scope design and providing less features but maintaining premium adjustment tracking capabilities in the turrets, Vortex was able to deliver an extremely affordable long-range scope with a first focal plane reticle. MSRP: $499; vortexoptics.com.

9. Zeiss Conquest V4
Having gone away from its budget line of glass, Zeiss is back to what it does best, which is top-shelf optics production. The company advanced the Conquest V4 family in 2019 with the addition of the 6X-24X-50mm, an extremely well-built piece of glass that is capable of conquering longer ranges across multiple hunting applications. The scope offers long-range capability without all the bells and whistles of a military-grade optic, which keeps cost lower and simplifies things for hunters. The Conquest V4 features a 30mm main tube, side-adjustable parallax and the ZMOA reticle with or without illumination. The Conquest V4 line features second focal plane reticle design with 80 MOA of elevation adjustment. At 14.5 inches in length and 24.4 ounces, the 6X-24X-50mm gives hunters plenty of optic horsepower to make longer shots while maintaining a relatively easy-to-operate system. MSRP: $1,099; zeiss.com/sports-optics.

10. Trijicon AccuPower 4.5X-30X-45mm
Constructed with insanely rugged, aircraft-grade aluminum and a crisp, clear sight picture, Trijicon's new AccuPower 4.5X-30X-45mm scope is built for long-range performance. Recognizing there's a huge crossover between precision shooters and hunters, Trijicon built the AccuPower with plenty of customizable features, including the option for either a first or second focal plane reticle. Available in MOA or MRAD, Trijicon's newest scope features the same high-quality manufacturing that ensures precision adjustments and pinpoint precision. The 56mm objective lens allows for tremendous light transmission, especially in the low-light conditions when trophy animals appear. With 100 MOA of elevation and 50 MOA of windage adjustments, as well as five green and red illumination settings, the AccuPower scope delivers the optical clarity and performance needed for pulling off the long shot. MSRP: $2,675 (FFP), $2,600 (SFP); trijicon.com.