by
posted on August 4, 2018
Support NRA American Hunter
DONATE
The acidic nature of apple cider vinegar, pineapple and tomato are a great combination to help keep venison extremely tender. This sweet and sour sauce is easy to make, and when added to your favorite cuts of venison makes for a dish the whole family can enjoy. Extra spice or heat can be added to an individual serving without changing the consistency of the recipe, making this dish easy to please the masses.
When you're looking for a quick and easy meal, you'll appreciate the simplicity of this recipe. With 10 minutes of prep time, you can have this dish ready to serve in the time it takes to cook rice. The sauce can be made in advance and stored in an airtight container in a cooler or refrigerator for weeks.
Ingredients
• 2 lbs. venison round sliced thin
• 1 large yellow onion diced into big chunks
• 2 peppers, red, green, or yellow, cut into 1-inch chunks
• 2 tablespoons olive oil
• 1 19 oz. can of pineapple chunks with juice
• 1 8 oz. can tomato sauce
• ⅓ cup apple cider vinegar
• ⅓ cup light brown sugar
• 3 tablespoons soy sauce
Cornstarch Slurry
• 1½ tablespoons cornstarch
• 3 tablespoons water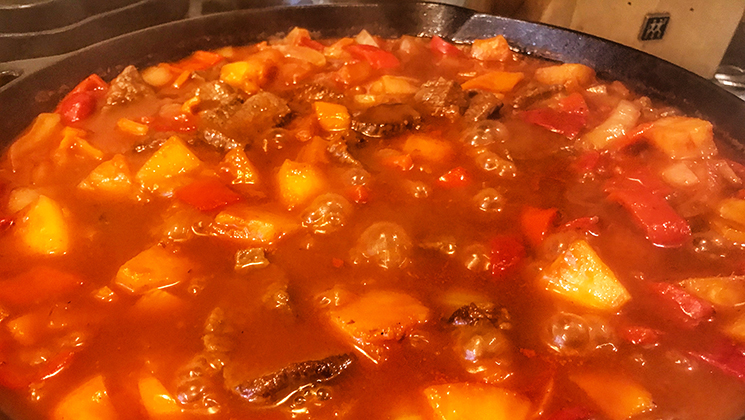 Directions
1. In a small bowl, whisk together cornstarch and water. Set aside.
2. In a medium saucepan, combine pineapple chunks and juice, tomato sauce, apple cider vinegar, brown sugar and soy sauce and bring to a boil over medium heat. Stir in cornstarch slurry and cook until thickened, for about 2 minutes. Remove from heat.
3. Heat olive oil to medium-high in a large Camp Chef cast iron fry pan. Add venison slices and brown. As venison is browning, add onion and peppers. Cook mixture on high for 4-5 minutes until meat is browned and onions start to turn translucent.
4. Cover meat, onions and peppers with sweet and sour sauce and bring to a simmer. The sweet and sour venison and pineapple can be served over rice or eaten on its own.
Recipe Tips & Tricks
• Fresh pineapple and its juice contain enzymes that break down the cornstarch and prevent the sauce from remaining thick, so for best results use canned pineapple and chunks.
• The sweet and sour sauce will thicken as it cools, and you can adjust the sweetness with sugar, tang with vinegar or add salt to taste. The sauce can be made in advance and stored in the fridge for two weeks.
• The longer the sweet and sour sauce sits, the less tang it will have, so add more apple cider vinegar if reheating or using sauce stored after initial preparation.