by
posted on January 11, 2020
Support NRA American Hunter
DONATE
Swiss steak is considered comfort food in our house. The rich gravy produced from simmering broth and tomatoes means we always make extra to ensure leftovers. It is a simple recipe to prepare with any venison, but if you're fortunate enough to have moose, it will top your charts. The long-grained meat works well to create flavorful steaks that are slow cooked to perfection.
The name can be a bit confusing, as the recipe is not from Switzerland. Historically, Swiss steak was made from beef round roasts cut into thin steaks and run through a tenderizing machine, or swisser. Hunters wanting to make traditional Swiss steak can get a tenderizer attachment for your grinder, pick up a hand-operated unit or take some venison to your local butcher shop and have them run it through the tenderizer, also called a cutlet machine. The other option is to pound steaks with a meat mallet, or use a needling device like a Jaccard knife. Any way you break dow the fibers of the long-grained meat will ensure tender steaks when they come out of the pot.
Ingredients
• 2-3 lbs. moose round roast
• 2 teaspoons salt
• 1 teaspoon freshly ground black pepper
• ¾ cup all-purpose flour
• ¼ cup vegetable oil
• 1 large onion, thinly sliced
• 4 cloves garlic, minced
• 2 stalks celery, chopped
• 1 6-oz. can tomato paste
• 1 28-oz. can diced tomatoes
• 1 teaspoon smoked paprika
• 1 teaspoon dried oregano
• 2 tablespoons Worcestershire sauce
• 2 cups beef broth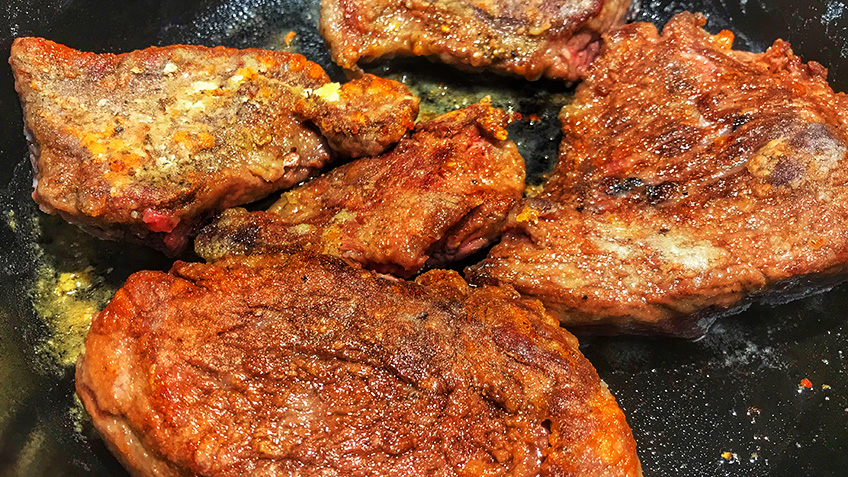 Directions
1. Cut the round roast into ½-inch thick steaks and season both sides with salt and pepper. Place the flour into a shallow pan, and dredge the steaks. If you can't run your steaks through a tenderizing machine, use a meat mallet or needling device, until each slice is ¼-inch thick. Dredge the steaks through the flour once more and set aside.

2. Add the vegetable oil to just cover the bottom of a 4- to 5-quart Dutch oven set over medium-high heat. Place the steaks in the hot oil, leaving spaces between each piece. Cook until golden brown on both sides, approximately 2 minutes per side. Place the browned steaks on a plate and repeat with the rest of the steaks.

3. While the Dutch oven is still hot, add the onions, garlic and celery and sauté for two minutes. Add the tomato paste and stir to combine. Add the tomatoes, paprika, oregano, Worcestershire sauce and beef broth, and stir to combine. Place the browned steaks back into the mixture in the Dutch oven ensuring they are completely submerged in liquid. Add more beef broth if necessary. Cover the pot and reduce the heat to a simmer, or place in an oven preheated to 325°F. Cook for two hours to make the meat tender and the gravy rich in flavor.

4. Serve the Swiss steak over boiled or mashed potatoes, egg noddles or long-grained rice and be sure to top with gravy and vegetables from the pot.
For more delicious wild-game recipes, click here.