by
posted on August 31, 2019
Support NRA American Hunter
DONATE
Cabbage rolls are a traditional dish in many eastern European countries, Iran, western Asia, and even Korea. Cabbage leaves are wrapped around a filling with rice, and sometimes ground meat, onions, fresh herbs and spices. The little bundles of goodness are cooked in a tomato sauce with enough moisture to ensure the rice is tender.
Ukrainian cabbage rolls are made with rice and sometimes onion. My ancestors learned to make cabbage rolls with lots of meat, which is still a favorite today. Grandma used to keep the skins, or rinds, off hams and put them away until she made cabbage rolls. The cured and smoked skin was used to line the roast pan before filling it with cabbage rolls. The extra flavor is one I look for to this day, which is why I add bacon to this recipe.
No matter your preferences for the cabbage creations, when you deconstruct the roll, it is easy to see how you can make a lazy batch of the traditional dish without all the rolling and effort of steaming fresh green cabbage or carefully undoing a head of sour cabbage.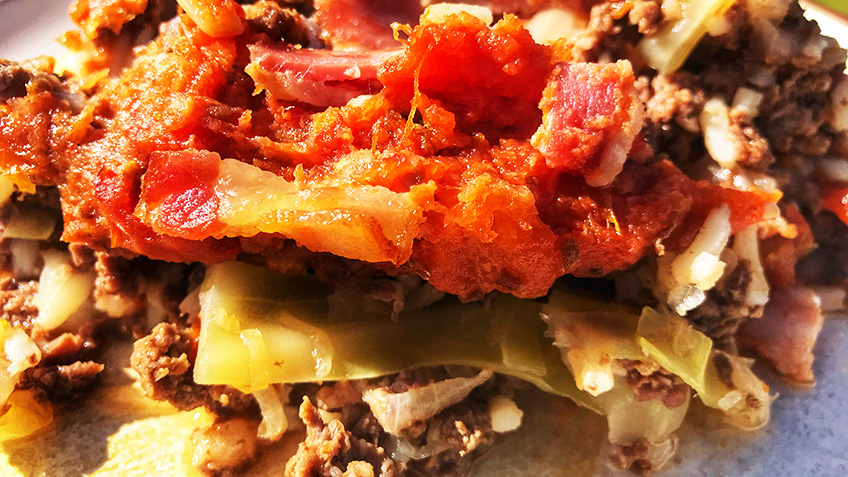 Layering the ingredients in a Camp Chef Dutch oven or baking dish will provide a taste of all the components of a cabbage roll in every spoonful. I would consider it comfort food and easy to put together. This dish can be made with sauerkraut and green cabbage, or all kraut or green cabbage. I like to mix them for taste, texture, and variety.
Venison lends itself well to a deconstructed cabbage roll, as the lean meat and rice hold its flavor with other simple ingredients. This is a great dish to make for hunting camp, and it can feed a small crew for several days. It's also a great summertime dish that can be cooked outside in a Dutch oven to ensure the house doesn't heat up.
Any way you slice it, every forkful will taste like a traditional cabbage roll, but without the extra work.
Ingredients
• 2 lbs. ground venison
• 2 tablespoons olive oil
• 1 large yellow onion, chopped
• 1 teaspoon salt
• ½ teaspoon pepper
• 4 cloves garlic, minced
• 1 tablespoon Worcestershire sauce
• (1) 24 oz. can crushed or diced tomatoes
• ½ cup rice
• 3 cups sour cabbage, chopped (Sauerkraut, rinsed in a sieve to remove some of the salty brine works great)
• 3 cups green cabbage, chopped
• ½ lb. bacon, diced
• Fresh dill or chives optional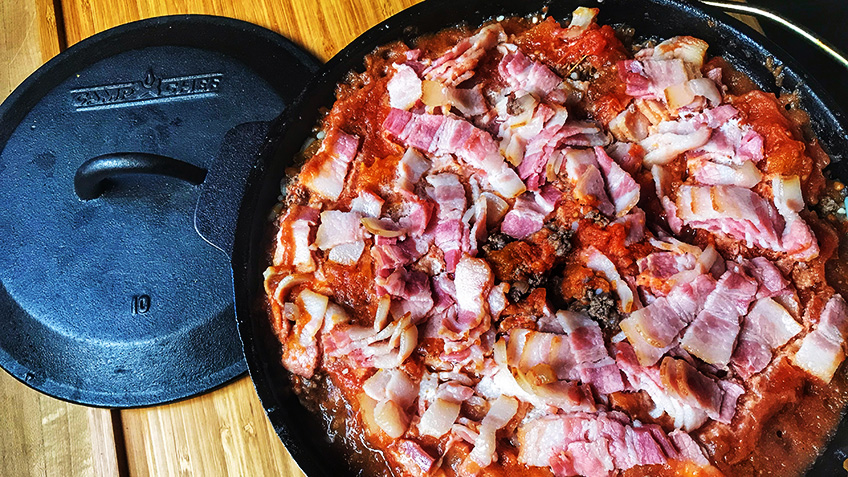 Directions
1. Heat two tablespoons of olive oil in a skillet and brown the ground venison together with the onion, salt, pepper, garlic, and Worcestershire sauce. Sauté until the onions are transparent.
2. Add crushed tomatoes and rice, and stir to mix.
3. Place sour cabbage in the bottom of a Dutch oven or baking dish, followed by the green cabbage. Pour the meat, onion, rice, and tomato mixture over the top the cabbage.
4. Spread diced bacon over the top, cover and bake at 325°F for 1½ hours. Remove the lid and cook for an additional 15 minutes to brown the top.
5. Serve with a sprig of fresh dill or chopped chives.
Notes:
*Don't overcook this dish, as the rice will breakdown and be mushy. Depending on the variety of white rice used, cooking times can be reduced by 15 minutes.
*If you have a ham rind, line the bottom of the Dutch oven or baking dish before adding the rest of the ingredients as directed.