Support NRA American Hunter
DONATE
Deb Russo-Blakeman has spent time in hunting blinds before, but taking a shot at a deer? Well, that just hasn't happened. She says she'd always tell herself, or anyone she was hunting with, "Tomorrow. I'll take a shot tomorrow." But she never did.
It wasn't that she was squeamish about shooting a deer; after all, she has shot ducks before. It's just that she always saw the prospect of shooting a deer with a rifle as more challenging than using a shotgun on waterfowl. "And I just didn't have the confidence," said Russo-Blakeman, who lives on the outskirts of Austin, Texas.
The next time deer-hunting season rolls around, though, she figures on actually squeezing the trigger.
What changed? Well, Russo-Blakeman was one of more than a dozen women who went through the NRA's first All Women's Shooting/Hunting Class, a new offering that falls under the umbrella of the Women's Wilderness Escape program at the NRA. And now Russo-Blakeman knows she can hit a deer from 450 yards or so pretty handily, even in gusts like those that whistled through "Brokewind Mountain"—a site that earned its nickname because the wind whips through the pass from what seems like all directions at once, making it hard to get an accurate read on how to adjust for windage, especially at distances of more than 400 yards.
The long-range shooting class was held in the southwest corner of Wyoming, with home base being a lodge nestled north of Utah's Uinta-Wasatch-Cache National Forest. Although it was held in May, the mountain weather—with its mix of rain, hail, sleet, snow and wind—gave the participants the feel of a Thanksgiving-week deer hunt in the hills of West Virginia.
The women were outfitted with Weatherby Camilla rifles, topped with Leupold VX3i 4.5-14 optics. Couple that gear with a team of instructors who have marksmanship skills and the patience to teach, and you end up with a combination that just cries out for nailing long-range targets. Weatherby has partnered with the NRA for long-range hunting schools since 2012, but the introduction of the Camilla rifle a little more than a year ago opened the door for discussions about a women's-only class.
The participants ran the gamut in age from 30 to 73; they hailed from as far away as Maine; and they came from states that are gun-friendly and ones that are not. Their reasons for taking the class were as diverse as their backgrounds. There was the mother-daughter team who attended at the urging of the husband/father because he wanted them to expand their skill sets. There were two friends who were looking for some "girl time" away from their husbands and children. And there were women who were looking to hone their skills before going to Africa for various hunts.
Quite a smorgasbord of experience and goals, and the instructors were seasoned enough to cater the class to try to meet everyone's individual needs.
Several of the women came to the course with nothing but some coaching from their husbands or boyfriends as experience. That might work in some cases, but not all competent shooters can teach others how to do it.
One student talked about the challenges of her husband trying to teach her to shoot. "He kept telling me, 'You jerk,'" she recounted during an after-dinner post-mortem of the day's shooting, referring to her tendency to not have a smooth trigger pull. "I knew what he was trying to say, but he didn't know how to tell me to fix it. Well, today, one of the instructors told me I was jerking the trigger; then he told me what to do. That's the first time I heard how to correct the problem."
And, because each instructor brings his own style (yes, the instructors were men) of teaching, one was bound to offer a solution that the shooter could relate to.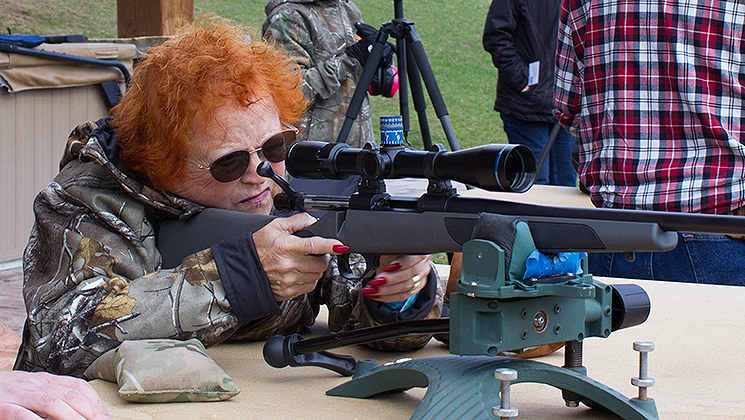 Then there was the role model—Brenda Weatherby, of Weatherby Inc.—a woman with less than five years of shooting experience; a woman who in recent years has ventured into hunting, graduating from wild pigs and turkey to deer, elk, antelope, black bear and African plains game; and one of the women who helped shape the design of the Camilla. She was on hand not just to meet and greet the students, but to help with the basics of marksmanship and to talk about her successful ventures with the rifle.
Of course, Weatherby would probably say that the students were role models for her. When asked for her impressions of the two-day course, she said she'll remember, most of all, "how fearless these women are."
"They made me so proud," she elaborated. "A lot of them had never shot a rifle or looked though optics before, and they flew across the country to learn long-distance shooting skills in extreme weather conditions. And to top it off, the event confirmed the fact that women everywhere are interested in a firearm that is specifically designed for them."
The class provided students with the best of both worlds in that regard. With a winter storm in the forecast—and predictions ranging from a dusting of snow to near-blizzard conditions—the instructors modified the agenda, giving the women an opportunity that future participants might not have: they got to shoot the Vanguard, outfitted with a suppressor and a different optic, in the first shooting session, before they moved on to the Camilla. That proved a worthwhile deviation as it allowed them to compare a male-standard gun to the women-specific model.
"Most commented to me that carrying the [Camilla] rifle around and getting it set up for a quick shot was more doable for them because of its size and slimmer features," Weatherby said after the course, lending credibility to the company's decision to spend the time on designing the Camilla.
The Camilla is one of the first women-specific rifles designed with input from women at various stages of the design process. From start to finish, Weatherby said it was more than a year-long project to get the specifications right for a female shooter. The result: a rifle with a Turkish walnut stock that is a few inches shorter than its brotherly model, the Vanguard; a rifle with a shorter length of pull; a rifle that features a different comb design so females can get a solid cheek weld more easily; and a recoil pad with a negative angle so the rifle seats better against a woman's shoulder.
But it's also a rifle that most of the women at the camp said is hard to come by at gun stores, because it is designed for only a segment of shooters. Granted, you could always order one sight-unseen from Weatherby. But getting the chance to shoot the Camilla to see if it's all it's cracked up to be was an added advantage of the course. Judging from the number of participants who bought the rifle after the course, it seemed to have been a hit.
Vicki Ferrall, from Riverside, Calif., knew she wanted to buy the rifle—as part of the course offering, students could buy the Camilla and the optic at a special price—from the time she signed up for the class. She said she needed a 6.5 mm Creedmoor to round out her holdings.
And though she didn't say whether that's the rifle she'll take on her leopard hunt to Africa next year, she did say she'll take much of what she learned in the class on the trip. One of the best lessons she got out of the course was the introduction to shooting aids, things like bipods and sandbags to brace your arm. "The importance of contact points," she said. "That's one of the things I'll remember. And I'm going to go to the range and practice shooting with sticks."
Indeed, shooting sticks, which provide one or two added contact points with the ground, were something most of the women had little experience with. And though it takes some coordination to set up and get comfortable with the sticks the class used, they helped minimize some of the barrel movement that wind and breathing cause.
Ferrall is not alone in wanting to apply her new skills in Africa. Cheri Baker, of central Illinois, is also gearing up for a safari. Although she said she was always a pretty good shot with a rifle, she had never shot at distance before and hasn't had much practice because of state laws.
One of the things she appreciated about the class is that it provided opportunities to shoot from different positions. "There are better techniques and lots of positions that are different than what I learned back in the day," Baker said. While she might not need her newly found long-range skills in Africa, she said she is looking forward to applying her knowledge when she goes on a long-awaited pronghorn hunt. "I would have been more apprehensive about that before."
Besides getting the opportunity to fine-tune their skills, the women also appreciated the camaraderie that the trip provided. Several were picked up early before the next round of flights arrived at Salt Lake City, and by the time the lunch getaway was over, they were getting along like they'd known each other for years.
Weatherby could relate to that. In talking about her first bear hunt in Montana, she told the group that hunting allows you to forge deep bonds with your fellow hunters because you have to rely on each other in so many ways.
"My priority for the school was to be a support for the other women who were in this class. I was fortunate enough to also pick up some skills I hadn't learned before," she said. "I feel like this is common, the more we are around a sport or hobby, the more we fine-tune our approach. Varying perspectives from different teachers offers a well-rounded experience."
This was the first women's-only long-range hunting course, but NRA Director of Hunter Services Peter Churchbourne said he anticipates offering one such class a year going forward.
Russo-Blakeman is eagerly anticipating the chance to stock her larder with venison.
"Last year, we bought a freezer because my husband (John) said he was going to get a deer," she recounted. "Well, he went hunting, but he didn't come home with anything. This year, I'll go out because now I want to be the one who gets the first deer for it."
For more information on future offerings of this, or other Women's Wilderness Escape programs, go to NRA.org; for mixed-gender hunting experiences, check out NRAOutdoors.com.