by
posted on April 23, 2013
Support NRA American Hunter
DONATE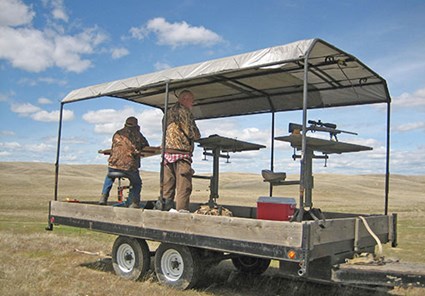 I've just finished a visit with an old friend. Alan Roberts and I were once neighbors, and because we share a passion about guns and hunting, we have remained friends for more than 25 years. Alan is nuts about bird hunting and has done time as a guide at some pretty high-end bird hunting preserves. But he is absolutely bonkers-nuts about squirrel shooting. He has been bugging me for years to go on a squirrel shoot, so I finally found the time to say "yes."
Now when I say Alan is bonkers-nuts about squirrel shooting, I mean it. Who but a bonkers-nut job would construct a squirrel-shooting trailer from scratch? Let me explain this thing from the ground up.
He started with two 6,000-pound axels—big enough to haul a pickup truck if he could get it on the trailer—set exactly to the width of a standard vehicle. His reasoning was that it has to follow the two tracks of roads in the deserts and be able to withstand the pounding the rig would take off road. Atop the axels is a framework for a superstructure that stands some three-plus feet above the ground. That platform is 108 inches wide and 24 feet long, providing a generous area for two shooters—three if you know each other well—and their paraphernalia. Alan then added an army surplus canopy to the whole thing to thwart the sun. Four outriggers complete the rig and provide a solid shooting platform.
Alan and his son then built a pair of shooting benches that complement the stout trailer. Starting with a pair of axels from a truck, they attached three adjustable legs to the bearing housing, extended a riser from the axel; added a padded seat and a shooting table to the top. Everything is fully adjustable so that it can be leveled on just about any surface. The shooting benches rotate 360 degrees, allowing for an infinite field of fire.
We had a ball shooting squirrels for two of the three days I was there. On the first day a guy was out roading his Labs from a four wheeler. He saw us atop a knoll and decided to see what the contraption attached to a truck was all about it. The first words he spoke when he got up to us said it all: "Wow! You guys are professionals!"