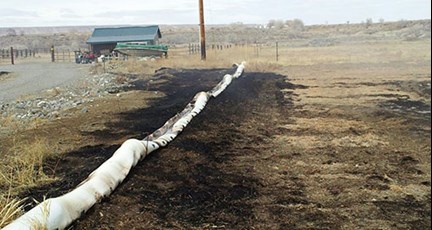 One of the things I do around the Wyoming homestead besides shooting guns and critters is play farmer. It gives me pleasure to tend the land, and it enhances the habitat for the wild creatures that share this place with me. Too be sure, I am not—and I make no pretense of being—a real farmer. I simply like throwing good money after bad.
So yesterday I was working on an annual spring farming chore—burning the weeds out of the irrigation ditches. For the city folk, we do that so that we can pull a V-shaped ditching tool with a tractor down the ditch each year to clean out the silt and rock deposited from last year's irrigating. Most farmers have a crew of folks—usually family members—to help with this and prevent the fire from getting out of hand. I'm alone, so I make a point of not getting too aggressive when it comes to burning. I keep a weed sprayer full of water on the back of my four-wheeler to keep the flames where they belong. It usually does a fine job.
Things were going well yesterday. I had burned a couple hundred yards of ditch when suddenly the water pump in the weed sprayer quit. This has happened before, always when a fuse gets blown. I keep fuses on board just for this reason. But this time the fuse was fine. I quickly went over the connections but could not revive the pump. The fire—whipped by a northeasterly wind was taking off across the field. Before I knew it, the fire was out of control. Reluctantly, I had to call the volunteer fire department. They got the fire out within 10 minutes of arriving but not before it got to and ruined about $1,000 worth of gated irrigation pipe.
Oh, the joys of farming!