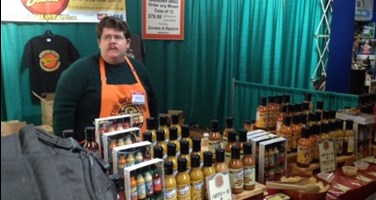 Attendees at the Great American Outdoor Show in Harrisburg, Pa., are experts on fresh food, right? For us, conservation is a lifestyle and a passion, right down to the game and fish we bring home to share at the table.
We come to the big show with powerful appetites for adventure, know-how, new gear and fun. But also for food. Literally. Any time you congregate tens of thousands of healthy outdoors types, you gotta feed 'em, and there are scores of food vendors to do that job.
Events like this one may not be foodie territory, and, truth be told, Pennsylvania is known for some pretty bland chow, notwithstanding Philly cheese steaks and cheeseburgers with fries pre-installed under the bun from Pittsburgh.
Based on what I saw at this year's show, however, no one's going away hungry. Here's a rundown of what I found to keep the crowds going for a full day at the world's biggest outdoor extravaganza.
Hamburger stands, crabcakes and crab soup (two kinds). Soft pretzels. BBQ brisket and pulled pork. Pierogies. Toasted almonds and cashews, hot buttered popcorn. Philly cheesesteaks. Jerky—elk, deer, and bison. Turkey sandwiches and legs. 4-Hers making milkshakes. Fruit smoothies. Pizza to benefit FFA. Smoked trout. Amish baked goods. Rubs, sauces, seasonings, meat cure. Salsas galore! Cannoli. Chow-chow (Mennonite relish). There's even a sit-down cafeteria complete with salad bar, hot entrees, desserts and more.
My favorites: Best Sandwich—Agin' Cajun's shrimp po'boy; Best Samples—crab and spinach cakes from Stone Silo Foods; Best Specialty—Peter Peppers Pickles (15 flavors); Best Take-Home—Burnt Cabin pancake mixes; Best Booth Décor—Brothers BBQ, replete with whitetail, bear and turkey mounts.
Make plans to attend the 2016 GAOS. Don't go just for the food, but bring your appetite when you come.