by
posted on March 7, 2017
Support NRA American Hunter
DONATE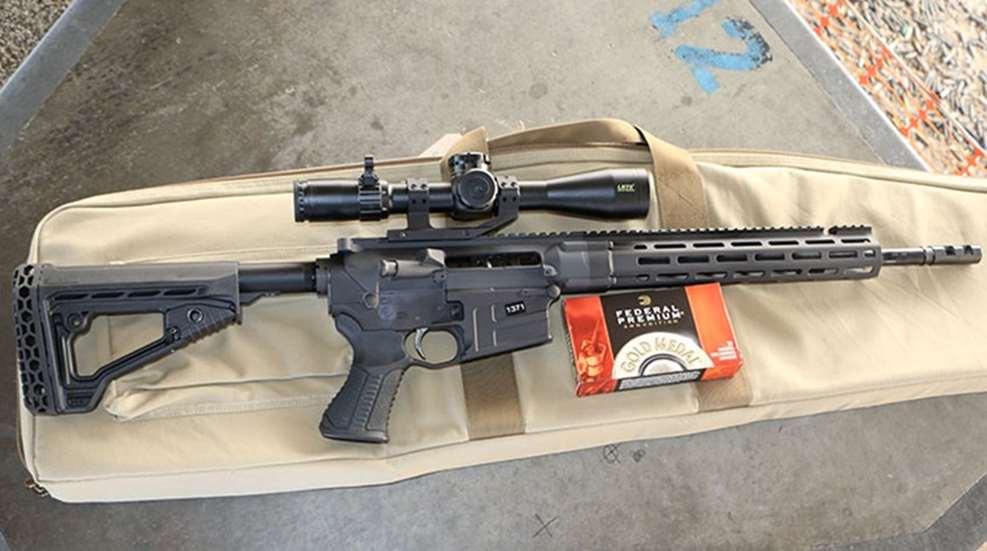 The beginning of each year is an exciting time for the hunting and shooting community: the vast majority of new products are announced each January at the SHOT Show in Las Vegas. Though the show attendance is staggering in number, it is an "industry only" show, so consumers depend on sources such as this one to tell you what the latest and greatest products are. Let's take a look at some of the most exciting new hunting rifles that will be available for 2017.
Bergara B-14 HMR
• MSRP: $1150
If I wasn't the first person to hunt with this rifle, I'm pretty confident that I was the second. This rifle is Spanish maker Begara's answer to the demand for a precision rifle that can also be used for hunting. Available in both 6.5 Creedmoor and .308, the HMR (Hunting and Match Rifle) combines a 20 or 22" number 5 contour barrel with a stock that is adjustable for both length of pull and comb height. The stock uses an internal "mini-chassis" that serves as a bedding surface for the barreled action and the barrel is threaded for suppressor use.
Before hunting with the HMR, I spent a bit of time on the range getting acquainted with it and was quickly able to hit steel targets at 500-plus yards—these guns shoot. The tang-mounted safety is easy and intuitive to disengage and the Magpul DBM setup is a great system, especially when loading and shooting from a bipod on the range.
This is a lot of gun for the money and is ideal for someone who wants a single rifle for both long-range target shooting and hunting.
CZ-USA 527 American 6.5 Grendel
• MSRP: $733
Many American hunters will never pursue any game animal larger than a whitetail deer, often at ranges that rarely exceed 100 yards. For this type of hunting, big rifles and magnum cartridges are rarely a necessity. For 2017, CZ has chambered its light and handy 527 American in 6.5 Grendel. This little cartridge is a perfectly viable option for whitetail-sized game with Hornady's SST load pushing a 123-grain bullet at over 2500 feet per second. 6.5mm cartridges have become extremely popular in recent years as increasing numbers of hunters and shooters realize the terminal virtues of mild recoil and high sectional density. The 6.5 Grendel punches above its weight class and does so without punishing the shooter—less recoil means better potential for shot placement which, of course, leads to fast and ethical kills.  
This rifle weighs-in at under 6½ pounds, has a walnut stock with the proper comb height for scope use, and the metal work is polished and blued. The star of this show, though, is the single-set trigger: the trigger can be used normally or can be "set" to reduce the pull weight significantly for precision shots. I've owned a 527 American for more than a decade and, with the trigger set, I'm able to shoot ½ MOA groups with it consistently. Scope rings are included so this little carbine is nearly ready to go out of the box.

Winchester XPR Compact
• MSRP: $549
Winchester is best-known for producing (at least in-name), the Model 70 but that is not the only bolt-action hunting rifle available. The budget-minded XPR Compact is a viable choice for hunters looking to own a Winchester without the Model 70 price tag. The Compact model is chambered in short-action cartridges including the 7mm-08, .308 Winchester and various WSMs that, despite their size, are capable of ethically taking a diverse spectrum of game animals if used with common sense.
The XPR Compact weighs 6 pounds, 12 ounces, wears a synthetic stock, and employs a detachable box magazine. The compact version of the XPR uses a 20" barrel which makes it handy for the tight confines of a tree stand or vehicle.
With a street price hovering around $500, the XPR is a serviceable big game rifle that won't require a second mortgage.

Savage MSR Hunter
• MSRP: $1481
Savage produced one of the most traditional and iconic hunting rifles of the 20th Century in the lever-action Model 99. Oh, how times have changed. This year, Savage introduced its answer to the black rifle market with its MSR. The Hunter/Long Range models are available in either .308 Winchester or 6.5 Creedmoor, both versatile options for medium game.
The .308 is more compact, with its 16.1-inch barrel while the 6.5 Creedmoor is an additional 2 inches longer. Both chamberings use 5R rifling and are Melonite treated inside and out—this process hardens the steel's surface, provides significant corrosion protection, and enhances the useful life of the barrel.     
The furniture consists of a Blackhawk adjustable stock and pistol grip as well as an M-LOK compatible free float forend. The rifles accept Magpul magazines so the availability of inexpensive and high-quality mags is a non-issue. Trigger pull weights on initial production guns have been higher than we'd like to see, hopefully that's something that can be addressed by the factory. If not, there's a reason that aftermarket accessories are so popular.

Ruger American Predator
• MSRP: $529
Ruger's American rifle has rapidly earned a reputation as one of the most accurate value-priced hunting rifles on the market. These rifles have triggers that are user-adjustable down to three pounds, come with an integral scope rail, and weigh-in at a handy 6.6 pounds.
This year, Ruger is offering the American Predator in one of the newest factory cartridges around, the 6mm Creedmoor. This cartridge, which has already made a name for itself in long range precision shooting matches, is the 6mm/.244" version of the wildly-popular 6.5mm Creedmoor. Factory ammunition is available from Hornady including a 108-grain ELD Match load that generates 2960 fps of velocity. Though the ELD-M is not designed or marketed as a hunting bullet, it would be fantastic on predators and would perform similar to the AMAX on deer-sized game.
The Predator's muzzle is threaded 5/8-24 so mounting a sound suppressor is an easy process. With suppressors legal for hunting in 40 states and the real potential of over-the-counter suppressor purchase on the horizon, here's betting we see far more threaded barrels on hunting rifles in the years ahead.

Kimber Subalpine
• MSRP: $1701
Elk hunting can be one of the most challenging and rewarding pursuits in the outdoors. For 2017, Kimber has released a rifle designed specifically for hunting elk in their mountain and timber habitats. What makes an elk-specific rifle? Well, this rifle is extremely light (under 5 pounds), compact (22" barrel), and chambered in cartridges capable of getting the job done (.308, 280 Ackley Improved, 30-06, 300 WSM, 300 WM).
The stainless steel barrel is both fluted and threaded for a suppressor or brake and the pillar-bedded carbon fiber stock is patterned in Gore's Optifade Subalpine digital camouflage. The rifle uses Kimber's 84M action which, as usual, comes equipped with a claw extractor, 3-position wing safety, and a 4-round magazine capacity. The adjustable trigger is set from the factory and 3-3.5 pounds.        
Yes, this rifle costs more than the average rifle but a similarly-equipped custom rifle would cost you at least half as much. Though designed for chasing high country elk, there's nothing that says this rifle wouldn't be ideal for hunting most other North American game animals.