by
posted on May 13, 2019
Support NRA American Hunter
DONATE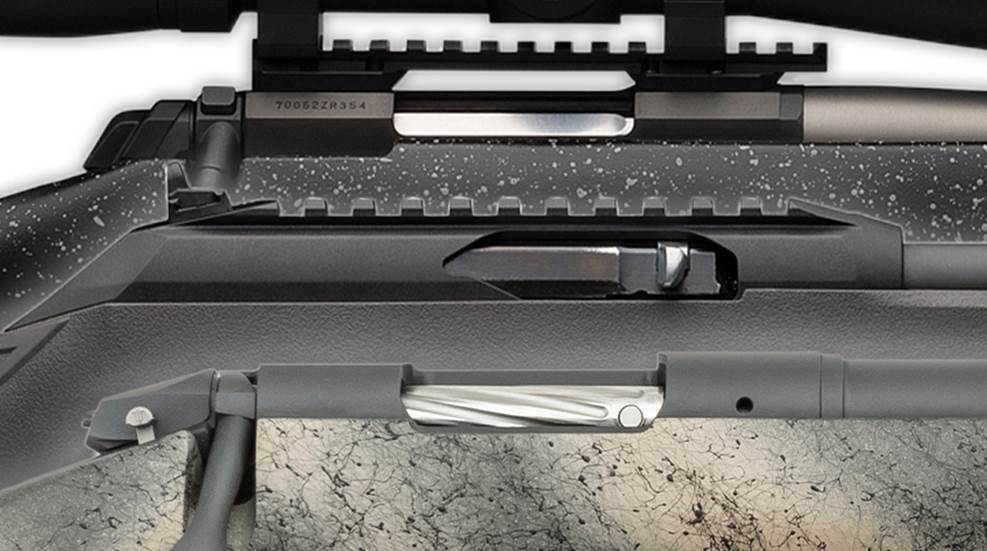 Each year, hunters are faced with a myriad of new firearms from which to choose from. The choices can be overwhelming, so we've done our best to sift through the masses and find a handful of rifles that stand out from the pack. Everyone's budget is unique, therefore we chose rifles at a spectrum of price points. Just as we saw last year, the industry trend has continued toward rifles built with long-range shooting in mind, but we did our best to pull from a broad range of models designed for various applications. Here's our list, in no particular order, of the top eight rifles new rifles introduced this year.

1. Browning X-Bolt Max Long Range
There's no doubt that hunters and shooters are taking increasingly long shots on both targets and game animals, and for those customers,
Browning
has introduced the
X-Bolt Max Long Range
. This striking bolt-action rifle features an adjustable comb synthetic stock that also allows for length of pull alterations using a series of spacers. Its 26-inch heavy sporter contour stainless steel barrel is fluted and threaded ⅝ -24 for suppressor use. Despite a meaty barrel, the rifle only weighs 8 pounds, 3 ounces in its short-action chamberings. Available in cartridges from 6mm Creedmoor to .300 Remington Ultra Mag., it feeds from a detachable magazine that fits flush in the stock.
MSRP: $1,269.99-$1,329.99; browning.com.


2. Winchester Wildcat
No list of rifles would be complete without at least one rimfire, and our choice for this year is Winchester's new
Wildcat
. This little rifle is loaded with features and is available at a very attractive price. The polymer stock uses molded-in sling attachment points as well as an integrated Picatinny rail section for accessories such as a bipod. An adjustable aperture rear and post front sight come standard along with a rail for mounting optics. The rotary magazine holds ten rounds and larger magazines designed for use with the Ruger 10/22 and its clones can also be used. The Wildcat strips easily for cleaning, and the bore can be cleaned from the rear of the receiver to prevent damage to the barrel's crown. With an 18-inch barrel, this little .22 weighs-in at just 4 pounds.
MSRP: $249.99; winchesterguns.com.

3. CVA Cascade
CVA has been producing quality muzzleloading firearms and single-shot centerfire rifles for decades. In 2019, the company released the Cascade, its first-ever centerfire bolt-action rifle. The heart of the Cascade is a 22-inch 4140 carbon steel barrel, which is threaded from the factory. The initial chamberings offered will be: 6.5 Creedmoor, 7mm-08 Remington and .308 Winchester, with additional chamberings to be announced in 2020. The rifle feeds from a four-round flush fit magazine and the synthetic stock is adjustable for length of pull using a removable spacer, so it can be easily adapted to fit younger hunters. A second front sling swivel stud makes mounting a bipod a simple task. MSRP: $499; cva.com.

4. CZ-USA CZ 557 American
With all of the futuristic designs on the market, it's always a treat to see a traditionally-styled hunting rifle. CZ-USA's CZ 557 American is stocked in attractive Turkish walnut, but in a pattern that replicates the American Classic style. This detachable box magazine-fed push-feed action is available in several popular chamberings ranging from .243 Winchester to .30-06 Springfield, and models weigh-in at just over 7 pounds. The blued steel rifle is sold without sights, but includes a simple and rugged dovetail-style scope mount on the receiver. Though the CZ 557 American includes some short-action chamberings, all models are fit with 24-inch barrels to maximize muzzle velocity. The trigger is fully adjustable. MSRP: $871; cz-usa.com.

5. Ruger Hawkeye Long-Range Target
Ruger's latest product catering to long-range enthusiasts is the Hawkeye Long Range Target, a precision rifle built around the company's proven Model 77 action. Chambered in the powerful 6.5 PRC, this Hawkeye is fit with a heavyweight 26-inch, free-floated 4140 steel barrel that comes threaded and fit with a factory muzzle brake. A 20 MOA rail ensures that shooters won't run out of elevation adjustment, and it is mounted securely with oversized 8-40 fasteners. The synthetic stock features an adjustable comb to accommodate a variety of optics, can be adjusted for length-of-pull, and features an M-LOK accessory rail under the forend. The rifle borrows its excellent two-stage trigger from the FTW model, which is one of my favorite rifles in Ruger's lineup. MSRP: $1,279; ruger.com.

6. Bergara Premier Series Highlander
After many years supplying barrels for better-known gunmakers, Bergara has rapidly established itself as a builder of high-quality finished rifles. The company's new Highlander, part of the Premier Series, is just the kind of rifle that has helped forge that reputation. The Highlander combines compact dimensions with performance-enhancing upgrades—this is a rifle that is handy to carry but substantial enough to be accurate in the field. The fluted Bergara barrel is threaded at the muzzle, and is available in lengths from 20 to 24 inches. The well-designed stock is made of hand-laid fiberglass and is covered in an attractive camouflage pattern. An internal magazine with a hinged floorplate holds four or five rounds, depending on the caliber, and hunters can choose from ten chamberings including two of my personal favorites: the 6.5 Creedmoor and 280 Ackley Improved. For those seeking long-range terminal performance, it is also available in the powerful new .300 PRC. This handy all-around rifle comes standard with a trigger from TriggerTech, which uses an innovative roller mechanism to eliminate creep. MSRP: $1,850; bergarausa.com.

7. Remington 700 American Wilderness Rifle
This year, Remington gave hunters a rifle equipped with many of the popular "custom" upgrades that were previously only available from aftermarket sources. The 700 American Wilderness Rifle comes standard with a rigid fiberglass stock from Grayboe that is free-floated forward of the recoil lug and fit with aluminum pillars for a rock-solid bedding platform. The 700 AWR also features a stainless steel action and 5R rifled barrel, and all of the metal work is coated in a black Cerakote finish. I've tested one of these rifles with several loads and it proved to be both accurate and well-built. MSRP: $1,150; remington.com.

8. Daniel Defense Delta 5
Daniel Defense has been a leader in the semi-automatic rifle market for years, but this year, they entered the bolt-action market with the new Delta 5. This rifle uses a three-lug bolt with a floating bolt head, a proven way to ensure accuracy without excessive cost, along with a user-interchangeable cold hammer forged barrel. The stock is configurable to accommodate individual shooters and allows for the adjustment of length of pull, comb height, butt pad height and even yaw and drift. The trigger is an adjustable Timney Elite Hunter that can be dialed between 1.5 and 4 pounds. The 20-inch barrel is threaded 5/8-24 to easily accommodate a suppressor. The rifle is currently available in .308 Winchester and 6.5 Creedmoor. MSRP: $2,199; danieldefense.com.