by
posted on April 20, 2021
Support NRA American Hunter
DONATE
The biggest bull elk I'd ever seen on the hoof fed on the succulent forbs around a distant wallow. He was just a step or two from disappearing into thick dark timber, and night was coming on. If I was to shoot, it had to happen now. Unfortunately, this was not a simple shot. Fortunately, I was shooting a capable rifle, stoked with superb long-range hunting ammunition. I dialed my turret, settled the crosshairs and killed the biggest bull of my life, with the longest shot I'd ever made on an animal.
Now, the purpose of this article is not to discuss the pros and cons of long-range hunting. There are many of each, as well as a plethora of online experts eager to jump on a soapbox and pontificate about the good or evil of said hunting technique. Let them. Read their sermons for amusement, but not for edification.
Nor will this article address the good long-range cartridges out there, some old and time-honored, most new and daring. No, this article is simply meant to acquaint you with some of the finest ammunition ever to come off a press. This ammo possesses accuracy and aerodynamic capabilities unheard of fifty years ago, as well as the remarkable ability to execute a lethal blow at a wide variety of velocities.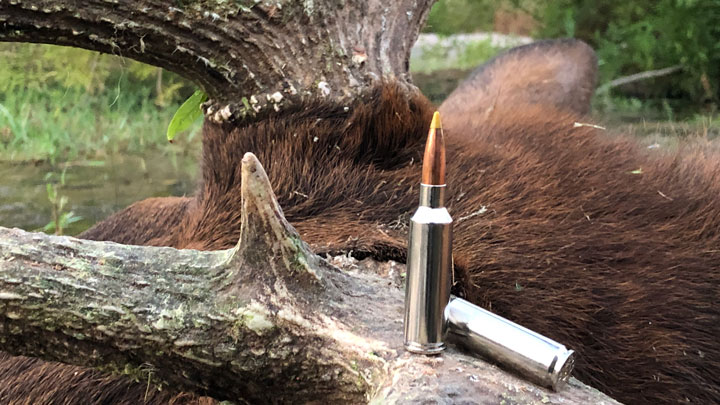 As I write this, a quarter of the year 2021 has already marched off the calendar. Masks are everywhere, and ammunition is available nowhere. God willing, this old world will stabilize, common sense will prevail, and you'll be able to buy ammo off the shelves of your local sporting goods store again. Because, folks, there are elk in the hills, mule deer in the sage and whitetails in the woods. Get your hands on some of the ammo mentioned below. Take it to the range, and then to the field. It won't let you down. Listed in no particular order: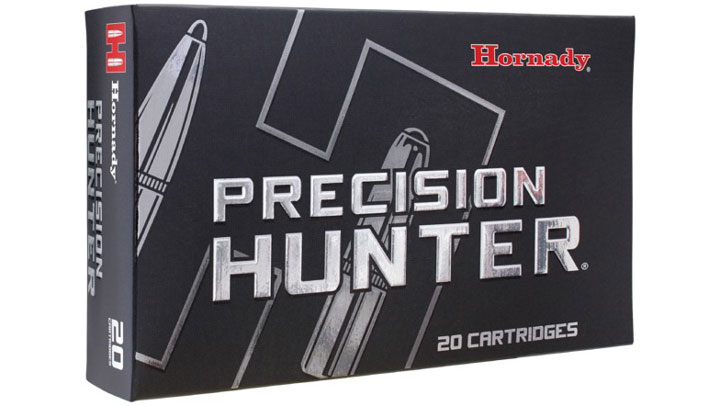 Hornady Precision Hunter
I have more experience with this ammunition than any of the others on this list, simply because it has been around the longest. I've seen a multitude of Western big game harvested, and have personally killed mule deer, elk, kudu and Alaskan moose with it. Precision Hunter ammo is loaded with Hornady's superbly accurate ELD-X bullet, which expands dramatically at a wide range of velocities. This ammo does not push the velocity envelope; rather, it's loaded for consistency. It's accurate–scary accurate. And that's important when you're shooting extended distances. Precision Hunter is sold in 29 different cartridge configurations. MSRP: $39.99-$79.99 per 20-rnd. box; hornady.com.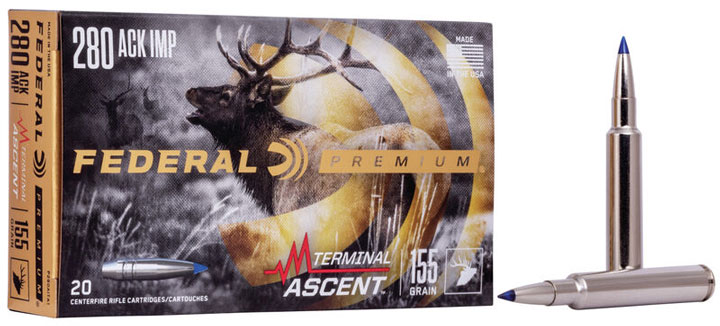 Federal Premium Terminal Ascent
This ammo has only been around for a year or so and has already earned widespread accolades for accuracy and superb penetration. It's loaded with Federal's new Terminal Ascent projectile, which features a solid-copper base that extends roughly half the length of the bullet. The front portion boasts a bonded lead core and the company's Slipstream polymer tip. Together, they form a bullet that provides great expansion with deep penetration. I used this bullet in prototype form in Africa as well as on mule deer and elk, with outstanding results. Terminal Ascent ammo currently comes in eleven calibers, including 6.5mm, .270, 7mm/.280 and the .30s. MSRP: $53.99-$70.99 per 20-rnd. box; federalpremium.com.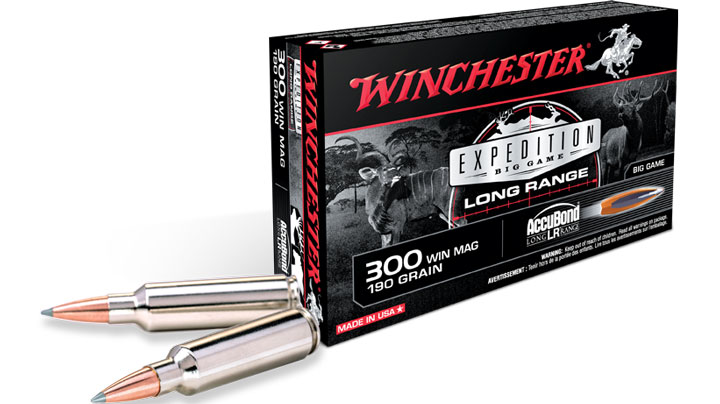 Winchester Expedition Big Game Long Range
I have limited personal experience with this ammo, but it owns a reputation for reliability. Furthermore, the projectile loaded therein—Nosler's AccuBond Long Range (ABLR)—is renowned for superb terminal performance. It will expand beautifully and hold together through meat, gristle, and bone. Not every rifle loves the ABLR bullets, but those that do shoot it very accurately. Expedition Big Game Long Range ammo is available in nine different loads, including 6.5mm, .270 (6.8mm), 7mm, and some .30s. MSRP: $42.99-$67.99 per 20-rnd. box; winchester.com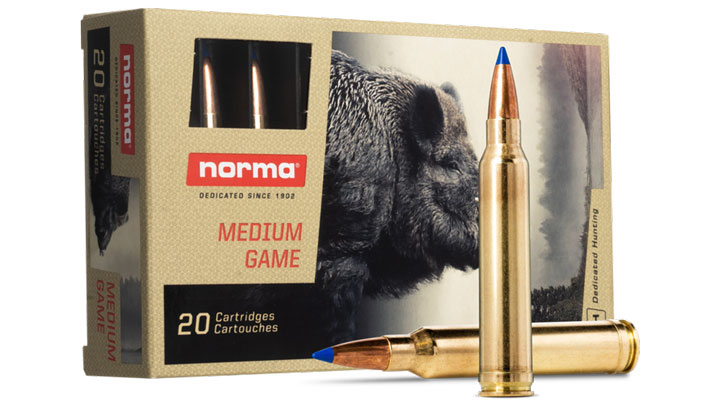 Norma BondStrike
Norma has long been known for producing cartridge brass (for handloading) and ammo of outstanding quality. Preferred by many African and European hunters, Norma ammunition is not as well known in the U.S., but it should be. A couple years ago, Norma entered the long-range arena with its BondStrike projectile, developed specifically for shooting and hunting at extended distance. I've never hunted with BondStrike ammo, but friends who have report very good results. Given Norma's reputation, I'm not surprised. It's currently available in three 6.5mm cartridges and five .30-caliber loads. MSRP: $69.99-$105.99 per 20-rnd.box; norma-ammunition.com.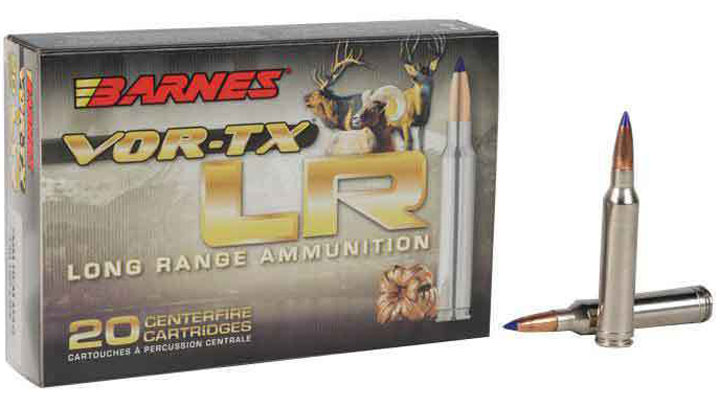 Barnes VOR-TX LR
Barnes was the first company to offer solid-copper bullets, which became known for outstanding penetration on big game. It makes sense; copper is harder and tougher than lead and won't deform or fragment as readily. The LRX (Long Range X) bullet will mushroom into four sharp "petals" up front, cut a nasty wound channel and penetrate deeper than almost any other hunting bullet. It's not quite as aerodynamic as the other projectiles on this list, but is still capable of deadly performance at further distances than most of us should ever shoot at game. And it has a reputation for superb accuracy. VOR-TX LR ammo is available in 10 different cartridges ranging from 6mm up to .375. MSRP: $43.99-$84.99 per 20-rnd. box; barnesbullets.com.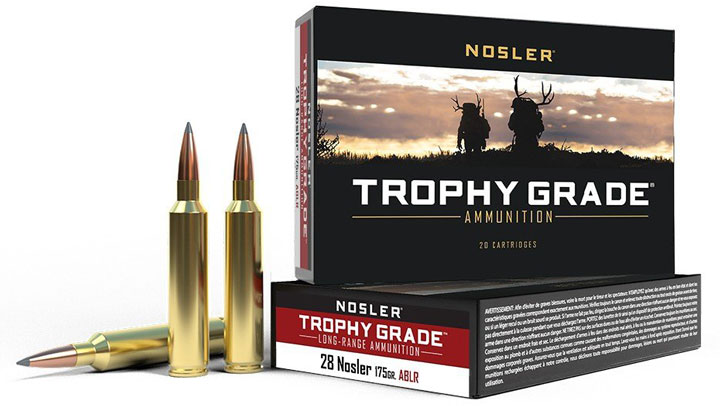 Nosler Trophy Grade Long Range
Genuine craftsmanship goes into everything Nosler does, and their ammunition is no different. They make the finest brass on the market, and load their own AccuBond Long Range bullets (as used in Winchester Expedition Long Range) in their Trophy Grade Long Range lineup. Accurate, reliable and built with premium components, Nosler ammo is truly superb. Offered in 26 different calibers from 6.5mm up to .33-caliber. MSRP: $62.10-$127.85 per 20-rnd. box; nosler.com.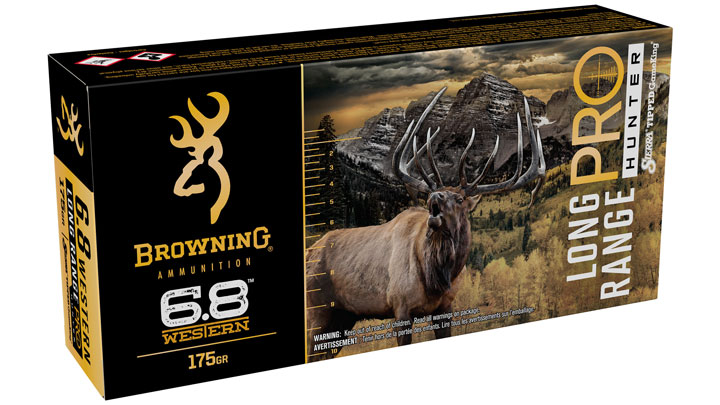 Browning Long Range Pro Hunter
Relatively new to the long-range hunting ammo scene, Browning tops their Long Range Pro Hunter ammo off with the highly regarded Sierra GameKing bullet, now sporting a polymer tip and am upgraded ballistic coefficient. It's a bullet that owns a long and respected relationship with American hunters, and is known for premium accuracy. This is the ammunition with which I harvested the big bull elk mentioned early in this article, chambered in the brand-new 6.8 Western cartridge. Terminal performance was excellent. Long Range Pro Hunter ammo is currently available in eight offerings from 6.5mm to .30-caliber. MSRP: $38.99-$59.99 per 20-rnd. box; browningammo.com.
Want to read more from Aram von Benedikt? Check out the following articles:
• Hardcore Hunting: 5 Tips for Keeping Your Rifle Functioning
• Public Land Hunting Etiquette
• Journal This Year: How to Record Recent Adventures and Plan Upcoming Ones
• Backcountry Survival: 3 Tools You Should Always Carry
• .30-06 Springfield: Is it Still the Best All-Around Big-Game Hunting Cartridge?
• 10 Great Christmas Gifts for Hunters
• How to Field Judge a Mule Deer in 30 Seconds
• How to Call Elk: Strategy, Sequence and Setup
• How to Set Up a Ground Blind for Bowhunting
• Backcountry Mule Deer Hunting: Tools and Tactics
• Tips and Tactics for Hunting the West
• How to Prep for Elk Hunting: Physical Fitness, Mental Toughness, Shooting Skills and Shot Placement
• Hunting African Plains Game: How and Where to Place Your Shot
• Dream Hunt: How to Make an African Safari Come True
• Top 5 Backcountry Hunting Rifles
• Hunting Cartridges: Rising Starts of the New Millennium
• Tips and Tactics for DIY Hunting and Fishing in Hawaii
• Peccary Quest: Where and How to Hunt Javelina
• Tips and Tactics for Hunting Western Cottontails
• How to Convince Your Wife to Let You Buy as Many Guns as You Want
• Backcountry Survival Tips: How to Deal with Disaster
• DIY Backcountry Hunting Tactics and Gear
• How to Be an Ethical Long-Range Hunter
• Tips and Tactics for Hunting Coues Deer
• Essential Stalking and Still-Hunting Skills
• A Beginner's Guide to Traditional Bowhunting
• 6.5 Creedmoor Proven: How Does It Actually Perform on Big Game?
• How Hunting Rifles & Gear Have Evolved Over the Last 50 Years
• How to Sharpen a Knife
• How to Set Up Your Rifle and Scope for Long-Range Dialing
• 7 Common Predator Hunting Mistakes to Avoid
• 6 Tips for Hunting Public-Land Mule Deer
• 10 Tips for Bowhunting Elk
• Tips and Tactics for Bowhunting Mule Deer
• How Do You Build the Ultimate Western Big-Game Rifle?
• 10 Ways to Prep for Your Next Western Big-Game Hunt
• Tips and Tactics for Hunting Canyon-Country Gobblers
• 12 Tips for Shed Hunting the West