Support NRA American Hunter
DONATE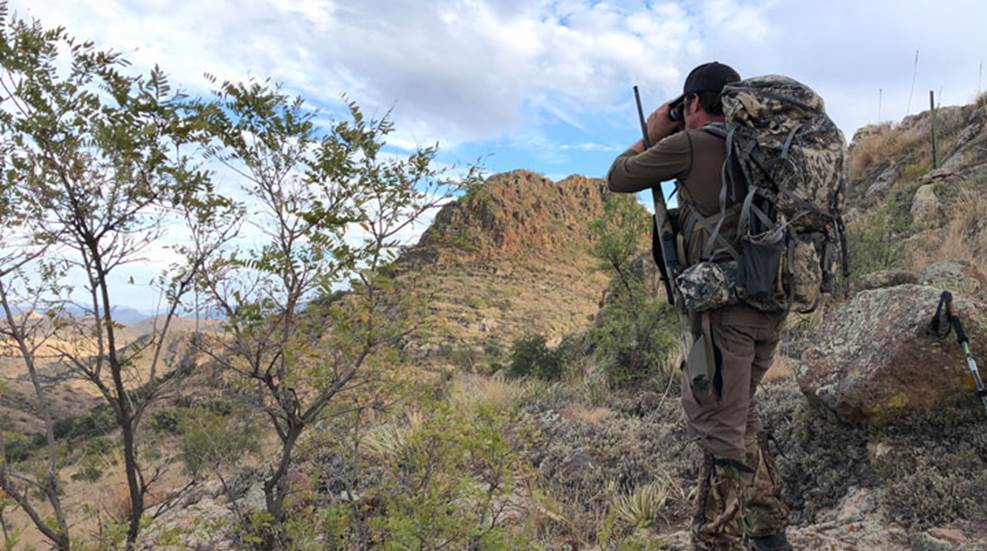 Wind whipped across the desert and up the mountainside, battling the falling dusk for supremacy. Dusk won, as it always does, and with the setting sun, the wind died, mourning into the draws and eddying across the flats. We sat on a vantage point, field glasses trained upon mountain peaks that shown golden in the last rays of evening sun. The golden line crept upward, the peaks fell into shadow, and last light was only minutes away when my buddy spotted a buck. It was a great Coues deer and worth every effort, so we grabbed our packs and rifles and began our stalk. We had 1,400 yards to cover before we would be close enough for a shot.
Legs aching and lungs burning, we crept over the last rise. Only moments of shooting light remained as my buddy settled in behind his rifle, dialed his turret and dropped the great buck.

Why Spot and Stalk?
Ask any group of American hunters the question "What do you think is the most exciting way to hunt big game?" and most of them will answer "Spot and stalk." It's no surprise; on much of North America's hunting lands, it is impossible to employ spot-and-stalk methods. Dense woods, flat terrain or other factors prevent it, and as a result many avid hunters rarely get to experience the thrill of spotting a big-game animal from a distance and then running, climbing, creeping or crawling to get close enough for a shot. If you've never tried spotting and stalking, you owe it to yourself to give it a go.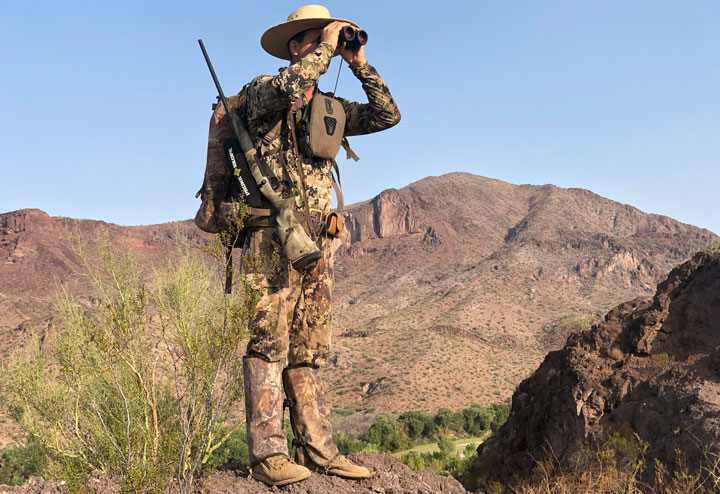 Tools of the Trade
It's likely your standard hunting equipment will work for spot-and-stalk hunting. If you possess a good binocular, semi-lightweight boots or shoes, and an accurate rifle, you can get the job done. That said, let's take a look at some gear I consider ideal for spotting and stalking.
Binocular: The first order of business while spot-and-stalk hunting is finding the game, so in a way, your optics are the most important equipment you'll use. Get the best glass you can afford. A 10x42mm binocular is ideal for the vast majority of spot-and-stalk hunting.
Shoes: You'll need to move fast at times, so big, clumpy hunting boots are not ideal. Find some lightweight footwear that have semi-soft soles and move comfortably with your feet. Break them in well before the hunt.
Pack: Carry a mid-sized pack that will tote a day's worth of water and snacks, and can act as cross-sticks or a sandbag shooting support when needed.
Rifle: Your rifle should be reasonably lightweight, accurate and fit you well. Trying to stalk while carrying a heavy tactical-type rifle that snags on everything is frustrating. I recommend a classic hunting rifle that handles and balances nicely.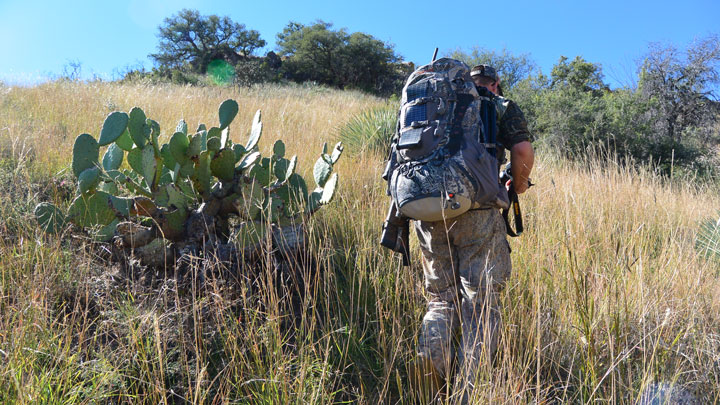 Spot the Game
For some of the best spot-and-stalk hunters, this part is the game. They live for it, and simply can't wait to get eyes in glass and start searching for wildlife. Hours later they are still at it, excited as a young bird dog on a point. They know by experience that they will eventually spot something, and they can't wait to see what it is. They are treasure hunters, and they know the longer they look the better the odds they will find something fantastic.
The first step to spotting game is to find a position of vantage (where you have a good view of the surrounding area). Good vantage points are usually hilltops, ends of ridges and anything that is elevated. Sometimes, however, your best vantage will be centered in a valley where you can see high up the mountainsides. This is often the case when you're hunting above timberline, where there are no trees to obscure the surrounding heights.
Once you've found a good vantage point, set up in a comfortable position. If you're not comfortable, you won't be able to focus on spotting game. Use anything you can find to support and stabilize your binocular. Your pack, a trekking pole or a rocky outcropping will work well. Many serious spot-and-stalk hunters carry a lightweight tripod to mount their glass on.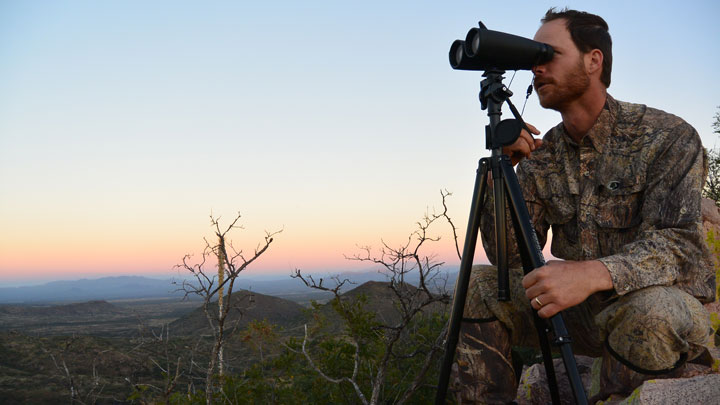 Now that you are comfortable and have a way to stabilize your optic, use it to pick apart every potentially game-rich area within view. Consider what your quarry might be doing at the time (feeding, sleeping, etc.) and focus on areas conducive to the predicted activity. For instance, during late morning hours, it's usually a good bet to glass the shadows, searching for sleeping animals.
Once you've studied everything within your view, start over and study it again. Many times, you'll spot game the second, third or even forth time over. Animals move, shadows change and suddenly that big buck or bull is startlingly obvious in your binocular.
Often, you will need to move a bit in order to survey your entire area. For example, you might be situated on a hilltop, but need to move around a bit to see in every direction. Don't hesitate to do so, methodically searching the most promising areas first, then glassing the less likely spots as the day wears on. Don't neglect the less likely spots though; often you will see big old animals there that have learned to hang out where least expected.
Once you spot an animal, don't jump up and say, "I found one!" You'll probably never find him again. Instead, lock onto that animal with your glass and memorize his surroundings. Note the tree that looks different, that rocky outcropping just below, and the ravine that runs across his left. Now, when you need to re-acquire him in your glass, you'll be able to do so.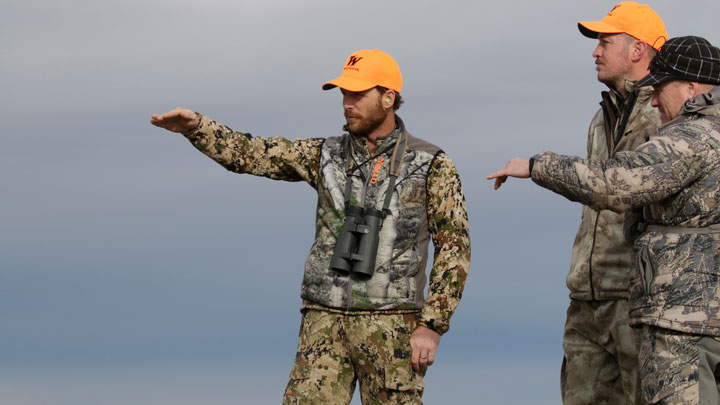 Plan Your Route
Now that you've spotted an animal you want to stalk, you need to mark his position carefully. Try to predict which way the wind will be traveling, and then choose a goal shooting position that's downwind of the animal if possible. Memorize these two positions, along with nearby landmarks. Everything will appear very different once you've left your vantage point, and you need to be able to recognize where you and your quarry are.
Once you've memorized your game's surroundings, strategically plan your approach. Plan to keep something between you and your quarry at all times; dirt is best (mountain, rock, ravine walls) and vegetation is next best. The point is to prevent the game from ever seeing you.
Plan your route all the way to your goal shooting position. Memorize landmarks along the way because, here again, everything will look very different once you leave your vantage.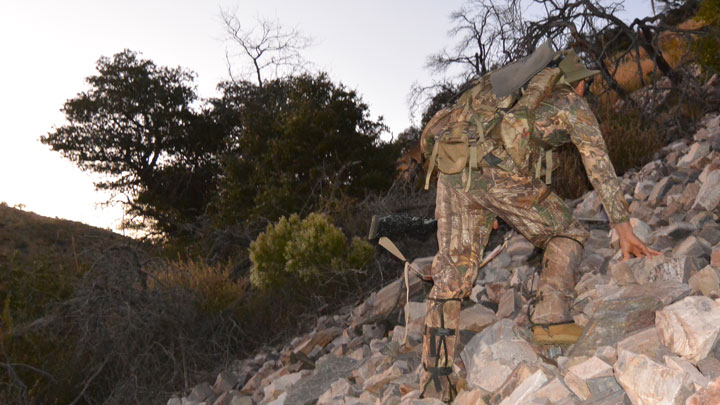 Stalk Up Close
Now gather your gear, take a drink of water and make your stalk. During the early stages, be aggressive and try to close the distance rapidly. Once you are close enough that your quarry could potentially hear, see or smell you, you'll want to slow down, move deliberately and intensify your focus. A mistake now can spoil everything.
If there is no good cover you'll need to get creative. Crawl on your belly, cut a bush to move with you and use for cover, or use a decoy to hide behind. Move slowly and deliberately like a game animal grazing, so you don't appear predatory. Pay attention to the breeze on your skin; it'll tell you what the wind is doing. If the breeze is gusty, move when the gusts are strong. Do everything you can to blend with nature and the landscape.
Continue stalking closer until you reach your intended shooting position. Your goal is to reach there before the animal relocates to someplace else, so hurry when possible. However, don't compromise your stalk by hurrying when you shouldn't. Stay focused. Move deliberately. When you get to your spot take a drink if you are nervous. As soon as you're calm, slip your rifle into position.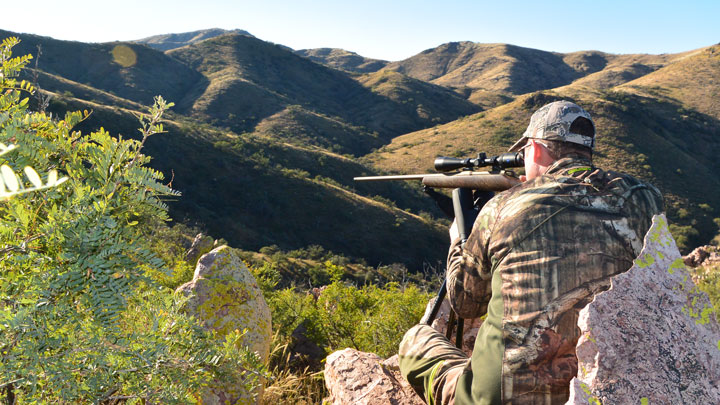 Make the Shot
Now that you've spotted a buck or bull, planned your approach and executed a successful stalk, your adrenaline may hit heretofore unencountered levels. Don't let that mess you up. Stay calm, take deep, slow breaths and try to re-spot the animal you're after. It may be hard to see from your new position. Sometimes, you may need to wait until the animal stands or moves before you can see it again, or you may need to choose a different shooting position now that you are at ground zero.
Once you re-spot your game, settle into the best shooting position you can find, get steady and press your trigger. Make a good shot, and you've just completed one of the most challenging and rewarding hunting experiences on earth.
Want to read more from Aram von Benedikt? Check out the following articles:
• 5 Books Every Hunter Should Read
• Cheap vs. Expensive Hunting Rifles: Which is Right for You?
• How to Build the Ultimate Brown Bear Rifle
• Top 7 Long-Range Hunting Loads
• Hardcore Hunting: 5 Tips for Keeping Your Rifle Functioning
• Public Land Hunting Etiquette
• Journal This Year: How to Record Recent Adventures and Plan Upcoming Ones
• Backcountry Survival: 3 Tools You Should Always Carry
• .30-06 Springfield: Is it Still the Best All-Around Big-Game Hunting Cartridge?
• 10 Great Christmas Gifts for Hunters
• How to Field Judge a Mule Deer in 30 Seconds
• How to Call Elk: Strategy, Sequence and Setup
• How to Set Up a Ground Blind for Bowhunting
• Backcountry Mule Deer Hunting: Tools and Tactics
• Tips and Tactics for Hunting the West
• How to Prep for Elk Hunting: Physical Fitness, Mental Toughness, Shooting Skills and Shot Placement
• Hunting African Plains Game: How and Where to Place Your Shot
• Dream Hunt: How to Make an African Safari Come True
• Top 5 Backcountry Hunting Rifles
• Hunting Cartridges: Rising Starts of the New Millennium
• Tips and Tactics for DIY Hunting and Fishing in Hawaii
• Peccary Quest: Where and How to Hunt Javelina
• Tips and Tactics for Hunting Western Cottontails
• How to Convince Your Wife to Let You Buy as Many Guns as You Want
• Backcountry Survival Tips: How to Deal with Disaster
• DIY Backcountry Hunting Tactics and Gear
• How to Be an Ethical Long-Range Hunter
• Tips and Tactics for Hunting Coues Deer
• Essential Stalking and Still-Hunting Skills
• A Beginner's Guide to Traditional Bowhunting
• 6.5 Creedmoor Proven: How Does It Actually Perform on Big Game?
• How Hunting Rifles & Gear Have Evolved Over the Last 50 Years
• How to Sharpen a Knife
• How to Set Up Your Rifle and Scope for Long-Range Dialing
• 7 Common Predator Hunting Mistakes to Avoid
• 6 Tips for Hunting Public-Land Mule Deer
• 10 Tips for Bowhunting Elk
• Tips and Tactics for Bowhunting Mule Deer
• How Do You Build the Ultimate Western Big-Game Rifle?
• 10 Ways to Prep for Your Next Western Big-Game Hunt
• Tips and Tactics for Hunting Canyon-Country Gobblers
• 12 Tips for Shed Hunting the West