by
posted on January 25, 2013
Support NRA American Hunter
DONATE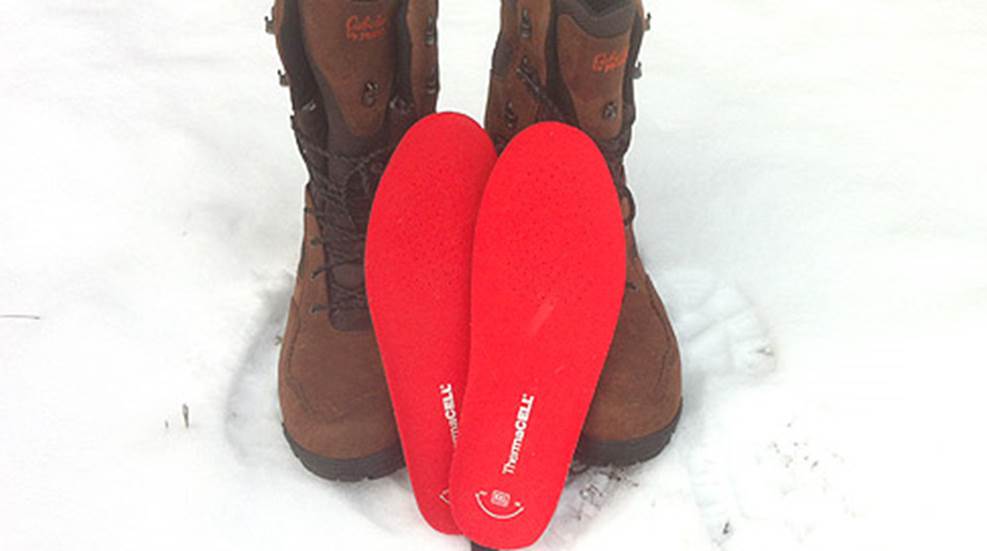 Staying warm—especially at this time of year—is always a challenge. Nearly every hunter out there has caved to the elements at some point in his or her career, and bitter cold is one of the most common challenges we all face. Keeping your extremities from getting cold remains key, and one product may make things a little bit easier for those who suffer from cold feet.
ThermaCELL's latest innovation is designed around a state-of-the-art thermal technology that's embedded in a pair of otherwise standard issue insoles. The thermal technology—which is battery powered and rechargeable—warms up the insoles, thus warming up any feet that may be resting on them. The idea behind them is to provide a foot warming option that's controllable, unlike many of the chemical foot warming pads that are popular among hunters and outdoorsmen and women.
I'm the type that rarely gets cold. But, when I do, it always starts with my feet—so I was very keen to give ThermaCELL a shot at becoming my go-to cold feet solution. I tried them out on a whitetail hunt and a pair of waterfowl hunts earlier this season.
Getting Charged
Setting the Heated Insoles up is simple: charge them for the allotted time, flip the power switch and insert them into your footwear of choice. The power switch and charging port are both located in the heel of each individual insole, and protected by a rubber cover. Operation is simple enough: to the left is off, to the right is on. Slip them into your shoes or boots, grab your remote and you're good to go.
Charging the insoles took a couple of hours on every go-round for me. The charging cord splits, allowing you to charge both insoles at the same time. There's also a car charger available, so you can power them up on the go if need be. ThermaCELL estimates that the insoles can be charged about 500 times before the battery will need to be replaced.
Finding a Fit
To get a feel for the fit of the Heated Insoles, I tried them out with two different pairs of boots. First up were Cabela's 800-Gram Ultralight Hunter Boots by Meindl. To start, I removed the existing insoles in the boots, as ThermaCELL recommends. I had no trouble working the insoles into the boot, and I didn't have to trim the insoles (each offers a designated "Trim to Fit" area, if needed) at all to get them to fit properly. Once I put the boot on and put them to work, I scarcely noticed that I'd inserted different insoles—the fit hadn't changed at all.
I also tried them out in a set of Muck Boots Field Blazers, to mix things up. I again had little trouble inserting the insoles, and didn't have to trim them any, but I did run into problems with the fit. Things got a lot snugger around the top of my feet, and I eventually found myself taking the boot off and removing the insole. It should be noted that the Field Blazers aren't designed with insoles; so adding one secondhand was a risk to begin with. Plus, as the XXL size of my insoles might suggest, I've got a big foot. It's entirely possible that the problem can be traced back to that.
Operation
Once you've got the insoles inside your footwear of choice, manipulating them is easy. Each set comes with a handheld remote control that you can use to flip between settings. The remote's not much larger than what you'd use to lock or unlock your car, so carrying it around isn't a hassle. It fits easily into a pocket, and comes with a short lanyard that allows you to attach it to your wrist, belt, jacket loop or whatever else you've got in mind.
There's no way to get confused with your setting, either—the only three buttons you're dealing with are labeled "High," "Medium" and "No Heat." "No Heat," as you might imagine, shuts the insoles down. You can hit it if your feet are starting to feel too warm, or if you just want to conserve your battery power a bit. "Medium" heat dials the insoles up to about 100 degrees, and "High" cranks things up to 110. I didn't notice a very significant difference between the two settings, but my feet aren't exactly thermometers. They did realize that they were cozy and warm on both settings, though.
The Results
Whether I was sitting in a box blind nearly motionless for hours or clomping through a field laying out goose decoys, I had warm feet when equipped with the Heated Insoles. Both settings kept my feet at a very natural level of warmth—which is about all you should be looking for when out in the field. It didn't feel like I was sitting in front of a fire, but it shouldn't. That kind of heat just makes your feet sweat, which can lead to a whole new set of problems.
I ran into no operational problems with the Heated Insoles—they turned on when I asked, shutdown when ordered and didn't malfunction. The company claims that each charge will get you about five hours of heat on the "Medium" setting, and I found that to be relatively accurate. Occasionally rationing and switching over to "No Heat" can help eek out a couple extra hours if done properly. As long as you've got good footwear, you should be able to maintain warmth for extended periods without the insoles being on. That said, the Heated Insoles are not going to last if you try to run them from dawn 'til dusk. If you know you're going to be out in the cold for 12 to 18 hours, or aren't sure how often you're going to be able to be near a power source, you may need to seek out alternative methods.
An important note from ThermaCELL, however: the insoles are water-resistant, not waterproof. So, don't wear them if you know getting your feet drenched is a real possibility. If they do get wet, be sure to dry them off profusely before using them again or plugging them in for charging.
All told, ThermaCELL's Heated Insoles do exactly what they're supposed to: keep your feet warm without making them uncomfortably so. They may not be your foot-warmers of choice if you intend to trek out into the backcountry for weeks at a time, but they're perfect for day-to-day activities and any hunting trip that offers regular opportunities to return to camp and charge up. Don't get cold feet, folks—they'll leave you thinking about giving up on that trophy buck and heading somewhere warm in no time.