by
posted on March 18, 2013
Support NRA American Hunter
DONATE
We've all been there: You're in a blind or in the woods when your smartphone goes off. You reach for it, pull it from your pocket... and it goes flying. Where's it land? Could be anywhere: on a rock, in creek or on the side of the road. Regardless, now it's broken, and you won't be able to tell your boss' number from your significant other's until you get it fixed. Hunters and outdoorsmen and women tend to be harder on their phones—and ask more of them—than the rest of the human populace, in large part because of where our hobby takes us. Snow Lizard Products has introduced a new phone case that it hopes can become a regular companion to those who lead more adventurous lifestyles: the SLXtreme 4, for iPhone 4 and 4S models.
In no small part due to my own clumsiness, I can be a terror on phone cases—I've almost completely destroyed two different Otter Boxes in the last year alone. So even I wasn't sure how the SLXtreme 4 would hold up in my time with it, which included a weeklong snow goose hunting trip in southern Illinois.
Extreme Phone Protection
As its name suggests, the SLXtreme is designed to withstand even the most extreme conditions, and every outdoorsman or woman has, at some point, certainly been somewhere that their phone really shouldn't have. But, whether you're planning on being high atop a mountain ridge or up to your waist in marsh, it's nice to be able to keep your phone with you—both for emergency situations, and to pass the time should your adventure grind to a bit of a halt. Whether you're using your iPhone as a GPS or just trying to kill some time by trading text messages with a hunting buddy, they're nice to have on hand, no matter the environment. That's where the SLXtreme really does excel—it's tough as nails and its power supply can keep your phone in the game for a couple extra hours, at the least.
First, lets talk durability. The SLXtreme's body—which is roughly 5.7" long and 2.9" wide—is a bit of a monster. The rugged polycarbonate case is admittedly a lot to handle, and may challenge even the deepest of pants pockets—I found myself sliding it into a jacket pocket before long. That said, you're not going to hurt it, either. Snow Lizard lists its maximum safe drop height as two meters (roughly 6.5 feet), and I couldn't find any evidence to the contrary. My test case took a number of tumbles (some purposeful, some accidental) and the iPhone enclosed within was never any worse for the wear. It's important to note, however, that a direct blow to the screen cover can still damage your phone. The cover had to be kept understandably thin, to keep from disrupting touchscreen usability.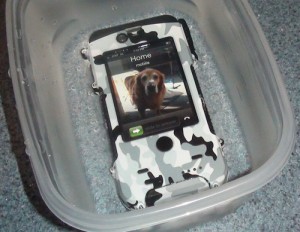 The case is waterproof, too, which any smartphone carrier can appreciate. Much like the drop height, Snow Lizard estimates an operational depth of two meters. Given the time of year, I didn't have the opportunity to put the case through a thorough depth test. I did submerge it (and begrudgingly, my phone) in water for three hours—at the end of which, I was still receiving calls without issue. Further inspection revealed no intrusion from the water. The case's ability to keep your phone dry provides two immediate perks—your iPhone will probably survive drops into shallow water and, in a pinch, can double as an underwater camera (again, in shallow regions).
Let There Be Light
The SLXtreme's other major feature is the additional battery power it can provide. The case features an integrated 2,000 mAh battery that can nearly double the charge of your phone. Smartphones aren't known for their long battery life—especially if you're out in the sticks, where signals can be spotty, at best. The SLXtreme allows its user to regularly use their phone, without having to worry about the battery giving out halfway through the hunt. Bored in the box blind? Fire off some text messages and see how your fellow hunters are doing. Lost on a hike? Break out your phone's GPS, and never have to worry about conserving battery power for a potential emergency.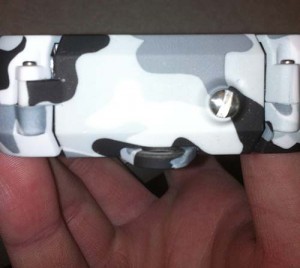 There are two ways to charge the case. The first is rather pedestrian: Unscrew the base of the SLXtreme and you'll find a charging port that connects to a USB cord that's included in the box. The USB can be plugged into a computer or iPhone charger, giving you flexibility on the road. Once the case is charged (and your phone is in place), you can activate the emergency batter by holding down a button on the front of the case.
An alternative—and largely emergency—method to charging the case is the large solar panel on its back. Snow Lizard estimates that you'll gain five to 10 minutes of talk time for every hour that the panel is exposed to the sun—and yes, the panel does work. It can be a slow way to charge the case, but it's great tool to have in an emergency scenario where you desperately need the battery power to make a phone call. The company includes a neck lanyard in the packaging, allowing you to hang the case from your neck to charge while you're on the move.
Can You Hear Me Now?
One of the biggest questions, of course, would be how well the phone functioned when quarantined inside the rather hefty casing of the SLXtreme.
When it came to incoming audio, I experienced no problems. After two weeks of sporting the SLXtreme 4 as my primary case, I still hadn't run into a situation where I had trouble hearing the person on the other end of the line. They may have been a few decibels quieter than normal, but there wasn't a very noticeable drop in volume. I didn't register a significant drop in the volume of my ringtone, either—I still heard it just fine, whether the phone was stowed in a pocket or on its charger in the next room. Results were likewise for music and audio from Apps.
Outgoing audio presented a bit of trouble, however. I spoke to more than a dozen different people while using the case, and six of the 12 reported that they were having a hard time hearing me. Nothing stood out as a correlated reason for the difficulty—the people that had trouble hearing me were often times using the same phone model or wireless carrier as the people who said I sounded fine. One of my guinea pigs told me it sounded like I'd activated the speaker function on my phone and then sat down on the other side of the room. So be forewarned: you could run into communication problems, particularly if you're soft-spoken.
Features, Features, Features
Not all that long ago, how the case fared during phone calls would have been about all you wanted to know—but not in the smartphone era. My second order of business was determining how the SLXTreme 4 fared with all of the other nifty little features that an iPhone can offer.
After you decide you want to handle the case, which will largely depend on the size of your hands, it's not difficult to manipulate. The protective screen cover doesn't interfere with your finger controls at all, and the gratuitous amount of space surrounding it keeps you from losing touchscreen quality at the screen's edges—a common problem among the industry's heftier cases.
I snapped photos in a variety of environments—indoors, outdoors, good lighting, bad lighting—and found little noticeable drop in the photo quality. Some of the finer details may lose a little quality, but that's a necessary evil when you're putting a plastic cover over your lens and flash.
An important note: Because it's dedicated to being waterproof, the case is forced to eliminate access to two notable features—the switch on the left side of the iPhone that sets it to vibrate-only, and the headphone jack. If you want to set your phone to vibrate-only (or vice versa) you have to remove it from the case, throw the switch, and put it back in. You can have access to the headphone port simply by opening the top of the case—which, of course, exposes the top of your phone to an accidental drop or whatever elements you may find yourself in. Again, these are relatively necessary sacrifices in order to ensure your phone's safety. If you frequently change the status of your phone or use headphones, though, it could quickly become a bother.
The Final Verdict
Snow Lizard set out to make a case that's designed for the most extreme outdoorsmen and women in the industry—and in that sense, the company succeeded wholeheartedly. The SLXtreme provides all the security you could ask for from a smartphone case, and its additional battery power could be a lifesaver. Yes, it cuts off access to some of your phones basic amenities, but it does so in the name of security. If your occupation or hobby takes you into harsh conditions on a regular basis, this is the case that will keep your phone in the game. If the neighborhood park is as dangerous as you tend to get, though, you may want to look for something that's more suitable to your day-to-day lifestyle.
Oh, and iPhone 5 users shouldn't fret—the SLXtreme 5 is on the way.