by
posted on September 4, 2020
Support NRA American Hunter
DONATE
Most every backcountry hunter has, at one point or another, confronted the issue of where to keep their pistol. Whether it's an emergency backup gun—like a small semi-automatic or snub-nose revolver—or a purpose-built long-barreled hunting pistol, options in the backcountry run slim. In the latter case, it is often because the prodigious size of the gun in question eliminates the possibility of using a standard side holster, but even for the former examples of a more typical size, carrying at 3 o'clock can be a nightmare. Take it from someone who has put down quite a few backcountry miles with my trusty sidearm nestled at three—when you're humping a fully loaded pack with a waist belt, what is usually the most comfortable position to carry transforms into a sweaty nightmare, constantly grinding grit into your side or mashing hard plastic into your hipbone until its red and bruised. Fortunately, a solution to this age-old problem exists in the increasingly popular chest-rig carry system.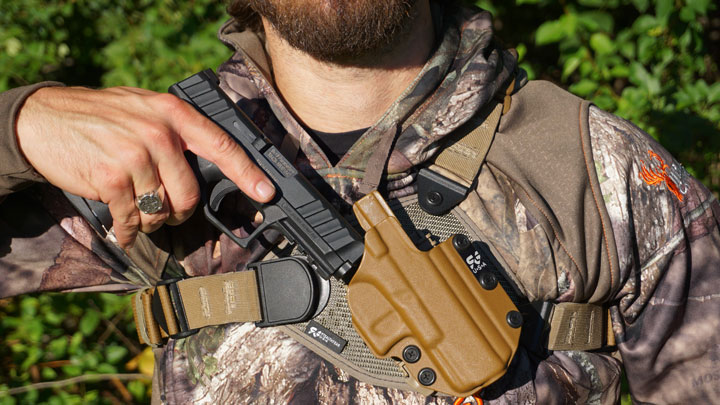 Let me preface things by admitting a small amount of bias—some 70- to 80-percent of my daily carry is accomplished via a StealthGearUSA AIWB Ventcore Holster run at 3 o'clock, meaning I already have a close affinity for the company's products. That said, this bias is far from unmerited—quite to the contrary, it stems from watching StealthGearUSA's products deliver functionality and comfort day in and out. Thus, when I discovered the company had begun work on a line of chest-rig holsters, I knew I had to see for myself how the design fared in the field.
Construction
When you pull the StealthGearUSA Chest Holster 2.0 out of the box, the first two things you notice are the quality of its materials and its modularity. Constructed around the company's tried-and-true Ventcore platform, the holster boasts three 1.5-inch harness straps made from heavy-duty nylon webbing and elastic, sewn with Box-X and Bar-tack stitching. These adjust at the chest strap with one rectangular loop, and at the torso with two ladder-lock double-bar slides, fitting up to a 72-inch chest.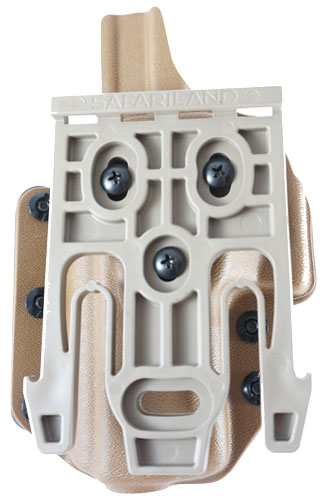 In terms of modularity, the platform is stunning. With three attachment points and an internal stiffener, the Chest Holster 2.0 can accommodate 26 different StealthGearUSA holster shells, which can in turn fit an absolutely ludicrous number of handguns—from something tiny like a SIG Sauer P365, to the stout Smith & Wesson 500. But it doesn't end there. The StealthGearUSA Chest Holster platform is compatible with the Safariland Equipment Locking System (ELS) and Quick Locking System (QLS); the large and small Blade Tech Tactical Modular Mount Systems (TMMS); and the G-Code Rapid Transition Interface (RTI). In fact, the Safariland ELS is the standard mounting system for the majority of StealthGearUSA's holster shells, while the QLS is used on heavier models. Still further, a bear-spray canister carrier; double-stack pistol-magazine carrier; single-stack pistol-magazine carrier; revolver speed-loader carrier; revolver speed-strip carrier; and elastic mag or multi-tool carrier are all available to attach to the Chest Holster 2.0. This almost unparalleled range of modularity is thanks to the holster's inclusion in the SG-X Modular Holster system, which allows users to seamlessly move a holster shell between the chest platform, drop-leg holster, belt attachment or MOLLE-equipped item.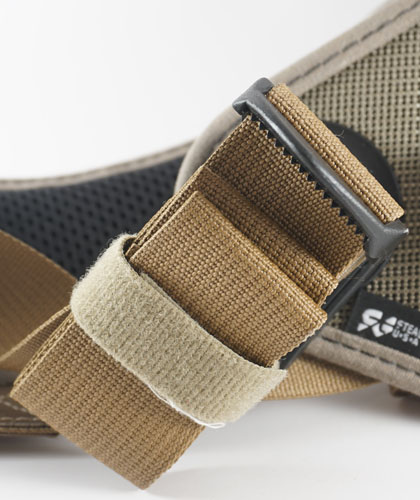 Fitment
Adjusting this holster for the first time will take a little doing. As people come with a wide variety of chest sizes, adjustment points (as mentioned) are numerous, and plenty of additional strap material is included to ensure an optimal fit. Once its adjusted, any additional material can either be cut short, or folded back and reattached to the harness using included Velcro bands. It simply depends on whether you foresee the need to adjust it to a much larger size in the future. Additionally, the buckle on the shoulder strap is quite tight. On the one hand, this means it will take you some extra time and effort to get it exactly where you want it. On the other hand, it means there is virtually no chance of the buckle coming out of adjustment once set. I'll take that trade any day.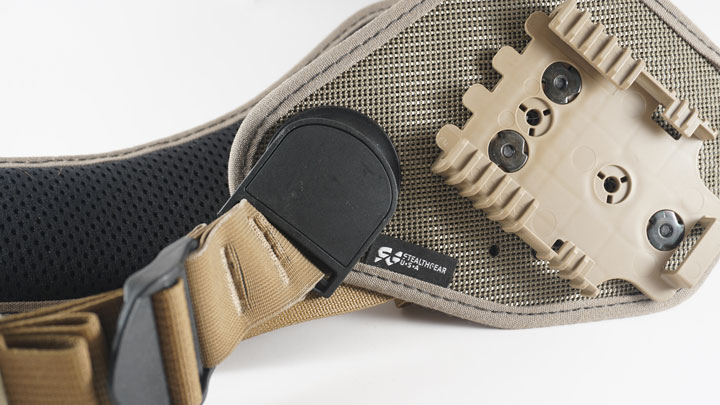 Once you have all three buckles adjusted—one for the shoulder strap, one each for the under-arm straps—slipping in and out of the holster is effortless. A magnetic quick-detaching snap-pivot releases easily, allowing you to just slide your left arm through the remaining loop, before reattaching the right arm strap via the quick-detach point. No more awkwardly pulling the entire apparatus over your head like an overly stiff shirt, as is necessary with some other chest-rig designs.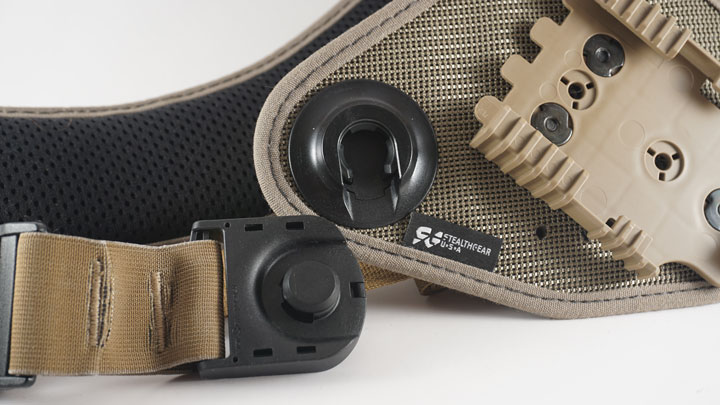 Further, the addition of elastic attachment points on both sides of every strap is a real benefit. The factor of give they provide allows you to fit the holster tighter than would usually be comfortable, as the elastic stretches to take up any additional length you may need. This gives the holster a tailored feel, automatically adjusting to keep itself tight as possible (within limits), no matter what position you find yourself in.  Finally, while the rig's lone shoulder strap is well padded, it doesn't interfere at all with the strap of my hunting backpack. This is due both to its location, as it routes much closer to the base of the neck than a backpack strap, and the fact that a well-adjusted hip-belt-equipped pack puts very little pressure on the tops of your shoulders anyway.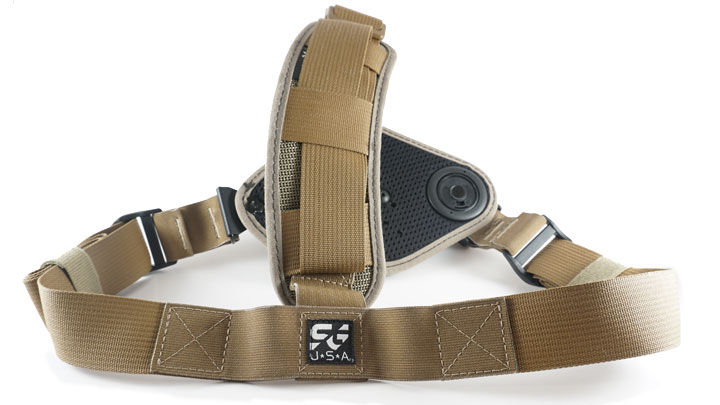 In the Field
One-size-fits-all holsters rarely work well, and dependable holsters rarely fit more than a single model of pistol. The StealthGear Chest Holster 2.0 does both. Thanks to its modular nature, the rig is more of a platform than a holster, allowing multiple different holsters/holster shells to be utilized with it. In such a way, it gets around the clunkiness that usually accompanies holsters designed for broad compatibility, by providing a fit that is simultaneously custom, yet universal. I tested the rig with a variety of handguns—a Stoeger STR9 (which, for those of you who don't know, fits snugly in almost any Glock 19 holster), a Smith & Wesson 629 and the mighty long-barreled Smith & Wesson 500. I would have added my trusty 1911 to the mix—my most common backup sidearm when out in the woods—but StealthGearUSA currently does not offer a chest-holster-compatible shell for the model. Emphasis on currently, as I hear options for .45 ACP- and 10mm-chambered 1911s will be hitting shelves in late Fall of 2020.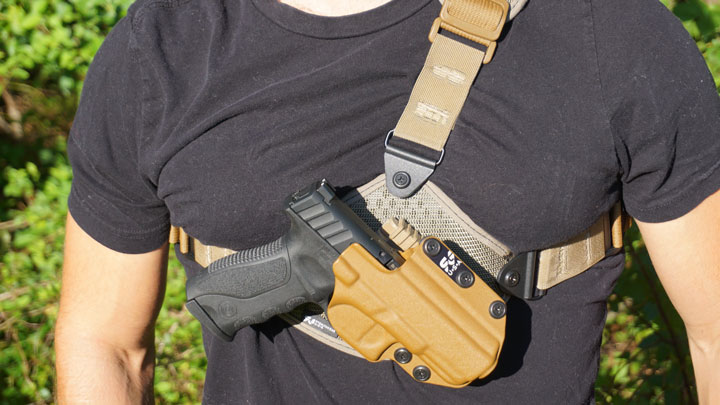 Starting with the Stoeger STR9, the chest rig performed just as well as I expected it would. Fitment was sturdy and secure, to the point that I was comfortable positioning the rig a little further down than usual (centered near my solar plexus). I like doing this to aid my draw, but in a less secure rig, the tradeoff is a looser-feeling fit that bounces against my body with most every step. With the StealthGearUSA, this trade is nonexistent, and the rig stayed snug at all times. The snub-nosed 629 exhibited similar tendencies to the STR9. Though a tad heavier, it actually balanced slightly better thanks to its more centered weight distribution, and the draw was effortless with the tiny barrel.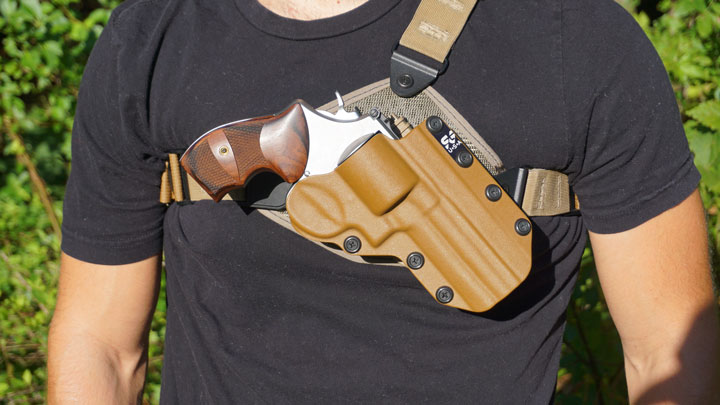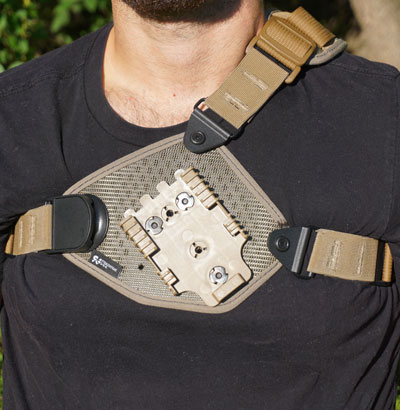 While chest rigs are certainly better known for holding primary firearms (like the sizeable 500, which we will come to shortly), I wanted to highlight the StealthGearUSA's performance with backup guns for several reasons. The first was a purely selfish one—it's what I would primarily use the holster for, as I do more hunting with rifles and bows than I do pistols. The second, however, is how it underscores the utility of the system's modularity. Taking a rifle shot while equipped with a chest rig can be a fairly uncomfortable proposition. Sure, for most it's no problem if shooting standing/off sticks, but when sitting or prone, it can become quite a hassle. When shooting a bow, of course, it's nearly impossible. With the StealthGearUSA design, however, you can unclip your pistol, shell and all, once you've reached your shooting position; it can even be done one handed, with a little practice. From there, your holstered pistol safely back in your pack, you can go about your business fully unencumbered, with just a small stretch of nylon and a half-inch-thick piece of plastic on your chest. For my purposes, this puts StealthGearUSA's chest rig head and shoulders above virtually any other, as you can fully remove the holster itself in one easy motion, without having to unstrap and remove the main apparatus. This yields all the benefits of having protection on hand until you're ready to unsling your rifle or bow, without having to work around it once you do.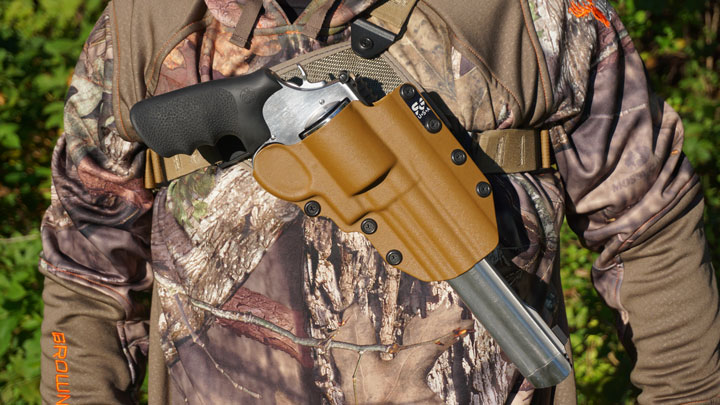 As a big-frame revolver-holder, the StealthGearUSA chest rig performs well. The clip-in shell system grips the pistol firmly, despite its prodigious weight. That said, when you're toting something as heavy as a Smith & Wesson 500, you will notice it—there's simply no way around. As a result, I found cinching the holster back up to center chest was necessary, as it kept everything far more stable, with only a slight rocker action back-and-forth when walking. The drawback, of course, is that drawing the 8.38-inch barreled behemoth from such a high position takes a little practice, and is not the quickest motion in the world. That said, if you're attempting to quick-draw a long-barrel Smith & Wesson 500 like you're Billy the Kid, you've already made several errors in judgement I don't feel the need to comment on.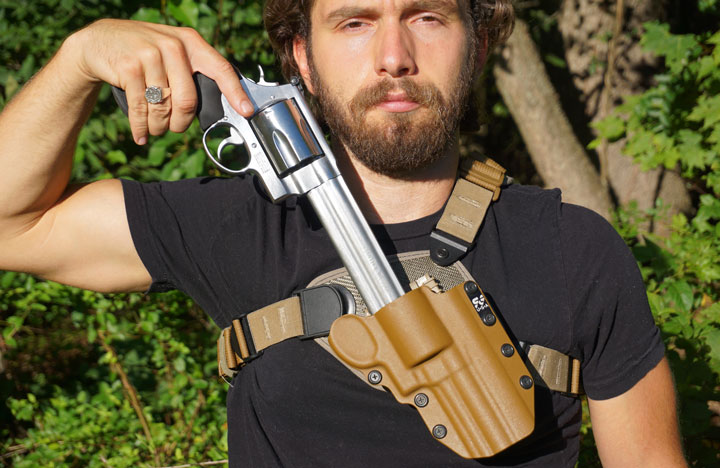 Now there is a cost to all this modularity (rest assured, there always is). Whereas most chest holsters will only protrude from your chest the combined width of the holster and pistol, the StealthGearUSA Chest Holster 2.0 sticks further out thanks to its unique attachment system. This takes some getting used to if you're doing serious bushwhacking, and you'll bang it off trees a few times before you start to remember it's there. It can also get stuck on the rungs of your treestand ladder if you happen to hold a low profile when you climb. That said, the design does an excellent job of controlling weight, despite its longer fulcrum point. Combine this with the fact you can remove the shell entirely, for unmatched mobility, and it's is a worthwhile tradeoff in my book.
Sound like the StealthGearUSA Chest Holster 2.0 could fill a necessary niche in your backwoods kit? Check it out in its roughly 168 different finish combinations, along with a ton of other great sidearm-carrying solutions, at stealthgearusa.com. MSRP: $129-$229.