by
posted on October 27, 2017
Support NRA American Hunter
DONATE
I've hunted around the world in some of the most rugged terrain and at high elevation, so my clothing had better be packed with the features any hardcore hunter would crave. The problem is that women's hunting clothing options through the years have been minimal—and those that provided both form and function even more so—until recently. With the growth of women hunters outpacing that of men these days, times are changing. Enter Sitka Gear with its new-for-2017 Women's Collection.  
Created for women by women, the collection was unveiled after "thousands of hours" of research, design and rigorous testing. The result? Signature Sitka women's clothing—Gore Optifade base layers, jackets, pants, hoodies and gloves—that fit and that provide comfort, movement in the tightest quarters, lightweight durability, breathability and protection from the elements. The collection consists of two complete lines: Big Game and Whitetail (and even a few items in a Solids line), with garments for both early- and late-season hunts that can be worn individually or as a system, which is the collection's key to success. The Big Game line features Sitka's versatile new Subalpine All Mountain Concealment pattern created for ambushing ungulates at the ground level in vegetated terrain at close range. The Whitetail line showcases the company's popular Elevated II Concealment pattern specifically engineered for whitetail environments, contrasting a bright sky with foliage's shaded underside.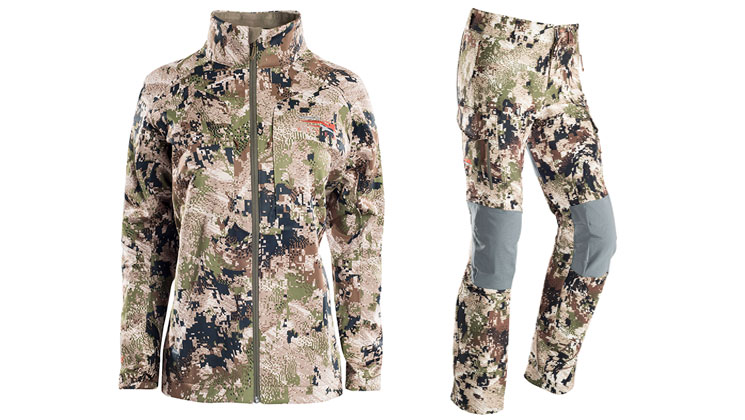 I was headed for some early-season backcountry big-game hunts and pounced on the Big Game line. As I donned base layers designed to pull moisture away from the skin, insulation layers aimed at regulating core temperature and quiet outer layers that were breathable yet warm, I was hooked. The clothing actually fit and felt good—like it was made for me. That's because Sitka considered the obvious—women's different physiques. While I stand 5 feet 11 inches and am taller than most women—which is why I was ecstatic when the Timberline pants were long enough—men's clothing is still boxy on me. Jackets that bunch up at hunters' midsections or pants that sag hinder mobility no matter how uncomfortably tight we cinch the waist, all of which hamper our speed and ability to mount a rifle or draw a bow.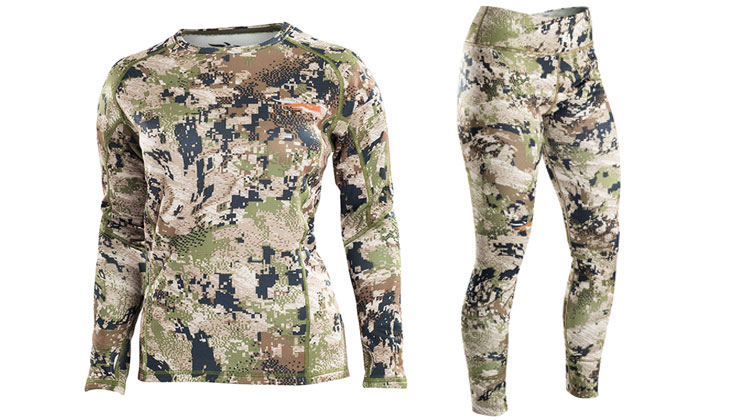 Worth noting, the Core Midweight base layers—with bottoms that feel like comfy yoga leggings—have just enough insulation without making you overheat. The top has "permanent Polygiene Technology," which inhibits odor-causing bacteria. The Women's Kelvin Active Jacket allows full range of motion and is lightly insulated for mild conditions. But I most appreciated the Jetstream Jacket with Windstopper laminate, fleece lining and a tricot-lined collar—all the hallmarks of Sitka's men's line. Not only does the exterior have a durable water-repellent finish, but the seams, believe it or not, are designed to shed water so if it starts raining or snowing while you're skinning that deer, you can finish the job without getting drenched.
My biggest test came at 13,500 feet when I joined my husband, Phil, on a mountain goat hunt. As I scaled the trails and ledges, at times clinging to the mountain like Spiderman, the clothing permitted full range of motion as I moved through hair-raising spots. But the benefits of technology had yet to hit all the way home.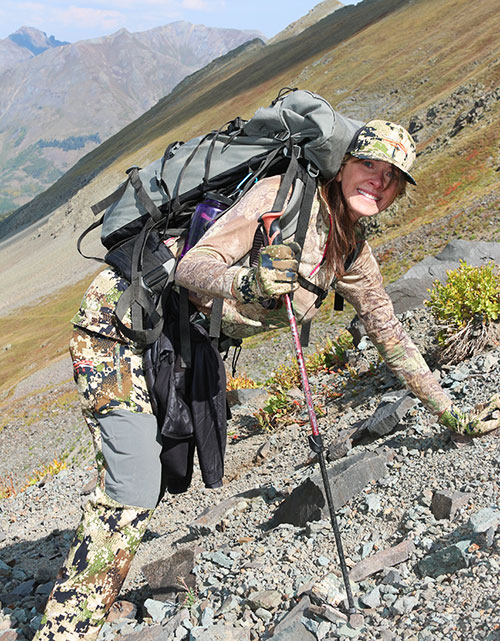 On the morning we spotted a nice billy, the weather was great, but once we reached the summit, the skies turned black. As we pulled matching his-and-hers Sitka Cloudburst Gore-Tex rain gear from our packs, I realized how fortunate I was that this gear was made for me and, as a result, completely sealed out the elements. The speed with which we pulled the pants on over our other pants and boots was accelerated because the leg zippers run the entire length of the leg. While no hunter wants to get wet, at 13,500 feet we weren't getting off the mountain anytime soon. Staying dry had life-saving implications as we sidestepped the potential for hypothermia while hunkering down in surprisingly relative comfort—during which time Phil actually arrowed his goat. Afterward, I zipped out of the gear and was back to just my Timberline pant, which, by the way, features a reinforced waterproof seat and knees so you last the entire adventure. That was good when I hit a rough patch on the way down and found it safer to drop to my butt and slide. And as for the pants' removable knee pads, they are also a bonus when you're kneeling to field-dress, quarter and skin your animal.
I was so impressed that I contacted the person behind it all: Sitka's John Barklow, Big Game Product Manager, who humbly said he was the lucky one because he is part of a passionate team. He explained the project actually started nearly three years earlier as he and other company reps started discussing the need for a women's line but then realized they were making assumptions on women's needs without any women present. "So we brought in female designers, female developers, female pattern-makers and female hunters, a process that turned into two years of constant assessment and reassessment," he said. "For example, I'm never going to wear the Women's Kelvin Active jacket—I'll wear the Men's version—so you [women] tell me if the drop tail is too long or the sleeves are too loose." And Sitka has been forging ahead ever since.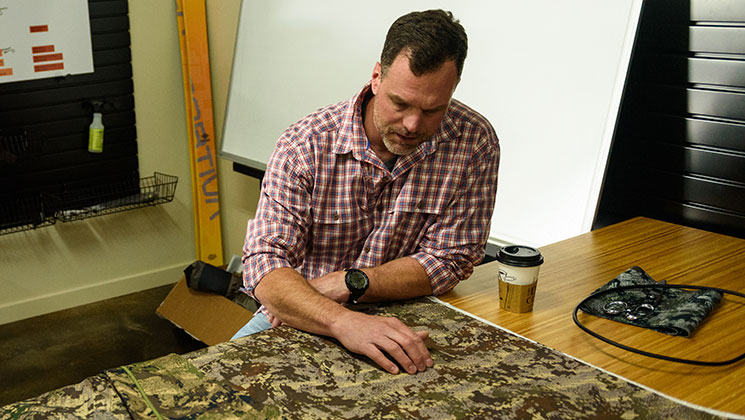 Barklow said that a common theme from the female hunters' perspective was that we women get cold faster than men—not necessarily obvious to men. So Sitka addressed this in its Whitetail line, for example, with the Fanatic jacket and bib. "Aerogel foam, which is branded as Sitka Ground Shield, is integrated between the women's jacket's shoulder blades, and in the bib it's in the high back and rear, creating extra padding while cutting conductive heat loss"—subtle but an appreciated difference. "Put the Celsius jacket under the bib and you've got the best cold-weather whitetail system for women period," he said. As I get set to wear a few items from the Whitetail line on a Kansas whitetail archery hunt, for starters I can tell you the Fanatic jacket's Gore Windstopper liner isn't bulky. You don't even know it's there while it's trapping heat where you need it, aided by the fact that the jacket's diagonal zipper design seals out the wind. For a few more extras, the jacket features a zippered front muff, a magnetic-closure rangefinder pocket, a slot for your safety harness, a removable hood and gasket-style cuffs to seal the area between your skin and the jacket sleeves.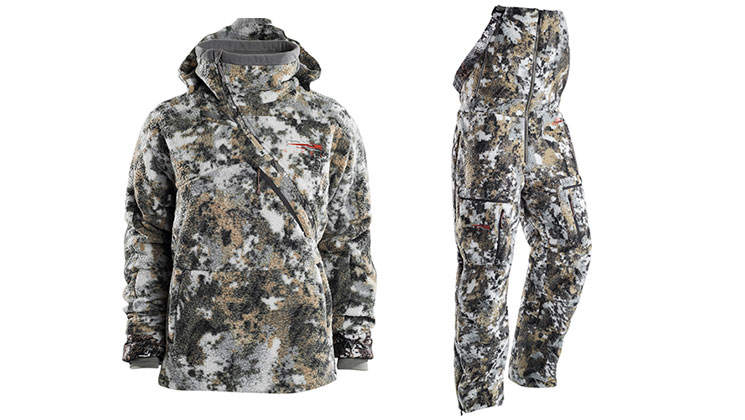 And as another sign of the times as the number of women in the hunting ranks continues to rise, Sitka has gone as far as adding a changing room in its trade show booth. Now women can try on the clothing, verify sizes and experience the effort and extras Sitka put into this collection.
So regardless of the species you're hunting, whether you're toting a rifle or bow, or whether you're stalking your way up the mountain or climbing into a deer stand for the day, Sitka covers us women in form and function—and in confidence so we make that one shot count. Thank you, Sitka Gear, for being committed to making sure technology benefits all your customers. And according to Barklow, that's Sitka's reward: the reaction from the female hunters who have put it to the test.
Just to go one better, Barklow added a teaser. "If you like what we've done, just wait. We're never satisfied with where we are." Clearly refinements and new additions are on the horizon as Sitka is already hinting at raising the bar. Now that's the spirit of an innovator.
Explore Women's Hunting Gear by Sitka Gear. And click here to watch Sitka's video hyping the new line.