by
posted on April 25, 2017
Support NRA American Hunter
DONATE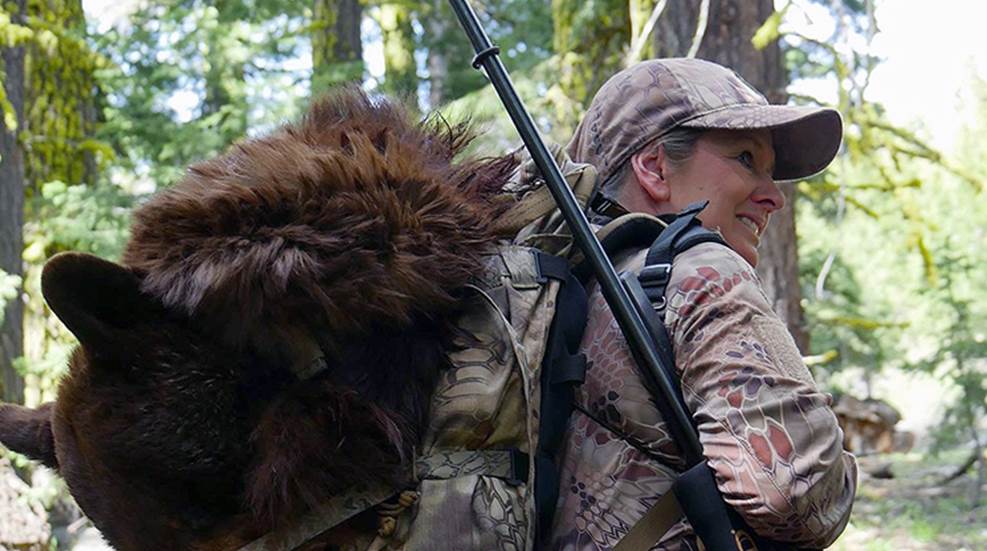 According to 2011 US Census data, just over 10 percent of American hunters at that time were women. Since then, however, National Shooting Sports Foundation (NSSF) data from 2016 shows that number nearly doubling in just five years, listing almost 20 percent of hunters as ladies.
Clearly, female hunters are on the rise in a significant way, and so are products specifically designed for, and marketed to, women—especially camo and hunting apparel. As a female hunter in today's market, it can be difficult to figure out which camo products need to be purchased in a gender-specific way, and what companies make the highest quality and most cost-effective products for women.
Part of the above reports that caught my attention was that, although nearly 20 percent of American hunters are women, only 5 percent of "avid" hunters are women. To get the best information about camo "must have's" and best brands/items for women, I spoke with members of that 5 percent: the most rugged, hardcore, independent and admirable female hunters in America. Here's what they recommend.
Sitka
The most frequently recommended brand of ladies' camo was Sitka. Their new women's line is coming out this spring, but a few of the toughest women in the industry have had a chance to test it out, and have only positive things to say.
According to Rachel Ahtila, who serves as Director for the Wild Sheep Society of British Columbia, Director for the Rocky Mountain Goat Alliance, and an active guide during hunting season in the Northwest Territories and British Columbia, "the engineering behind the systems keep you alive and warm when you are sitting on the side of a mountain, trudging through rain showers, snow, and wind."
Ahtila recommends going with quality over quantity, noting that high quality rain gear with Loft material (such as PrimaLoft) is a great investment. She's noticed that "PrimaLoft dries out faster than traditional down, and newer samples have become more resilient to product wear and tear."
A couple of top picks include:
• Women's Kelvin Active Jacket
• Women's Core Heavyweight Hoody
You can check out all of Sitka's new 2017 women's line here.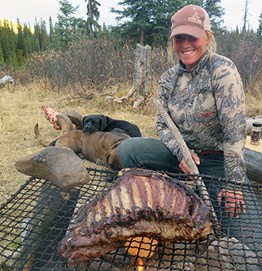 Kryptek
Kryptek is another brand that came with high accolades. It's one of my personal favorite brands to use in the wet, cold, and thorny terrain of the Pacific Northwest. Candy Yow, co-host of Extreme Desire TV (a western big game hunting program), founder of the Ladies' Hunting Camp, and active conservationist, also enjoys Kryptek. She says that after trying several other brands, she was sold the first time she tried on the Kryptek ladies' line.
According to Yow, "this product was developed to work in the Battlefield as well as in the back country: tough, pockets in all the right places, comfortable and hard to see where you are at… Love how the ladies line fits."
Some top picks from avid hunters include:
• 
Kryptek Ladies Valhalla Pants and Shirt
• 
Kryptek Dalibor Jacket
• 
Kryptek Hoo Rag
Check out more Kryptek women's products here.
First Lite
First Lite is a smaller camo company, focused on delivering high quality products while also passionately supporting conservation groups and protection of the sporting heritage. Rachel Vandevoort, Trade Relations Manager for Kimber, member of the Board of Directors for Back Country Hunters & Anglers (BHA), and avid hunter, is one of many hardcore female hunters who highly recommend First Lite.
Some top picks include:
• 
First Lite Alturas Women's Guide Pants
• 
First Lite Women's Lupine Crew
• 
First Lite Women's Artemis Hoody
Vandevoort is also a "rabid fan of wearing gaiters. [She] wears them everywhere for every type of hunting: warm, cold, wet, dry." Her top recommendations are:
• 
First Lite Brambler Gaiter
• 
First Lite Traverse Hunting Gaiters
You can view more First Lite Women's Gear here.
Prois
Prois, a camo brand that is specifically created for female hunters, is a brand worth checking out too. According to Yow, it's "a great company that makes only apparel for women, great camo."
Some top selling items to check out are:
• 
Prois Xtreme Insulated Pants
• 
Prois Galleann Rain Jacket
• 
Prois Elevation Vest
You can find more of Prois' gear here.
The huntresses I spoke with had some additional words of wisdom for ladies shopping for camo. In general, Ahtila says that it's important to "research the type of hunting you are going to be doing, season you are going to be pursuing, and climate. Try every brand on, see what fits, how things move, and do your homework on the material used." Yow agrees that research and trying on every brand are key. She says that it's important not to "just walk into a store and buy the first one that looks good."
In addition to researching brand, material, and fit, Vandevoort also recommends understanding "when you need to focus on women specific items and when you don't. For example, rain gear is unisex for the most part so just because a brand doesn't have something that says 'for women' doesn't mean they don't make it." Of course, items like hats, gloves, bandanas, and gaiters are also unisex. Vandevoort also notes that we should "spend money to get the good stuff, focus on layers, and build your collection bit by bit."
Demographics for the standard hunter are changing rapidly. Let's focus now on gearing up, getting out, learning from each other, and re-writing the demographics of the "avid" American hunter.