by
posted on September 19, 2016
Support NRA American Hunter
DONATE
It hit me as soon as I opened the door. Like a concussion wave, 98 degrees of face-melting heat almost knocked me over. If I were doing anything else, I'd call it unbearable. Trying my best to remain indifferent, as I really had no other option, I grabbed my pack and bow from the rear of the vehicle, wiped the already-formed sweat from my brow, and stuck my head back into the cab to retrieve an extra water bottle and suck one last breath of cool air from the vent. The walk to my stand wasn't too far, about a quarter mile, but the oppressive sun had tortured me the prior two days. But despite my stinking, sweat-soaked camo, I had seen a few bucks from that stand and deduced it was enough reward to justify the trek again. This time, though, I had a new plan and a fresh set of camo.
With the boys wishing me luck through cracked windows, I turned around, set down my gear and stripped to my skivvies. They laughed hysterically as they watched me disappear, wearing nothing but my pack, undies and boots, around the edge of the soybean field.
I didn't care. Buck hunting is hot in the early season.
Why the Early Season?
Richie Edgington, general manager for Kentucky-based Whitetail Heaven Outfitters, who continually guides clients for huge whitetails in the 150-200 class, absolutely loves the early season from September to early October for big bucks.
I know what you're thinking: The rut is the buck hunter's time frame. Nov. 7 to be exact, or was that 11? It doesn't matter, September doesn't even cast a blip on my buck radar.
Trust me when I say I'm right there with you. But that's only because I can't legally hunt bucks in September. Most states don't allow hunters to go after bucks that early. My home hunting grounds in Virginia are a prime example. My first chance at antlers starts in what the game and fish department has designated "early archery season," on Oct. 1. By that time, the benefits of a true early-season buck hunt are disappearing by the day.
But "most states" doesn't mean all states. And after spending one September hunting bucks in a state that allows it, you'd better believe if I could hunt them elsewhere in September, I certainly would.
Let's forget for a moment the lure of velvet racks. The real draw of an early-season whitetail hunt is a predictability of deer behavior that hunters won't see again until late December and January. And like the late season, this early-season predictability all comes down to food.
"In January," says Edgington, "when it's constantly cold you can pretty much place a bet on where deer will be. In September when it's hot, you can do the same." During these times, he places his bets on food sources.
From late August through early September, bucks are slowly breaking out of their bachelor groups and will begin to shed their velvet—but they are not yet the full-on, every-man-for-himself, winner-takes-all, fight-to-the-death doe-chasers they'll be by the end of October. While a train of bucks probably won't pass by your stand, bucks in the early season still tolerate each other, and it's common to find multiple bucks feeding from the same food source. Though bucks aren't as friendly to one another as they were during the early summer, their primary motivations remain food and sleep. And while a buck might have multiple bedding areas, chances are if he finds a viable food source he'll be back.
"You can set your clock to feeding times in the early season," Edgington says, "almost down to the 15-minute mark."
Well then, should you forget the rut?
"Heck no," chuckles Edgington. "We kill a lot of big bucks during the rut."
He, like all whitetail hunters, knows the rut provides an opportunity for a giant to step out anywhere. But, as Edgington notes, by that time hunters have been all through the woods, pushing big bucks to secluded corners and nocturnal hours.
So while the rut can provide an "anything's possible" mentality, the one thing it doesn't offer is predictable, unpressured deer movement. Late summer and maybe the first week of fall are perhaps your best bets at bagging a big buck all year, and it's an opportunity worth checking out. Plus, who doesn't want a chance at velvet?  
Go to the Grub
Bucks are feeding machines during the early season. They have to be in order to make it through the brutal chase, fight, chase, breed routine of the upcoming rut. So they'll look for a food source with the most nutrients available. Where crops are plentiful—soy and alfalfa are packed full of protein, much more than corn, says Edgington—they dominate the dinner plate. If you can find a huntable stand of either, you've hit the mother lode.
But what if you don't have access to late-summer crops of alfalfa and soybeans? Edgington says other food sources can be hot, too. Soft mast like berries, persimmons and some apple varieties are great food sources during the early season and, depending on the weather, can drop their bounty before the draw of acorns lures away deer. It's a good idea to scout out some of these areas on foot to look for sign prior to opening day. Check them out while the deer are bedding during midday, and if you find heavy traffic areas, or better yet, half-eaten fruit, you should plan to hang a stand or place a ground blind within range.
So find an early-season food source and hunt it. It's that simple, right?
Wrong.
When you hunt can affect your success more than you know. At Whitetail Heaven Outfitters, Edgington's clients only hunt the evenings during the early season. And while some hunters would feel cheated of a prime opportunity staying out of the morning woods (I know I felt that way on day one of my hunt with Whitetail Heaven), Edgington's results say otherwise.
Deer feed at night and bed during the day. Which means that during the early-morning hours, deer are leaving food sources and heading to bedding areas, where they will spend the remainder of the day trying to stay cool and hidden.
"Deer haven't been pressured up to that point," says Edgington. "There's no point in going out before dawn and stumbling to the stand in the dark when you can sleep in, relax for the early afternoon, eat lunch, get scent-free and ease in to your hunting area knowing that those deer are in their bedding areas. If you are heading out in the early morning, the same time a buck is heading in, you may bump him and who knows how far he will go.
"In the afternoon, however," he argues, "you know that buck is in his bedding area, and if you can get into your stand before he leaves for his evening meal, you'll increase your odds of tagging that big buck drastically."
How drastically? Well, the early-season success of Whitetail Heaven Outfitters went from 50 percent hunting both mornings and evenings to more than 90 percent once Edgington made the evening-only switch. His take: Hunters were pushing deer off their feeding patterns by going out during the morning hours.
"The risk versus reward of an early-season morning hunt just doesn't add up," claims Edgington.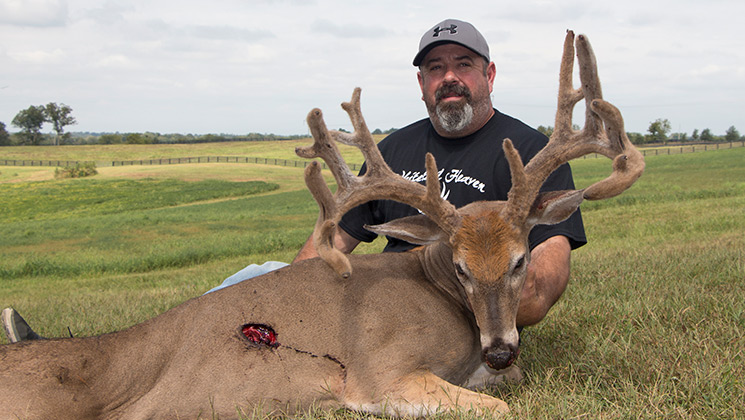 Set Up For Dinner
Stand placement in the early season is all about doing your homework and doing it early. At Whitetail Heaven, Edgington and his guides start prepping as soon as the last turkey hits the dirt in late spring.
"We start our mineral licks shortly after turkey season," says Edgington. "This gives us an opportunity to set cameras and get photos all summer. It will allow you to really get a sense of the deer in your herd." If you have private property or trust your cameras on public land, he suggests you do the same. Set your cameras around bait sites or naturally occurring food sources.
For those of us stuck with the masses on public land or living in an area where minerals may not be legal, Edgington recommends learning the lay of the land by searching for last year's sign—rubs and scrapes—and any potential food sources during turkey season or shortly thereafter. Aerial maps can also provide a great starting place. The point is, preseason scouting is the only way you are going to find the food and thick-cover bedding areas big bucks love.
"Even without trail-camera images," says Edgington, "if you find those two things, you should be able to find a mature buck. If I'm looking at a field, I'll look for any secluded area around that field. On public land I'd look for an area of the field the farthest away from hunter access. Aerial maps may divulge a finger that may not have been visible from the truck, and if there is a finger of woods that sticks out, I will take a good look."
He notes that early-season deer utilize cover as long as possible to avoid the heat. After that, Edgington recommends focusing on corners of the field, or old logging and farm roads that may border it.
"You're looking for easy, covered access for the deer but in areas with the least human activity," he continues. "Glass a field for a few nights in August, and you'll get an idea of which area the deer prefer to use. At that point, place a stand or blind for common wind and range, and get ready for the dinner bell."
Lucky for me, Edgington and the rest of the Whitetail Heaven crew had done all this prior to my arrival last September. With the wind in my face and a train screeching down the tracks not 50 yards behind me, the huge-bodied buck made his on-schedule appearance. Despite a few awkward glances at the smaller bucks also gorging on the soybeans, he wasn't worried—it wasn't that time yet. He was focused on one thing: to get as much green in him as he could before the weather and his demeanor changed, and the battles of the rut took hold.
I, having completed my semi-nude trek to the stand and having returned to my dry, stink-free camo, was focused on a small point behind his shoulder.
Thwap!
For at least a few minutes, I'd forgotten about the heat.