Support NRA American Hunter
DONATE
I was guiding crossbow hunters in Colorado way before they were permitted for use during bow season. I had a Ranching for Wildlife program for antelope, and my tags issued through the state were good for rifle or any lesser weapon. I chose to offer archery only and the tag allowed crossbow hunters to join my bowhunters in camp. Even back then crossbows were effective hunting tools, though I always preferred a compound bow. Then, after decades of shooting heavy compounds, including pulling back about 100 pounds for big game like Cape buffalo, shoulder strain and overuse caught up with me. By last summer, the pain reached the point where I no longer enjoyed shooting my bow, and I couldn't practice enough to feel confident for archery season.
I got an MRI in August 2021. As the orthopedic surgeon went over the images, he pointed to a tear in my rotator cuff, a tear in my labrum, a bone spur and arthritis. I could forget drawing a bow that season, but he offered to write me a doctor's note to use a crossbow, which otherwise isn't permitted in Colorado during bow season. As someone who once made a living shooting a compound bow as an outfitter and hunting TV host, I was more dejected over setting aside my bow than I was over the shoulder diagnosis.
I submitted my crossbow application to my local Colorado Parks and Wildlife (CPW) office but was told approval could take months. With the season weeks away, I sent CPW a letter documenting my lifelong history of only hunting big game in Colorado with a compound, assuring it that I wasn't using my injury as excuse to go afield during archery season. That helped because I got a permit days later.
In the meantime, I'd begun researching crossbows, which had come a long way from those my hunters brought to camp 15-20 years ago. Intrigued by new technologies and the latest, greatest models, I fixated on Ten Point's lightweight Vengent S440, which the company touted as the fastest, narrowest forward-draw hunting crossbow ever produced. Not only did this game-changer launch bolts (or arrows, since the bolts that come standard with it are fletched) at 440 fps, but it measured only 5.8 inches from axle to axle. It also featured a consistent, two-stage S1 trigger designed with a roller sear system that promised zero creep. Any imperfect shot wouldn't be the crossbow's fault. Just as important, the Vengent S440 featured the new, safe, silent ACUslide cocking and de-cocking technology. This provides for ease in drawing, cocking and de-cocking while putting nearly zero stress on your shoulder, so safety receives as much priority as speed and accuracy. (To watch TenPoint's video on the ACUslide, click here.) This makes the crossbow also particularly ideal for young shooters. or others who don't have ample upper body strength.
I was hooked, but this bow was so popular that it was nearly impossible to find. I didn't get one until the second week of archery season. I was lucky because the top guy at Ten Point had hunted antelope with me during my outfitter days. and sent me one.
I was surprised at the ease of setting up this crossbow, though the variable-speed RangeMaster scope with lighted aiming points that came with it was not legal for use in Colorado, which prohibits magnification on crossbows during archery season. So, I used a no-magnification red dot sight that made it easy to shoot from zero to 60 yards, which is what I'm used to when taking shots at game with a compound. Once it was sighted in and I had my aiming points figured out, I was shooting tight groups at all yardages. As for that S1 two-stage trigger, I was impressed with how a stainless-steel latch locks the trigger box at full draw. This removes tension form the ACUslide unit and guarantees your trigger box is in the same location for every shot. TenPoint says this feature increases downrange accuracy by 48 percent. I was ready to head for the hills
I had already missed the first two weeks of the month-long season, and only had a couple days before a friend I was guiding would arrive. He was interested in buying the ranch we would be hunting as I was also the listing broker. There was a giant mule deer that I'd been seeing every time I went to the ranch before my crossbow arrived, but by the time it showed up, the bucks were shedding their velvet, which often makes them change their patterns. I spent those few days trying to find the buck but never saw him, then spent the next week guiding and calling in elk for my friend and my wife. (When you bowhunt with your spouse and enjoy seeing her tag out on elk, note that your own success rate drops.)
With a couple days left, I finally had the ranch to myself. I spent the mornings looking for that big mule deer on the lower end of the property, and the evenings trying to get in bow range of a nice bull. The weather was super hot and dry for September. I didn't get a break until late the last afternoon when the temperature dropped 30 degrees and it rained.
I took a mile hike to the back side of the ranch where I had heard bulls bugling just across the fence, marking my property boundary as they went to their bedding area that morning. Multiple bulls began bugling from the neighboring property long before I reached the boundary. I knew they would move in my direction and climbed to a high point to glass. Multiple bulls were chasing cows as a few cows began heading my way. I bugled. Two of the bulls I was watching answered, but to my surprise there were three more bugles between me and the spot from where I'd started my hike.
I was down to the last 45 minutes of shooting light. I decided to go after the bulls that were already on the property, moving as fast as I could for a quarter mile. I found a good spot to set up and started calling. All three bulls answered, and one was heading my way. I let out a couple cow calls. When the bull answered again, I knew he was within 100 yards and closing. I had a shooting stick with a cow elk decoy attached. I set my bow on top of it as the bull walked into view, stepping broadside past a bush I'd just ranged at 50 yards. I cow-called and he stopped. He looked at the cow decoy as the bolt passed completely through where my red dot was sitting. He spun to run, and I bugled. He spun back around, moving downhill. He took two steps and his hindquarters flipped through his antlers as he collapsed.
The fact that I did not have to draw my bow and had the decoy for him to stare at made it extremely easy to make a good shot when the bull got in range. So, if you're a hardcore compound bowhunter and have a shoulder issue, I recommend getting a crossbow, and a special crossbow permit where needed, so you don't have to miss your favorite time of year in the woods.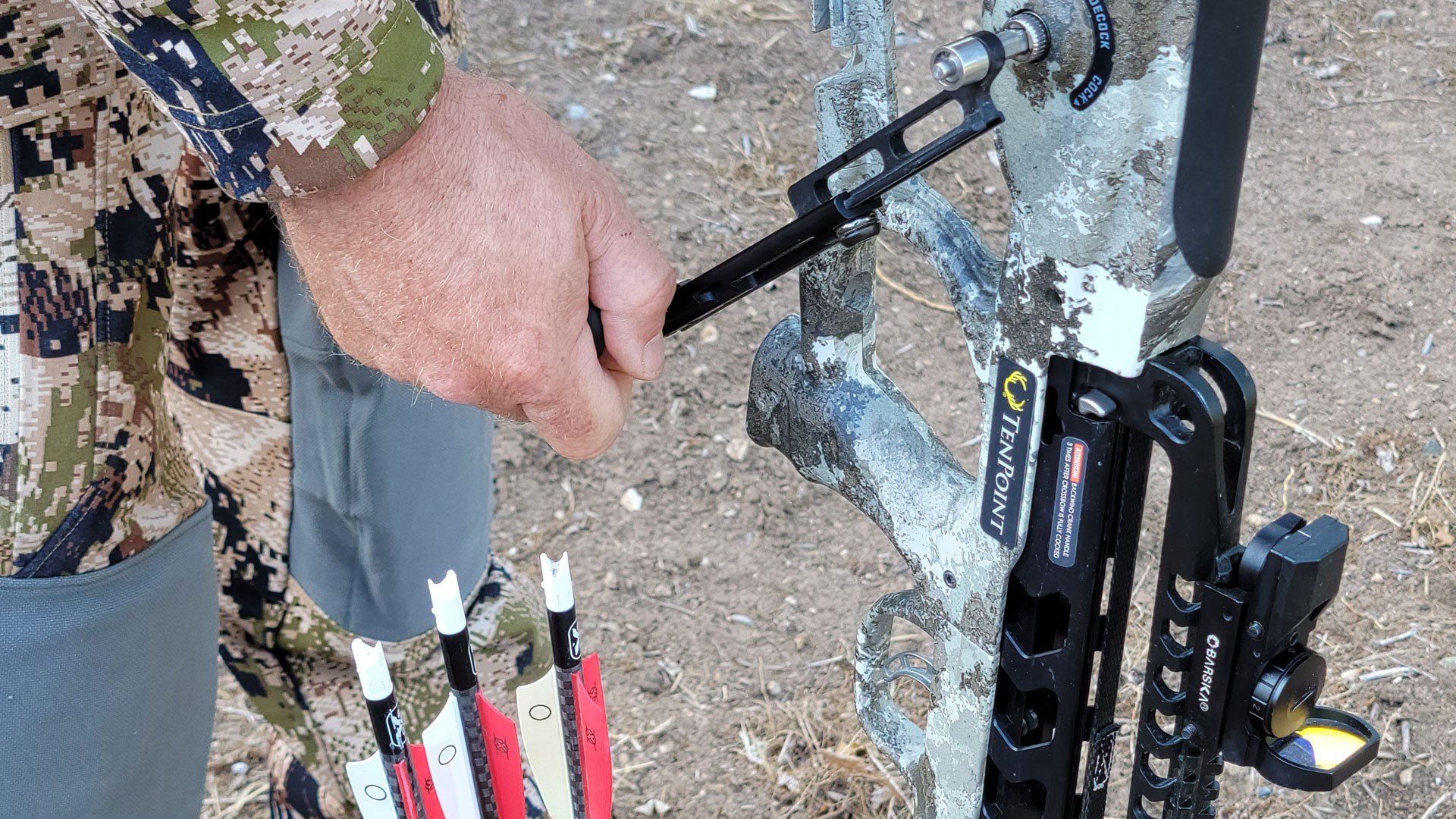 Ten Point's Vengent S400 Keeps You in the Game  

I couldn't wait to test Ten Point's Vengent S400, and couldn't have been happier with its performance, though an array of models at all price points are available if your shoulder has you in a bind.
As for comparing notes with others who experience shoulder issues, visit any online archery forum and you will see how many hunters struggle with shoulder pain. Archery Talk Forum regularly features comments from hunters who say they love to shoot their compound bows but haven't been able to draw them for months. Even Crossbow Nation fields questions from hunters asking how an injured shoulder impacts cocking a crossbow. My answer: Check out the Vengent S400. I could say my shoulder injury came on like vengeance so I decided to hunt with a Vengent, but I wouldn't want you to roll your eyes. This bow was a game changer for me and kept me in the game, but it is also game changer for the crossbow industry.

Here are its fine points for quick reference:
S1 two-stage trigger featuring a zero-creep design
Micro-Trac Barrel reduces string-to-rail contact by 50 percent, aiding string life and, as TenPoint says, surpasses "rail-less" crossbows by hundreds of shots.
ACUslide silent and safe cocking and de-cocking system
Multi-coated, variable-speed RangeMaster Pro Scope with lighted aiming points
Tec-X Stock: Trims stock size and reduces weight by ½ pound.
In addition to the above, TenPoint's Vengent S400 comes with a Bubble Level, six Evo-X CenterPunch premium carbon arrows with 100-grain practice points, a six-arrow Tech Quiver and a soft case. MSRP: $2,049.99; tenpointcrossbows.com