by
posted on January 5, 2021
Support NRA American Hunter
DONATE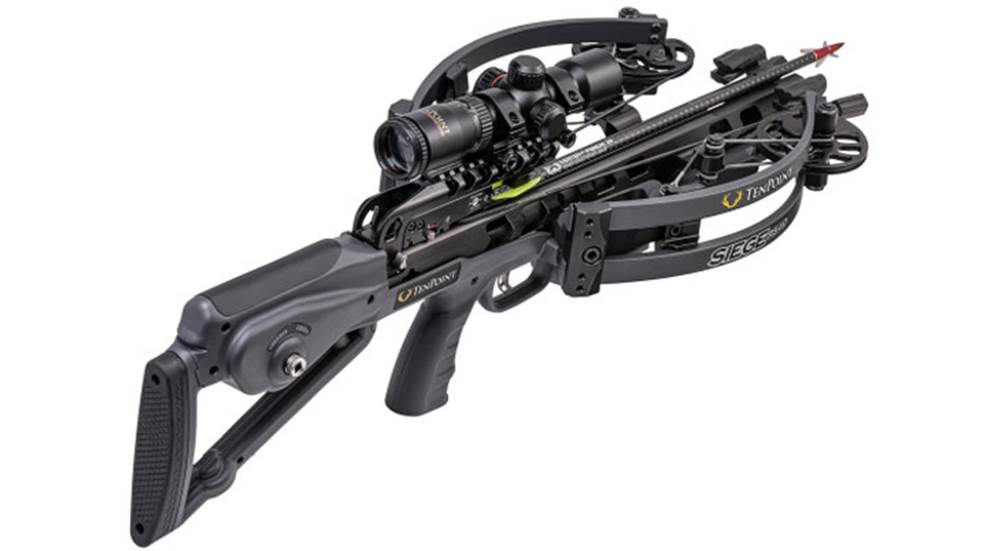 TenPoint
has released the Siege RS410 reverse-draw crossbow. Delivering 410 fps from a 
platform measuring only 26.5-inches long and 7.5-inches narrow, the Seige RS410 also offers safe de-cocking with the ACUslide cocking and de-cocking system.

The short length is accomplished with the development of TenPoint's 16-inch Micro-Trac barrel, and ultra-light, two-piece Tec-Tactical stock. The fluted aluminum barrel also reduces the flight-deck surface by 50 percent, increasing accuracy and providing string life in excess of 1,000 shots, while the new stock features a tactical-styled buttstock, as well as a hollow pocket that houses the ACUslide cocking and de-cocking system. In addition, the stock's buttplate extends 1 inch (in 1/2-inch increments) to provide shooters a more customizable fit, combining with the RangeMaster Pro Scope to yield proper eye-level alignment.

The Siege features a patented reverse-draw bow assembly that draws the string through the riser, creating a 13.5-inch power stroke. The increased power stroke generates more speed with less draw weight, creating a smoother, quieter shot. The elongated power stroke also keeps the arrow nock engaged with the string before release; this is a critical component in performance, as the longer the nock remains engaged with the string, the more accurate the crossbow will be. In addition, this center-mounted riser adds balance, eliminating the "nose heavy" feel of traditional crossbows and making it easier to hold steady and more accurate.
To produce the aforementioned speeds of 410 feet-per-second, the RX7-Cam system rotates 360-degrees. Also a factor, the crossbow's Vector-Quad cable technology utilizes four cables instead of the traditional two, which eliminates cam lean and generates straight-nock travel, to improve accuracy.

Finally, the Siege RS410 features the company's S1 trigger. This two-stage, design features a roller-sear system that delivers a 3.5-pound pull. The trigger is equipped with a DFI (Dry-Fire-Inhibitor), and is fitted with a nylon-filament arrow-retention brush that improves arrow grip and alignment to reduce noise and vibration. An integrated string-stop system is also included to further reduce noise and vibration.

For more information on the Seige RS410, available in either Veil ALpine Camo, or Graphite Gray, please visit tenpointcrossbows.com. MSRP: $1,699.99-$1,799.99