by
posted on February 2, 2012
Support NRA American Hunter
DONATE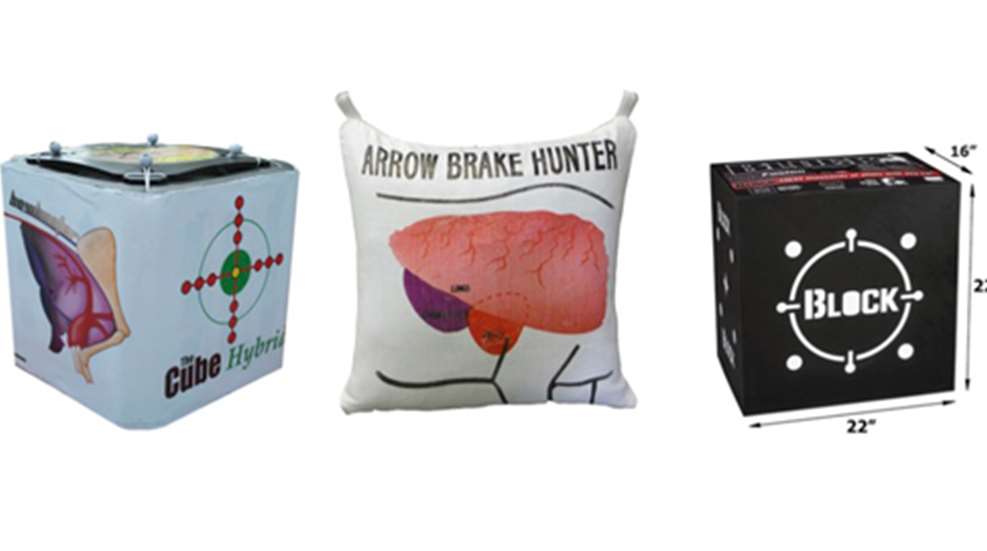 The Archery Trade Association (ATA) trade show in Columbus, Ohio, is any bowhunter's dream. Practically every new product for the archery world is on display, so we made it our mission to track down the best new targets for 2012.
Morrell Super Duper Bag Target: Specifically designed for shooters who enjoy sending more than their fair share of arrows downrange, Morrell's new Super Duper Bag Target features consistent depth across the entire target area and retains its shape. Its Internal Frame System technology and Floating Center enhance both durability and target life. Its weatherproof construction will stop any arrow from any type of bow. With an E-Z tote handle and dimensions of 24 x 27 x 16 inches, this 32-pound target can be tossed into the SUV or truck bed with ease. Another plus: Morrell dubs it an X-tended Life Target as it will last even longer by simply adding a new cover, and it comes with a two-year warranty.
Archery Targets Cube Hybrid: Archery Targets worked for several years to design a target that would combine the long life of compression bag targets with four-side shooting capability, easy arrow removal and portability. The Cube Hybrid fits the bill while keeping size and weight in check. It works equally well with standard arrows from compound or long bows and crossbow bolts. The target's inner core is a blend of materials designed to make the target self-repairing as it is shot. Simply remove the rigid cap and rotate the inner compression core and the material will reposition itself. The target features a rolled core in the hollow cavity of the shell to accommodate broadheads. Simply shoot broadheads from the top of the shell as opposed to the sides as you do with field points. Archery Targets says such "directional shooting" prevents broadheads from cutting up the main body of the target, addressing a major problem with conventional all-purpose targets.
Big Green Targets' Big Green Targets: In an era when we're all doing our part to "go green," Big Green Targets has launched an environmentally friendly, high-performance, weatherproof archery target line made from 100-percent recycled, heat-bonded, closed-cell foam. Its wide array of indoor and outdoor field-point and broadhead targets is designed to withstand thousands of shots. The field-point targets, which are designed to stop carbon arrows at speeds up to 350 fps (making them ideal for crossbows), have high-definition screen-printed faces on the front and back.
The Block Black: Block Targets has unveiled the new Block Black, a lighter-weight target it claims performs better than any previous Block model—and lasts twice as long—thanks to a new process it calls PolyFusion. Previously, when an arrow hit a layer head-on, the layer would buckle and damage, but with PolyFusion uniformly fusin the layers in place, they hold their position, which aids arrow removal. As with other Block targets, the Block Black handles fieldpoints and broadheads and stops arrows with friction, not force. If you're ready for some pre-hunt practice, at 16 inches the B-16 is light, portable and easily packs in your truck. If you need more face space for longer shots, opt for the B-18, B-20 or B-22.
Yo' Buddy Archery Targets: Created for bowhunters by bowhunters, the new Yo' Buddy Archery Target line represents a 3-D target and training tool all in one. Because targets represent the center section of a McKenzie-type 3-D target—the chest area without the head and butt—bowhunters can hone in strictly on the kill zone, shot after shot. The sculpted, anatomically correct targets highlight the location of bones and vital organs to emphasize proper arrow placement. Target size is in step with the actual size of the given game animal's kill zone to aid hunters' transition from practice to the field. Targets offer three- and four-side shooting for practice from multiple angles and views. Suitable for shooting both broadheads and fieldpoints, targets are made from self-healing Ultra Foam that ensures easy arrow removal without damaging arrows. Portable and lightweight with an Easy Tote handle, targets need no stake for support yet will not tip over during typical shooting scenarios. Yo' Buddy targets are available for deer, bear, boar, antelope elk, moose, mule deer and—last but not least as we count down to spring turkey season—turkey, which, by the way, is perfectly detailed for decoy use.
Rinehart Badger Target: (No image available) Good news for bowhunters: While Rinehart Targets' popular backyard and school targets provide for hours of shooting fun from the archery club to the backyard, the company continues to specialize in 3-D game targets. New for 2012 is the 3-D Badger, rounding out a lineup that includes deer, bear, Western big game, turkey, predators and varmints. The badger features Rinehart's patented locking inserts, designed to extend target life and enjoyment.
McKenzie Smackdown Mack Daddy 3-D Deer Target: Kicking things up a notch with its huge body, aggressive posture and monster double-drop-tine rack, McKenzie's new 3-D Mack Daddy will leave no question as to which target owns the turf at the archery club. Its extra-large replaceable vital zone area was designed to ensure long target life and easy arrow removal, making it both economical and impressive.
Hips Targets X2 Series Big Game Target: Backed by more than three decades of arrow-stopping technology, Hips Targets is launching the X2 Series Big Game Target, which it says is its most durable broadhead target yet. The target features Hips' Endurance Foam, designed to provide self-healing properties that provide for easy arrow removal even with broadheads. Remember how some targets in the past were comprised of thin layers that only grabbed on two sides and required the use of glues, bands or straps? Hips' foam layers are fused to ensure there is friction on all arrow surfaces for greater stopping ability.
Arrow Brake Targets' Arrow Brake Hunter: Touted to withstand up to 20,000 shots, the Hunter Target from Arrow Brake Targets will stop fieldpoints from any type of bow at speeds up to 400 fps. Equipped with nylon straps for hanging, it was designed without grommets, which on many targets ultimately get ripped or torn out after extended use. A zippered top enables a quick-change replacement of the target cover. The target features five aiming points on one side and whitetail deer vitals on the opposite side.
Spyder Web: While targets on this list run the gamut of innovations for 2012, Spyder Web target improvements are more cosmetic in nature, but the company deserves a mention. Why? Because Spyder Web targets are that good. Presenting value for the money, my heavy-duty, weather-resistant Spyder Web target, for example, still looks as good as the day I got it—three years and thousands of arrows later. This year, Spyder Web has added more aiming points to all of its targets, taking full advantage of target-face space.
Huntin FX Target Caddy: How's this for clever? Eight years in the making, the Target Caddy from Huntin FX ("effects") is a convenient and innovative way to handle all your targets. The wheeled carriage with a built-in handle allows you to pull your target(s) along the ground by hand. Designed to carry two small 3-D targets, one large 3-D target, a bag or a block, this accessory will work with every target featured in this roundup and is sure to be put to good use on both the range and in the backyard.