by
posted on February 8, 2018
Support NRA American Hunter
DONATE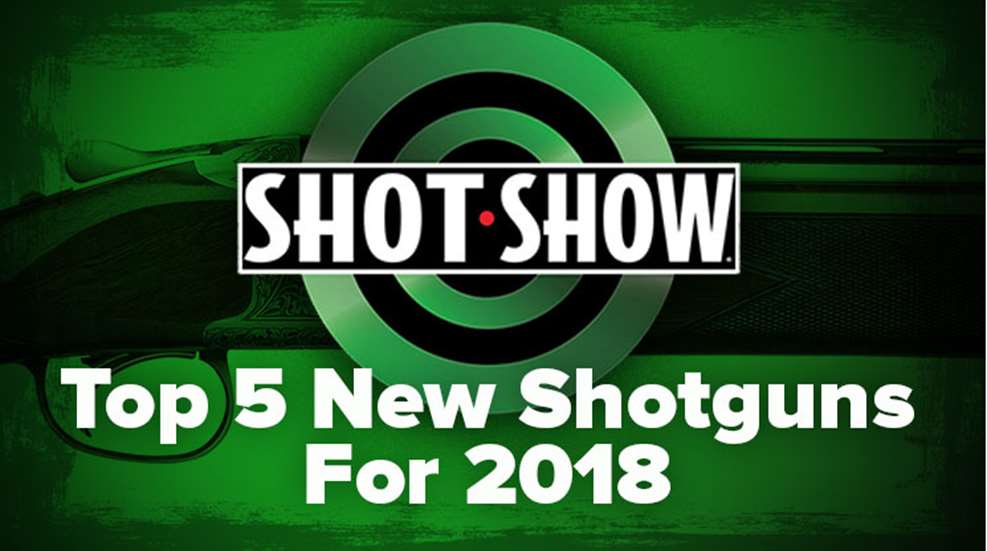 No emotion can match the adrenaline rush hunters feel as they shoulder their gun, and begin to squeeze the trigger. Whether it be swinging the gun towards pheasants, jumping out of the blind at waterfowl, chasing small game, or holding the gun steady on a spring turkey; shotguns have become a part of our DNA as hunters. Here are our top five picks for the most innovative and exciting shotguns revealed at the 2018 SHOT Show.

1. Remington Arms Company Model 870 DM Magpul
Just about every hunter in America has one of the greatest, most customizable shotguns ever to hit the market—the Remington Model 870. With the company's new Model 870 DM Magpul, hunters are able to reload faster with the gun's detachable box magazine, making it a great option for hunters for four reasons; ergonomics, a large selection of accessories, ease of reloading and the plain ol' reliability of the 870. The 870 DM Magpul ships with a six-round magazine, but a three-round magazine is also available. This gun sports a Picatinny rail and fully adjustable front and year sights. MSRP: $799.00; remington.com.

2. Mossberg 930 Snow Goose
The thrill of a snow goose hunt is unmatched. Many states allow for extended shotgun magazines, and have generous bag limits. While most shotguns can be used to hunt snow geese, there are very few on the market that are built specifically for it. Typically, you need a tube magazine extension to carry more shells, but they're not always as reliable as the standard tube. The new semi-automatic Mossberg 930 Snow Goose is a snow goose killing machine! It comes decked out in Kryptek Yeti camo finish, and features an oversized charging handle, a 13-round capacity, a fiber-optic sight and weighs in at 8.25 lbs. The 930 Snow Goose offers hunters Mossberg's known reliability at a reasonable price. MSRP: $1,022; mossberg.com.

3. Browning Citori 725 Field Grade VI
Most hunters hold an appreciation for high class field guns, and the new Browning Citori 725 Field Grade VI takes the cake. The shotgun's steel receiver has a beautiful silver nitride finish with incredible gold accents. Offered in both 12- and 20-gauge, there is an option for every hunter. The barrel selector also works as your safety, and the stock is cut out of beautiful Grade V/VI walnut with a perfectly shaped pistol grip and palm swell. The gun's Inflex recoil pad combined with its 7 lbs., 6 oz. weight will absorb recoil, allowing you to comfortably enjoy your hunt all day long. The Citori 725 Field Grade VI is a gun that hunters will pass down for generations. MSRP: $5,999.99; browning.com.

4. CZ-USA SCTP Sterling
With the number of female hunters rising, CZ-USA introduced a shotgun designed specifically for women for 2018. The new CZ-USA SCTP Sterling features an adjustable comb, but this comb is different than most. Instead of it moving vertically, the comb moves horizontally, making it simpler to comfortably place the stock in the same place time after time. This feature also eliminates the need for a specific left-handed model—yes, this is an ambidextrous shotgun! The SCTP Sterling's gorgeous Turkish walnut stock and laser stippling combined with CZ-USA quality offers lady hunters a field gun that fits properly and will shoot those 3-inch 12-gauge shells with ease. MSRP: $1,321; cz-usa.com.

Perazzi Set of 4 Game Shotguns
Every hunter has that one gun they wish they could own just to say they have it. Well here's a four-gun set that dominates all. Perazzi has built four beautifully hand carved shotguns, available in 12-, 20-, 28-gauge and .410-bore models. We just couldn't help adding it to the list—these were without a doubt some of the most gorgeous shotguns at SHOT Show 2018. Hand-carved by master engraver L. Galeazzi, each piece of art features a different hunting design. With a modest price of $396,400 for the set, any hunter would be proud to add just one of these stunning guns to their collection. MSRP: $396,400 (set of 4); perrazi.it.