by
posted on January 25, 2018
Support NRA American Hunter
DONATE
The American love-affair with 6.5mm is long overdue, in my opinion. So many of us have overlooked the 6.5x55 Swede (which dates back to 1894) as a big-game round it's not funny. The metric cartridges have always had a bit of trouble here in the United States—the 7mm Remington Magnum being a major exception—to the point that I can't think of a single Winchester cartridge with a metric designation, until the 7mm WSM came along.
Nomenclature aside, the beauty of the 6.5mm cartridges lies in a fast twist barrel and bullets with high Sectional Density and Ballistic Coefficient values. How you propel those bullets is a matter of personal taste, and sometimes argument. The .264 Winchester Magnum had a moment in the sun, as did the 6.5 Remington Magnum. More recently, the .260 Remington, 6.5-284 Norma and 6.5 Grendel, along with the darling of the long-range guys, the 6.5 Creedmoor, have enlightened shooters to the merits of this bore diameter. The newest to join the throng is the 6.5 PRC (Precision Rifle Cartridge), a development from Hornady which is basically the Ruger Compact Magnum cartridge necked down to hold 6.5mm bullets.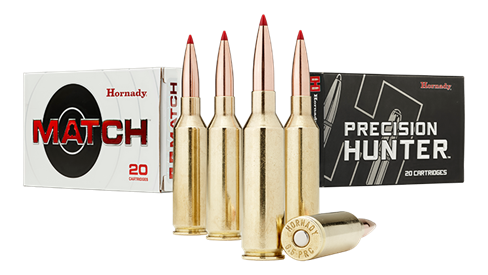 The 6.5 PRC will launch a 143-grain Hornady ELD-X bullet at a muzzle velocity of 2,960 fps—as compared to the 6.5 Creedmoor's 2,710 fps—showing a significant difference in speed. I like to think of it as the same relationship that the .300 Winchester Magnum and .30-06 share; it's a bit more speed, a bit more recoil, but a flatter trajectory with more striking power.  While I can come very close to the PRC's velocity with my favorite of the 6.5 lot—the 6.5-284 Norma—there is room for another well-balanced 6.5mm cartridge, and I feel that the 6.5 PRC is just that. It offers enough velocity to make a sensible hunting and long-range without roaching throats and barrels, and yet I'm certain the recoil is more than manageable. For those who like to punch paper and steel, Hornady also offers the 147-grain ELD Match bullet, for great long-range performance.
How many of these 6.5mm will maintain a hold on the shooting world? It's hard to tell, as there quite a few, but I do believe the 6.5 PRC has a good shot at being the 6.5 Magnum of the future.
For more information, go to hornady.com.