by
posted on July 22, 2014
Support NRA American Hunter
DONATE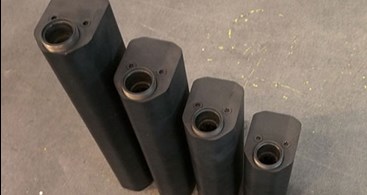 When I first saw SilencerCo's new shotgun suppressor, the Salvo 12, I had no doubt it would effectively muffle the blast of a shotgun. I've used SilencerCo suppressors a number of times, and they've all done a great job of reducing muzzle blast to ear-safe levels. But the Salvo 12 initially looked so ungainly I assumed it would be awkward as heck to use. Certainly, for the wingshooter, it would be like swinging a stick with a bread box tied to the end. Right?
I was wrong.
I used the Salvo 12 yesterday on a Benelli 12-gauge several times, equipped with the largest of the Salvo models, the 12-inch version, and discovered that it was actually fairly easy to point and shoot at moving targets with this rig. It took some practice, of course, as the weight on the end of the barrel does shift your balance point. But by the second and third round of clay pigeons, I and others here in Salt Lake City, Utah, at the launch of the Salvo 12, were noticeably improved shooters—and knocking down more pigeons with each round.
Plus, we weren't using hearing protection. Out in the open, the shotguns sounded like loud pellet rifles. Amazing. I don't have some computerized measuring device implanted in my shoulder, but my guesstimate is the Salvo 12 reduced the shotgun's felt recoil by 25 to 30 percent.
For hunters, the Salvo 12 promises to let us shoot without ear plugs or bulky muffs, communicate with other hunters and hear game as it is approaching. For volume shotgun shooters, the reduced recoil can only help our shoulders.
Yesterday, I used a Benelli Model M2 12-gauge, firing Federal Top Gun 23/4-inch shotshells with 11/8-ounce loads of No. 7.5 shot. I missed my first three clay pigeons, but began making hits as I got used to the different balance and swinging arc needed with this rig.
The Salvo 12 connects to a shotgun via the choke tube threading in the end of the barrel. Screw in the connector then attach the Salvo 12 to the end of that connector. Connectors will be offered in a variety of choke tube sizes, including an extra-tight choke for turkey hunters.
SilencerCo doesn't have all the kinks worked out for the slug gun options. The Salvo 12 is designed to use slugs (as well as all wadded shotshell loads), and has been tested extensively on a wide variety of slugs. But not all new slug gun barrels have choke tube-style threading. The company is working with shotgun makers and its own design crew to come up with various options for attaching the Salvo 12 to slug barrels, smoothbore and rifled.
I will conduct a Salvo 12 field test this fall, one that will put it through its paces with both shotshells for fall turkey, and slugs for deer and hogs.