by
posted on January 15, 2016
Support NRA American Hunter
DONATE
I got to Mellon Creek Outfitters near Refugio, Texas, in early October, ready to hunt whitetails and hogs on this 100,000 acre working cattle ranch just north of Corpus Christie. One purpose of the hunt was for me to "assemble" a new hunting rifle rig, and the first order of business on that front was to replace the factory trigger on my Remington 700 SPS, chambered in .308 Win, with a new Timney Calvin Elite trigger. 
OK, truthfully, I watched as my friend Darren Jones, marketing manager for SilencerCo, switched out the triggers. But I helped set the trigger pull weight.
"What do you think?" Jones asked as I dry-fired the rifle a couple times.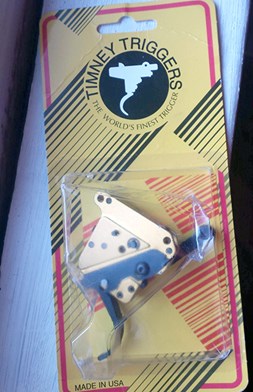 "Way too light," I said. "Be great for a bench shooter. But hunting?"
Jones and I worked on the set screw, and I dry fired some more until we got it right. The Calvin Elite—made specifically by Timney engineer Calvin Motley, Timney's design guru, to get the most out of the famed 700 platform—is adjustable from 2.5 pounds down to 8 ounces, and the earlier 8 ounce setting was just too touchy, I felt, for the bouncing and jostling that can occur during a hunt. I ended up with it at the top end pull of 2.5 pounds.
Next up, we installed a new Trijicon AccuPower 4-16x50, and a new Omega suppressor, manufactured by Jones' employer, SilencerCo. At the range the next day, it took only a handful of shots and I was drilling the bullseye steadily at 100 yards. I took another half dozen shots to get used to the rig, and then I was ready.
Mellon Creek Outfitters are on their third year of culling down their deer herd number—with advice, direction and hundreds of extra deer tags from Texas Parks and Wildlife Department—and our instructions were to shoot does without fawns, spike bucks, older bucks in obvious decline and any other bucks with misshapen or weird antlers.
In other words, a great testing ground for my newly tricked out deer hunting rig.
I took three deer and one good-sized boar hog, at various distances and in very different lighting conditions. I didn't miss once, and I give this rig a Hunter's Report Card Grade of "A" because: 
The Timney Calvin Elite Trigger breaks very clean and with zero creep. You squeeze the Calvin Elite and it fires. That can be a shock if, like me, you cut your teeth on standard factory triggers, which can range from pretty good to downright awful. But you will get used to it! It only takes a few minutes to install, too. 
The new AccuPower is Trijicon's next generation of hunting scope. It has essentially the same body and glass as their high-quality AccuPoint scope line, but Trijicon added a battery-powered reticle to the mix, with 11 brightness settings. By itself the glass pulls in great light when it is needed most--at dawn and dusk—and images are clear and crisp even at longer distances. 
The lit reticle is a big help, too. I spotted a hog at 80 yards, rooting around under the deep shade of some trees. The boar was black, the shade was, too, and it was hard to line up a shot. Until, that is, I spun up the magnification several settings and switched on the lit reticle. Mr. Boar was suddenly in clear focus, the green reticle cutting bright against his black hide, and I lined up for a low shoulder shot that dropped him after he took a 50 yard sprint.
SilencerCo's new Omega suppressor is made of titanium, stainless steel and Stellite (a super-hard industrial metal) and is designed to suppress centerfire rifle calibers ranging from 5.57mm to .300 Win Mag. I didn't need hearing protection. That's a real plus in general, but especially helpful on this hunt where I had to listen for the okay from the guide to make sure a deer was cull material.
Of course, the rifle was not silent. But the Omega diffused the sound so effectively, the deer I wasn't aiming at tended to jump a bit, stop and then look around. Had I missed and needed a follow up shot, I would've had plenty of time thanks to the Omega. Plus, it reduced the recoil of the .308 into the vicinity of a .243 Win. 
The Remington Model 700 SPS (Special Purpose Synthetic) is a more tactical version of the Remington 700 bolt action, and has the strong-locking bolt and very accurate barrel the 700's are known for. I like the grippiness of the synthetic stock and the forearm was slim and fit my hand nicely. It shoulders easily and points well, even with the added length and weight of a suppressor.
It comes standard with a hinged floor plate magazine and swivel studs, and weighs in at a nifty 7.5 pounds.
All these components added up to great hunting outfit, one I would use in a second on any hunt up to and including elk. My only problem with it? I had to hand it back when the hunt was over!