by
posted on January 12, 2017
Support NRA American Hunter
DONATE
Are you a prepper? I am and I make no bones about it. But I'm not one of these "Armageddon is near, stock up on canned goods and ammo" types. No, I'm a prepper of a different sort. When I found out I was going to be hunting mountain lion in Utah with NRA Outdoors approved and recommended outfit, Tyler Bowler Hunting at the first part of the new year, I set about to prepare on a number of fronts. We would be hunting behind a pack of talented hounds, up and down the mountains of Utah. You see, I don't care for being unprepared in the least. No, with enough advanced warning, you have no excuse not to be a prepper.
When seminal hunting opportunities present themselves, preparation is paramount. You don't want to look back at what should be a fond memory with disdain or disgust because you didn't prepare yourself or your equipment to fully exploit this opportunity. With that said, I set about to prepare for the hunt of a lifetime.
Mind and Body
Three months before my slated departure for St. George, Utah, I discovered that I had a double hernia. This news came in the midst of me being in pretty good shape while preparing for the marathon ahead. Two months before D-Day and I had been repaired by my surgeon (thanks Doc!), and I was on the mend, waiting for my doctor to lift my physical restrictions. That day came ten days after the cutting ended, and I eased back into an exercise routine. By departure day, I was down 15-lbs and running 4 miles per day. I was as ready as I could expect given the short time I had to prepare (there goes that word again). I was aided by a number of products by MTN OPS, a relatively new company producing dietary and workout supplements specifically catering to hunters and anglers. American owned and made, MTN OPS develops, produces and distributes energy and nutritional products for the active outdoorsman (or woman!). At a tick over the half-century mark, this former Marine and ex-pro athlete has some wear and tear that sometimes gives me cause for pause, but I wasn't going to let a little thing like surgery impede upon my preparation. One product by MTN OPS that I have been using is an anti-inflammatory I take in the mornings to address my shop-worn knee (another injury dating back to the early '90s), that has worked wonders.
Testing 1, 2, 3
I made a couple of changes to my already impressive Ruger Super Blackhawk Bisley in .454 Casull, that made this revolver an even more effective and impressive tool. I commissioned Rob Rowen, of Rowen Custom Grips to carve out a set of Claro walnut grips made specifically for my mitts. The end product not only looks fantastic, it more importantly makes shooting even full-tilt .454 Casull loads much more pleasant—a word not often associated with the .454 Casull. This is a change that is well worth the price of admission.
My testing of this revolver has been well documented in the past, but I equipped it with a prototype no-drill, no tap scope base made by Weigand Combat Handguns, Inc. specifically for this application. Needless to say, I liked it so much, it has made the topside of my .454 Ruger its permanent home. I topped it with a Bushnell Elite 3500 2-6 power 32mm scope, nestled in a set of 1-inch Weaver Grand Slam rings. I typically like open iron sights and red dots on my hunting revolvers, but decided to give some quality glass a chance. Let me tell you that for a guy like me, unaccustomed to scopes on handguns, getting used to that long eye relief was no walk in the park. However, get used to it I did, and I have grown quite fond of it—or rather the groups I am able to print with the Bushnell mounted up top.
My philosophy on hunting very much takes its cues from Murphy's Law, so I decided to head to Utah with a back-up revolver to be worn on my hip. Before you call me paranoid, keep in mind that I have an unquenchable distrust for optics of any kind. This doesn't preclude me from using them—quite the contrary—but it does mean that if I am hunting with a revolver equipped with some sort of optic, I nearly always bring along a back-up with open iron sights. This hunt was no exception, so I brought along my .454 Ruger's stablemate, a Super Blackhawk Bisley in .480 Ruger. This was the revolver that was released in conjunction with the .454 Casull model that is my primary on this hunt. This one was also treated with custom grips by Rowen Custom Grips, but this time in Dall sheep horn.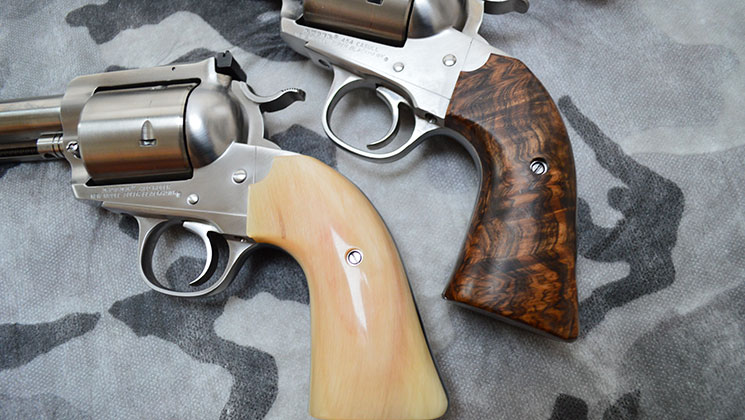 Getting Clean
Okay, let's start this off with a good scrubbing. We've been testing a variety of load/bullet combinations over the last year and even though we have been performing regular maintenance to Lucy, she was due for a thorough cleaning and we wanted to try a new product by Hoppe's called Gun Medic a combination cleaner and lube. I have named my .454 Bisley Lucy for one reason and one reason only: she is as loose as a goose and actually rattles if I shake her, from hours of full-throttle, unforgiving testing on the bench. However, don't let her loose demeanor detract from the fact that this revolver is one of the most accurate I have ever laid hands upon, period.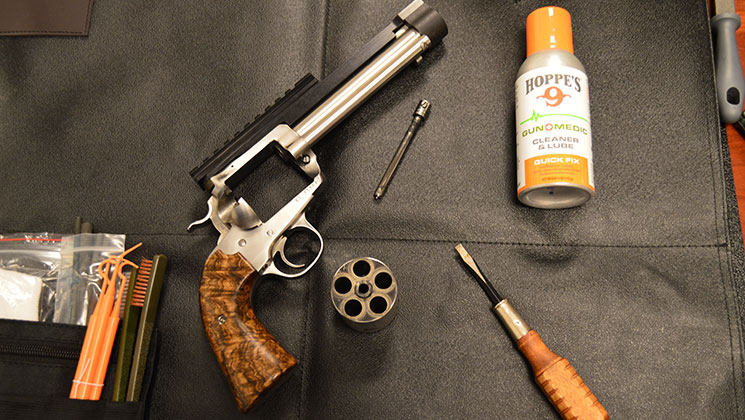 Loaded for Cat
Big cats are thin-skinned game animals and not necessarily hard to kill. That said, a fast opening expanding bullet that does maximum damage is your friend in this situation, particularly with an animal that can exact a truckload of bodily damage in short order. You've seen how your ordinary housecat cat mete out damage, now make that cat's weight the same as a full-grown man—a large full-grown man, and the possibilities for mayhem are mind-numbing. You do not want to be on the receiving end of that.
It was a tossup between two equally impressive .454 Casull loads by Federal Premium: a 300 grain Swift A-frame load rated at 1,530 fps, and a 250 grain Barnes XPB load at the same advertised velocity. On paper the 250 grain load looks like the proper cat medicine. On the range it was a complete toss up at the ranges I was practicing and preparing for. Both loads were able to print half-inch, one hole, five-shot groups at 25 yards. Even at 50 I was able to shoot both loads under an inch. I chose the lighter and more violently expanding load, the 250 grain XPB as my cat load. The revolver was sighted in for an up-close 25 yard zero.
My backup gun was also similarly loaded with Federal's 275 grain Barnes XPB load. I had that one printing one inch groups at 25 yards with the iron sights and my poor vision, so I was set on that front. Both revolvers would reside in nylon holsters impervious to the elements. The belt holster is an Uncle Mike's unit, the shoulder rig by Blackhawk.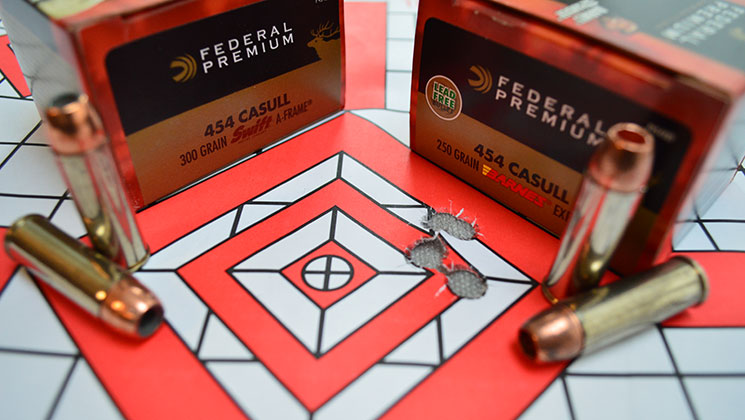 Stay tuned for the main event, where I will outline in detail how we faired (Lucy and I) against North America's biggest cat.