by
posted on February 11, 2020
Support NRA American Hunter
DONATE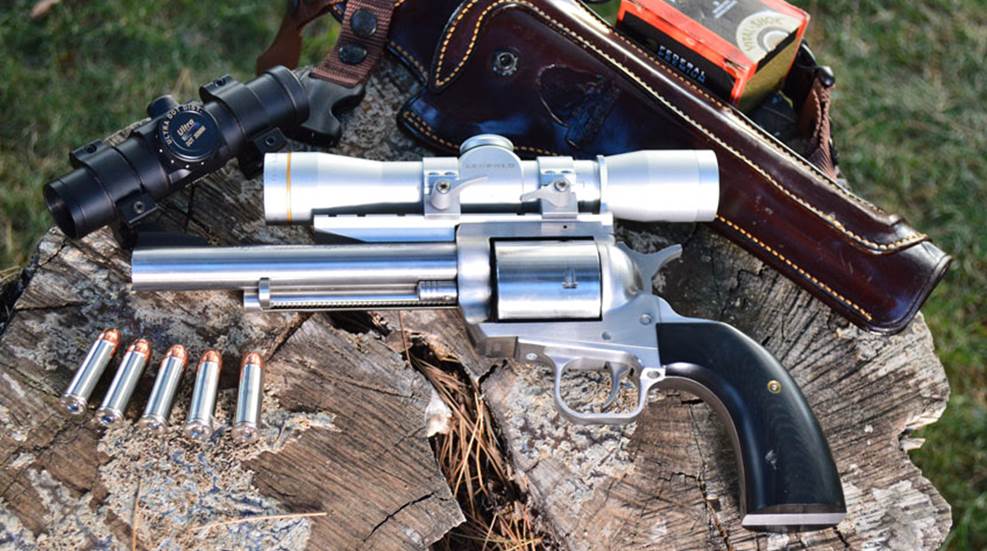 The Scenario: You've booked the plains game hunt in South Africa. You are a handgun hunter, so you've already decided to hunt the hard way. Now you need to figure out what to use to maximize your potential to succeed. Your shots may be a bit on the long side, so your choice should shoot relatively flat (in terms of a revolver, emphasis is on relative). The game will be on the heavier side of typical whitetail deer, so your choice should launch a tough, expanding projectile that will not just penetrate well, but impart some shock to the animal. You might want to limit the barrel length to one that isn't unwieldy, which you can quickly press into action at the drop of a hat—your choice needs to handle well. All of the above criteria point squarely to Dick Casull's wonder cartridge, the .454 Casull.
South Africa is a long way from home. It takes real commitment (not just financially speaking) to prepare for this hunt on the other side of the world. Your shots may be a little farther than you are normally accustomed to taking, so your firearm choice needs to reflect this reality. It should generate enough velocity to "flatten" the trajectory to more easily take longer shots. That said, the barrel length shouldn't be so long that the revolver handles poorly. Chances are pretty good you will have to press your revolver into action on a moment's notice, so ergonomics are important. In the above-mentioned equation weight also plays a factor, not just for the speed with which it can be put to use, but if the revolver is unusually heavy, shooting offhand will be negatively affected. This revolver choice, therefore, will be an exercise in balance. You will also want to equip it with some sort of optic to enhance your ability to take those longer shots, so it is a necessity that the gun accommodate a sighting system of some sort.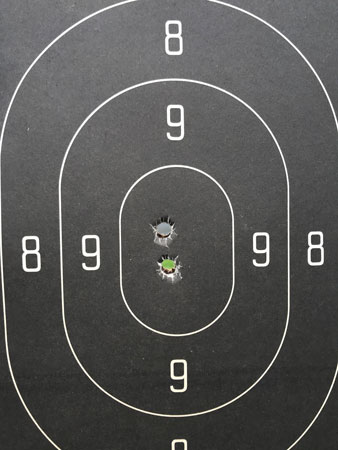 All these considerations make the choice rather simple. We opted for Magnum Research's excellent BFR (Biggest, Finest Revolver) in .454 Casull. A 6 ½-inch barrel gets the nod for its handling and velocity potential. Of equal importance is the grip, so we opted for the best grip frame available: Magnum Research's interpretation of the famous Bisley grip first seen on Colt single-action revolvers way back when. This is an outstanding grip for comfortably controlling sizable recoil, and being chambered in .454 Casull, you can be sure the recoil will be sizable. Shooting a heavy, recoil-inducing revolver is a perishable skillset with a rather abbreviated shelf life, requiring regular practice to maintain. In the world of big-bore handguns, the .454 Casull squarely qualifies as one of the more memorable generators of recoil. The good news is, once you get to an acceptably competent level, short, dedicated sessions are all that are required to retain your previously attained skill level.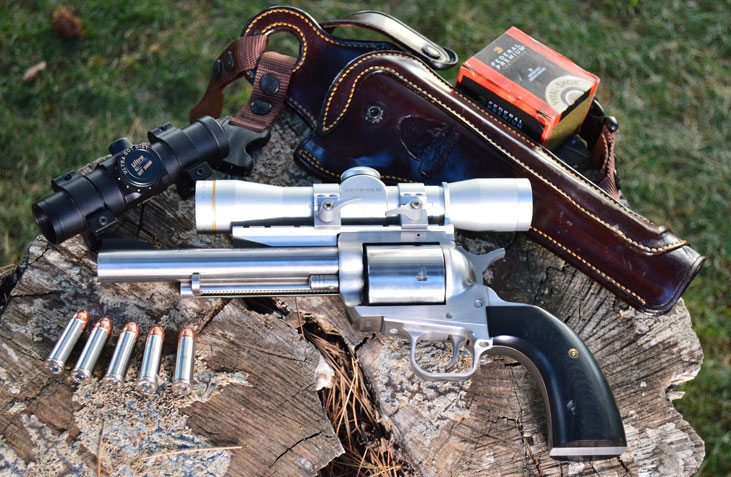 The combination of the BFR .454 revolver, Federal Premium's excellent 300-grain Swift A-frame loads, and a Leupold FX-II fixed four-power scope produced repeatable and outstanding accuracy.
Scopes on handguns are a tricky proposition. Tricky how? For starters, the long eye relief is difficult to master and to get comfortable with. Plus, the magnification exaggerates your natural wobble. It's a lot to take in on a short gun. That said, practice makes perfect and you can get to a competent level with the requisite amount of practice (which will vary person to person). A fixed 4X
Leupold
scope (FX-II 4x28 mm) was chosen, attached to the factory scope base via Leupold quick-detach rings. However, we hedged our bets and brought an old standby, an Ultradot 30 red-dot sight. Just in case.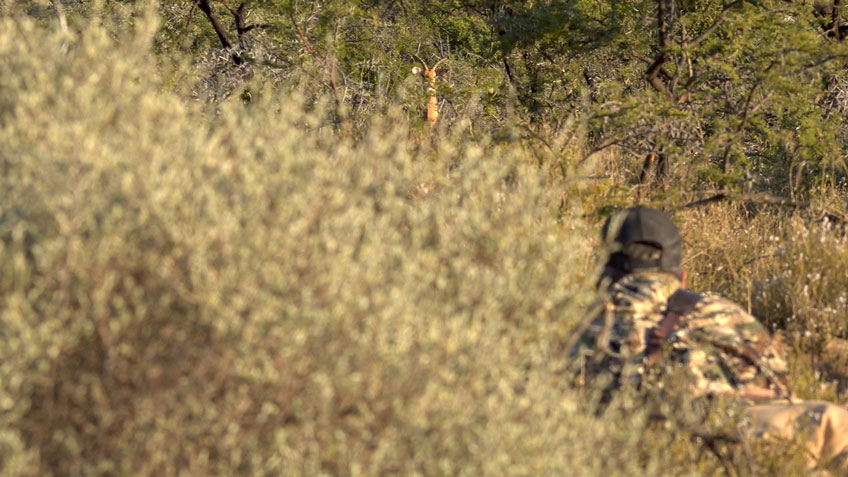 Now for loads. The velocity potential the .454 Casull is legendary for should be taken advantage of. How? By loading the .454 like a .454, and not a glorified .45 Colt. The logical choice is
Federal Premium's
300-grain Swift A-frame load, running a claimed 1,530 fps. From previous testing, I know this to be a conservative claim. This ammo out of the BFR is accurate to a fault. The bullet is among the best as far as expanding bullets are concerned, in that they expand readily, but do not over expand.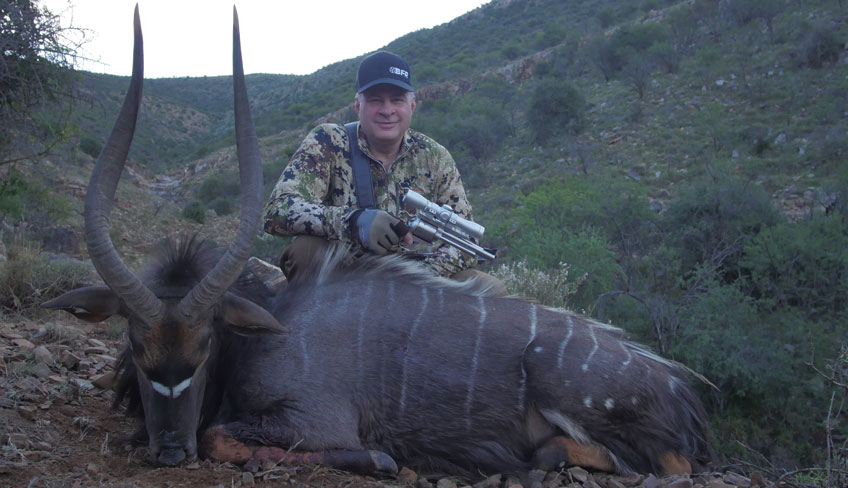 The author shot this Nyala with a BFR in .454 Casull stoked with Federal 300-grain Swift A-frames with Tollies African Safaris in the Eastern Cape of South Africa. The .454 was equipped with a Leupold 4X scope, and Leupold quick detach rings on the factory scope base.
Of parallel importance is the holster you choose to carry your revolver in afield. For this, we turned to
Galco
for a shoulder holster that came highly recommended by a handgun hunter we trust: a variant of Galco's excellent Kodiak Hunter shoulder holster actually made for a
Ruger
Blackhawk/Super Blackhawk with a 7 ½-inch barrel and a scope (KH 130H–right hand model). This versatile rig can be used with or without an optic. It has a retaining strap, but the holster holds the revolver securely. The short-framed BFR is close enough dimensionally to work well with this rig. Made from premium leather and featuring an adjustable leather and nylon shoulder strap, as well as an adjustable nylon torso strap, this holster is the perfect rig for a physically active hunt featuring lots of stalking. We performed
a lot
of stalking.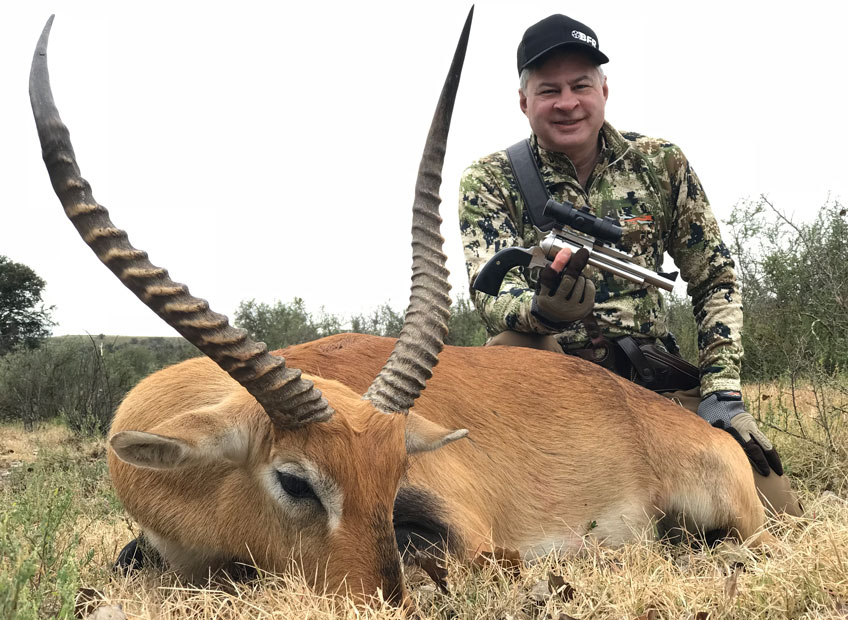 This Red Lechwe also fell to the author's BFR in .454, this time equipped with an Ultradot 30 red-dot sight. The shot was off stick at a paced 75 meters.
I'm happy to report that we were successful with this combination, successfully taking a Nyala and Red Lechwe, both right around the 75-80 meter mark, both off sticks, while hunting with
Tollie's African Safaris
. If ever there was a versatile and all-around hunting combination, this one is competing for pole position.