by
posted on December 2, 2017
Support NRA American Hunter
DONATE
Most of us who admire and use handguns have customized our favorites to some extent. But custom guns cost important coin, and many of us are not in a position to drop $2,000 to $3,000 on a custom big-game hunting handgun. Many hunters just want to see what they can accomplish with a traditional, largely unmodified handgun, and most beginners don't want to spend a large sum of money on something they may find isn't their cup of tea. With that said, here are five excellent hunting handguns you can get for less than $1,000.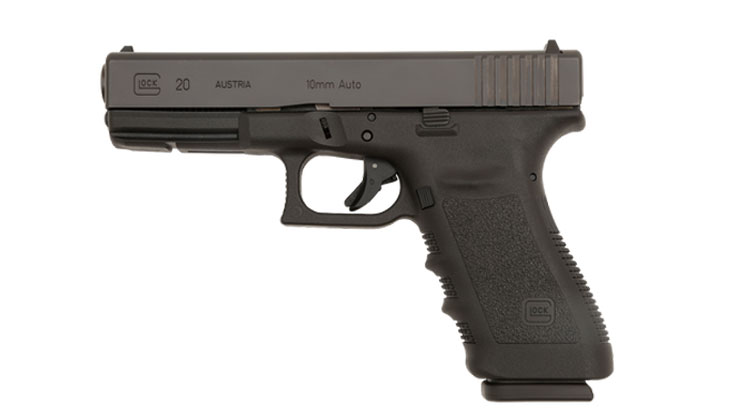 1. Glock 20
MSRP: $590
There's a growing number of handgun hunters that prefer the semi-automatic pistol. For them, the best choice is a pistol that shoots the 10mm Auto cartridge, and the one 10mm semi-auto that meets our less than $1,000 criteria is the Glock 20. As far as Glocks go, it's a little larger and heavier than the 9mm and .40 caliber pistols Glock is famous for. Glocks are legendary for their reliability, and the Model 20 is accurate enough for 50-yard hunting. It comes standard with night sights, which is handy in low-light and brushy environs. Revolvers can—with varying degrees of difficulty—be aftermarket equipped with a scope, but to the best of my knowledge, no such option is available for the Glock. Standard magazine capacity is 15 rounds, and spare magazines are readily available if you can't get it done with one. The Glock 20 has an MSRP of $590.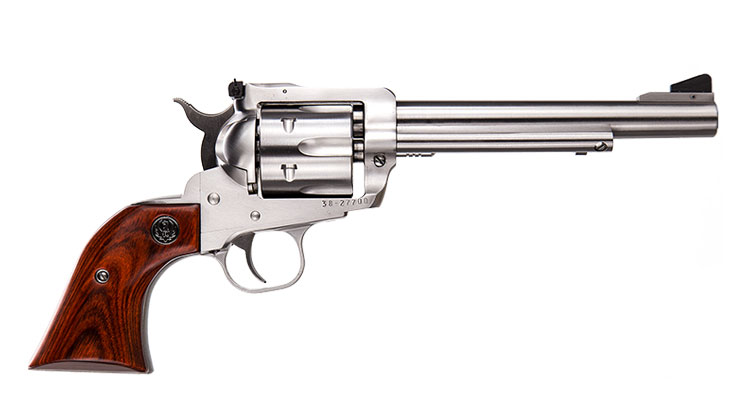 2. Ruger Super Blackhawk
MSRP: $829-$959
The Ruger Super Blackhawk has been around since 1959 and has been a mainstay of handgun hunters. It replaced the original Blackhawk revolver completely until that smaller-frame gun was reintroduced a few years ago for less powerful cartridges. The Super Blackhawk is a larger, beefier handgun, and the extra weight is a blessing in taming the recoil of the .44 Magnum cartridge. In 1973, the New Model Super Blackhawk was introduced and featured a transfer-bar mechanism that made it safe to carry all six chambers loaded. If you have an unmodified—by Ruger—pre-1973 Super Blackhawk, you must keep the chamber under the hammer empty to prevent an accidental hole in your leg. It can be argued that pre-'73 guns are a bit smoother to cock, but any Super Blackhawk is an accurate, dependable and rugged revolver. A standard Super Blackhawk has an MSRP of $829, blued or stainless. Barrel lengths run from 4 5/8 to 10 1/2 inches, with the 7 1/2-incher being the most popular for hunters. There is a Hunter model made from stainless steel with a 7 1/2-inch ribbed barrel with cutouts for scope rings. Its MSRP is $959. There are more finely finished .44 Magnums out there, but none are stronger or more reliable than a Super Blackhawk.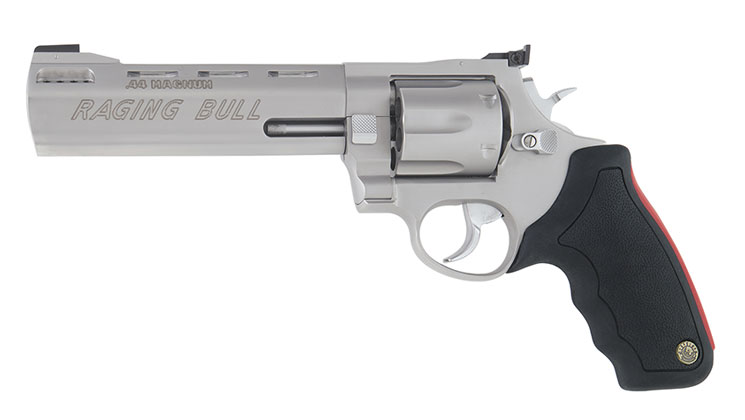 3. Taurus Raging Bull Model 444
MSRP: $752-$839
Some prefer a double-action revolver, though in hunting situations, most shoot single-action due to the better trigger pull. The Taurus Raging Bull series of double-action revolvers has been with us a few years and has developed a following. It features blued or stainless steel construction, a very heavy 6 1/2-inch barrel with a ventilated rib and six ports at the muzzle to control barrel flip during firing. A set of rubber grips tops it off. The heaviness of the revolver—53 ounces, unloaded—along with the ports and rubber grips make it one of the most comfortable .44 Magnums to shoot. Raging Bulls have a reputation for good accuracy, so the adjustable iron sights should allow for precise bullet placement.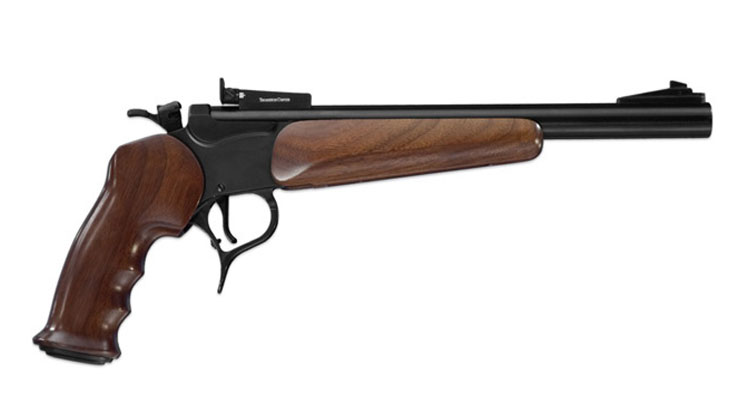 4. Thompson/Center G2 Contender
MSRP: $523-$548
The Thompson/Center Contender has been around since 1967. It is a single-shot, break-open design that lends itself well to customizing and exotic or non-standard chamberings. A second-generation (G2) Contender became available in 1998, and is the one available today. Because of the simplicity of the single-shot receiver, the Contender allows for upgrades not available to more complicated revolvers. The hammer is equipped with dual firing pins that allow the receiver—or frame as T/C calls it—to accommodate rimfire or centerfire cartridges. Trigger pulls on Contenders are almost always excellent, and T/C's barrels are legendary for their accuracy. It used to be that T/C would chamber the Contender for a wide variety of cartridges—almost anything you could imagine. However, since Smith & Wesson bought the company and moved it to Massachusetts, it has had to become leaner and meaner in order to survive. Still, Contender barrels are available in calibers as mild as the .17 HMR and .22 LR and as rambunctious as the .45-70. Available in blued or stainless, with composite or walnut stocks and fore-ends, you can purchase a G2 Contender for less than $600.
5. Smith & Wesson Model 629
MSRP: $949
From the company that started the .44 Magnum craze and has a spectacular reputation for producing some of the finest revolvers, it's still possible to get a first-rate hunting revolver for our under $1,000 threshold. At an MSRP of $949, you get the famous N-frame gun that brought handgun hunting of big game into the mainstream. The Smith & Wesson Model 629 is made from stainless steel and has a 6-inch barrel with the iconic red-ramp front sight. Combined with the company's fully adjustable rear sight, you can easily zero any reasonable (and probably unreasonable) .44 Magnum load that fills your heart. Grips are synthetic and help cushion the recoil. So much has been written about Smith & Wesson and the .44 Magnum, it seems almost futile to add anything new. If it fits your budget, you can't find a better made and more finely finished hunting handgun.
Selecting a handgun for hunting is as personal as any other gun-buying decision. Any of these five handguns will serve you well, and may be all you want or need. If the handgun hunting bug bites you as it did me, you'll find yourself getting more than one, and that $1,000 limit will soon be thrown out the window. Either way, this should get you started.