by
posted on June 16, 2017
Support NRA American Hunter
DONATE
Whether you watch television, read magazines or talk to hunting buddies, trail cameras will undoubtedly come up in the conversation. Judging by the advertisements, all cameras are touted as the best, but is there really a camera that could work for everyone?
Some hunters just want a clear picture of game and couldn't care less about how many megapixels are in the photo. Others want maximum range to cover a larger piece of ground. Economics always comes into play and balancing price with features is how we define value. Does the camera flash? Will I be able count antler points day and night? Will I catch the animal in action or will it all just be a blur? There are a multitude of questions that just beg to be answered.
We invited some of the best trail camera manufacturers to send the newest and greatest units to go head-to-head in a comparative test. Taking a scientific approach, the cameras were loaded with new batteries and memory cards. All were mounted on a frame so they pointed in the same direction, with the same aspect to the sun, and at the same level, so they could all be triggered by the same movement.
Trigger speed, range, picture clarity, price, ease of use and set up were all painstakingly looked at and compared. We were fortunate enough to have wildlife cooperate and trigger all the cameras. Deliberate human-led tests were done in an attempt to trigger cameras at different distances during the day and night.
Comparing trail cameras equipped with modern technology is not a simple feat as you would be hard-pressed to find a camera that provided poor results on every test. Reviewing 10 of the industry-leading cameras, we found ourselves splitting hairs to measure one over the other. This is great news for the hunter and trail camera enthusiast as the equipment on the market this year will not disappoint. Here is a rundown on what we found after vigorous testing, trials, and tribulation to help you make an informed decision if you're looking for a new trail camera.
There is no right or wrong camera. Users need to identify their wants and needs and search the camera specs to satisfy them. Then you'll end up with a product you like and that delivers exactly what you want it to, no more and no less.
TOP MARKS: Primos Proof Generation 2 - 02
• MSRP: $162.95
• 16 megapixels
• 100-foot flash range
• 0.3-second trigger speed
• 36 low glow LEDs
• 720p HD video
The Primos Proof Gen 2 - 02 was the undisputed winner among the cameras evaluated. The camera setup is easy and intuitive, and no one had to reach for the instructions to turn the camera on and get it programmed for use. Options are easily accessible through unique toggles to select your mode, set your delays and the number of photos you want in a burst—although we compared just the still-camera features, the Proof Gen 2 also offers HD video and a timelapse option. This camera's recovery rate is extremely fast and it does take a lot of pictures, but not blanks. This camera takes excellent night photos and provides the advertised range and beyond. The day photos are sharp and have good color. It also has a viewing screen.
MOST IMPRESSIVE: Wildgame Innovations Mirage 16
• MSRP: $119.99
• 16 megapixels
• 80-foot flash range
• <0.5-second trigger speed
• 36 infrared LEDs
• 720p HD video
The Mirage 16 stole the show and was narrowly beat out by only one other camera. This one gets the award for Most Impressive because it takes lots of pictures day and night, with consistent quality. The night flash is brighter than others which gives it excellent night detection for clear definition of the photo's subject matter. The camera triggered with impressive ranges well beyond the promoted 80 feet. Photos snapped during the day were clear and vibrant. This camera does not have a screw-in port for attachment, but does have a strap and separate ports for security cables. The batteries, memory card and setup buttons are accessed through a bottom hatch, which keeps the unit small and compact.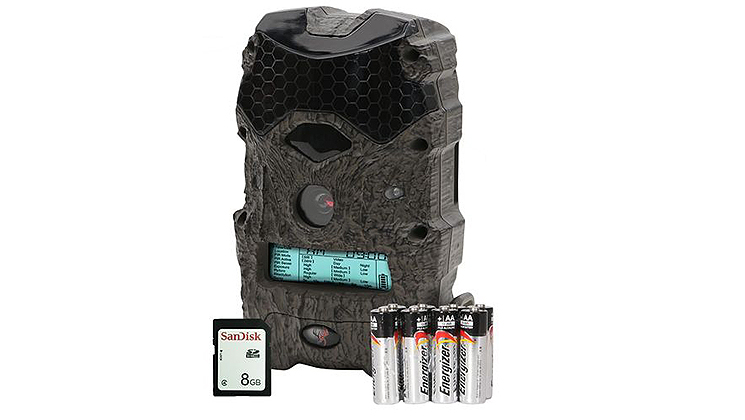 EASIEST TO USE: Browning Strike Force HD Pro Sub Micro Series
• MSRP: $169.99
• 18 megapixels
• 120-foot flash range
• 80-foot detection range
• 0.3-second trigger speed
• Infrared LEDs
• 720p HD video with audio
It doesn't get any easier than the setup with this Browning Strike Force HD camera. It's as simple as finding a spot to place it and turning on the power button. Not only does this camera have a slight advantage over others in that it only requires six AA batteries, the batteries are actually included. The definition quality in this camera is noticeable, even with infrared night photos. Antler points were easily counted at 50 feet at night, and wildlife was captured out beyond 120 feet during the day. This camera has a lightning-fast recovery time of only 0.5 seconds and costs a little more than others, but would be considered good value for the price, especially if you don't like to read programming and setup instructions.
STRONG AND ALWAYS THERE FOR YOU: Stealth G45NG Pro
• MSRP: $199.99
• 14 megapixels
• 100-foot flash range
• <0.5-second trigger speed
• 45 no glow infrared emitters
• HD video with audio
In addition to staying under the radar, the Stealth G45NG Pro is strong and durable. It was even tested on some spring black bear hunts and came out unscathed. The no-glow infrared emitters in this camera are undetectable when triggered, and make night pictures extremely bright right to the edge. The photos taken at night were of average quality but the day time photos were better. The detection range was great, with triggers beyond 100 feet. The preprogram options are well laid out for ease of use.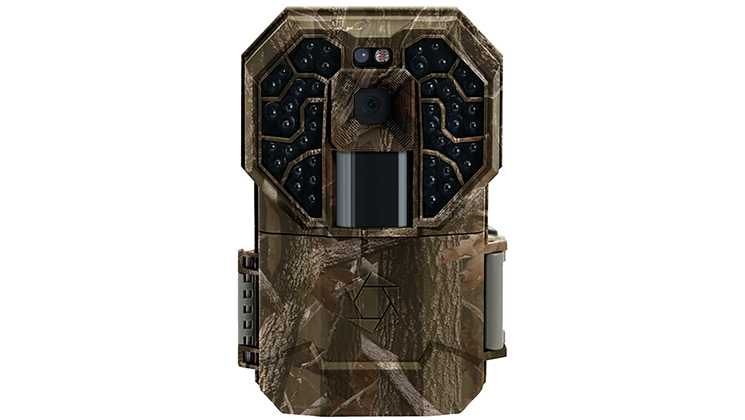 AUTOGRAPH EDITION: Moultrie S-50i
• MSRP: $199.99
• 20 megapixels
• 100-foot flash range
• 0.3-second trigger speed
• 48 infrared LEDs with invisible flash technology
• 1080p HD video with audio
If cameras came with a dress code, this one would have a tuxedo. This signature-series camera has it all, including fast trigger speeds and long-range detectability. Dan Moultrie spared no expense to bring the best technology to market. Loaded with 48 LEDs with invisible flash technology and shooting a whopping 20-megapixel resolution, you know it's the biggest and baddest of the Moultrie lineup. The daytime photo quality is excellent, illustrated by a crisp image of a whitetail buck in velvet that was easily captured at 80 feet, showing the fuzzy details of his new antler growth. Nighttime photos were average with many subjects showing motion, but flash range was good. It's Moultrie Mobile compatible and sports a 2-inch viewing screen.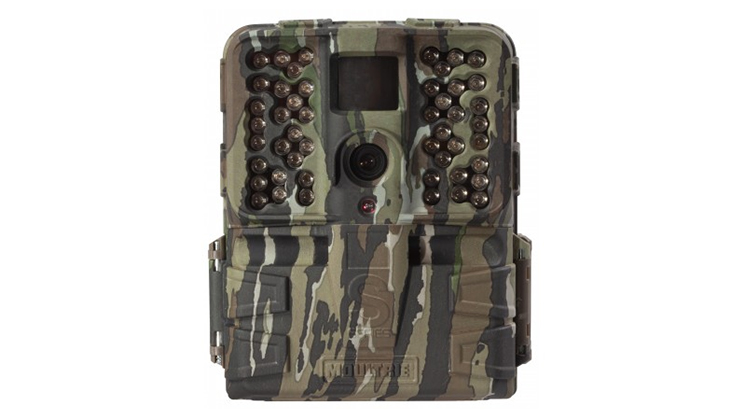 THE BUCK MARK OF APPROVAL: Browning Dark Ops HD 940 Sub Micro Series
• MSRP: $159.99
• 16 megapixels
• 80-feet flash range
• 0.4-second trigger speed
• Invisible infrared LEDs
• 720p HD video with audio
Like any Browning products sporting the Buckmark, you know there will be quality and dependability with this camera. The Dark Ops is the best value for an invisible flash camera. The simplistic setup makes it easy for beginners and experts alike. The night photos were good quality with strong definition, with the trigger speed stopping action on most subjects. Day time photos showed excellent color and quality. Like the Strike Force HD Pro, this camera also only takes 6 AA batteries, with enough power to last for 10,000 images.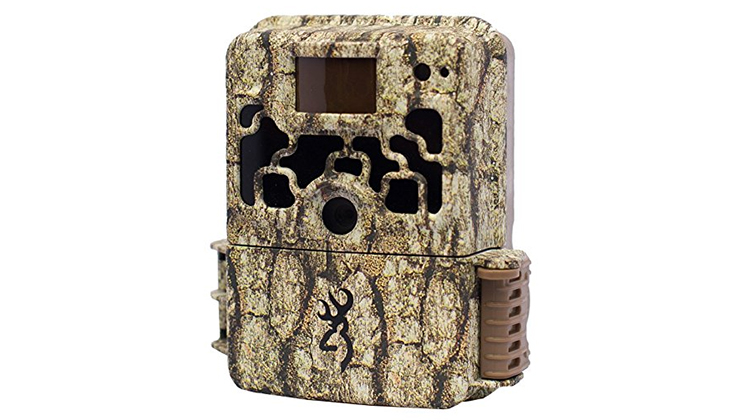 SUPERSIZED: Bushnell Trophy Cam HD Aggressor 20MP No-Glow
• MSRP: $250.45
• 20 megapixels
• 80-foot flash range
• 100-foot detection range
• 0.2-second trigger speed
• 48 no glow black infrared LEDs
• 1080p video with audio
This was the most expensive camera we looked at, but you get what you pay for. There are no surprises—this camera performs like it says it will. If you can think of all the features you would want in a trail cam to maximize its performance, this camera has it. With an intuitive menu, easy-to-read display, invisible black LEDs, lightning fast trigger speeds, and a 20-megapixel resolution, this camera can giddy-up and go. It had good detection and range, and took the most pictures of any camera on large and small animals and targets. The daytime photos had excellent quality and color, but there was a fuzz factor with moving subjects at night.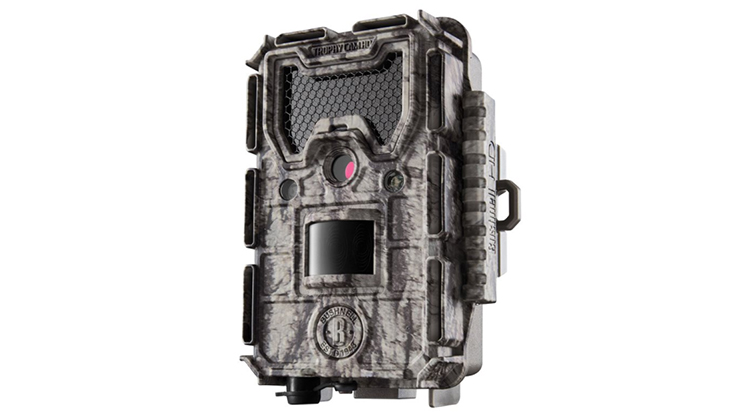 I SCREAM VALUE: Moultrie A-30
• MSRP: $79.99
• 12 megapixels
• 70-foot flash range
• 60-foot detection range
• 0.7-second trigger speed
• 24 infrared LEDs
• HD video
At less than $80, this camera takes pictures that keep up with most of the cameras we tested. It does have limitations in range, but those are listed on the package when you purchase it. The daytime photos were clear with good color; the night photos were similar in quality but only stopped some movement, producing clear images only when the animal was stopped or moving very slowly. The trigger responded well to a variety of situations and was sensitive at wide angles. The camera is priced economically for the technology being used and anyone monitoring wildlife on trails or at feeders under 60 feet will enjoy this camera and get productive results. If you haven't set up a Moultrie camera before, you'll likely need to read the instructions. This is your workhouse. It's not the fastest out of the gate but it always gets to the finish line, and its still Moultrie Mobile compatible.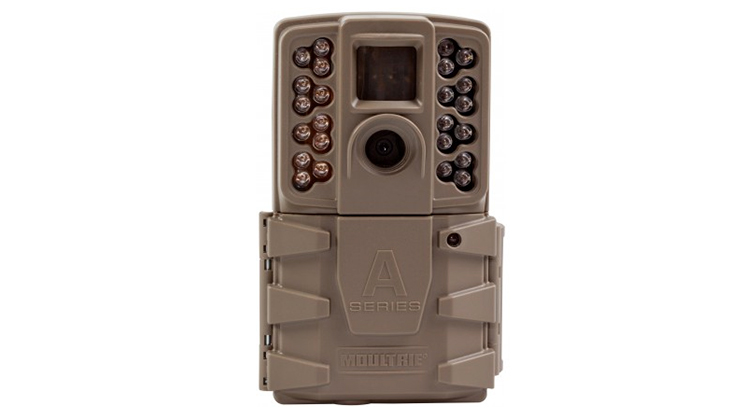 ENTRY LEVEL INVISIBLE INFRARED: Moultrie M-40i
• MSRP: $159.99
• 16 megapixels
• 80-foot flash range
• 80-foot detection range
• 0.3-second trigger speed
• 32 invisible infrared LEDs
• 1080p HD video with audio
This is an entry level invisible infrared camera that produces good photos in the daytime with images clear beyond 100 feet. Detection and stop-action was good during the day, but at night, images were blurry beyond 30 feet. Once again, this Moultrie camera took more time to set up and required a review of instructions to complete. It's also compatible with Moultrie Mobile.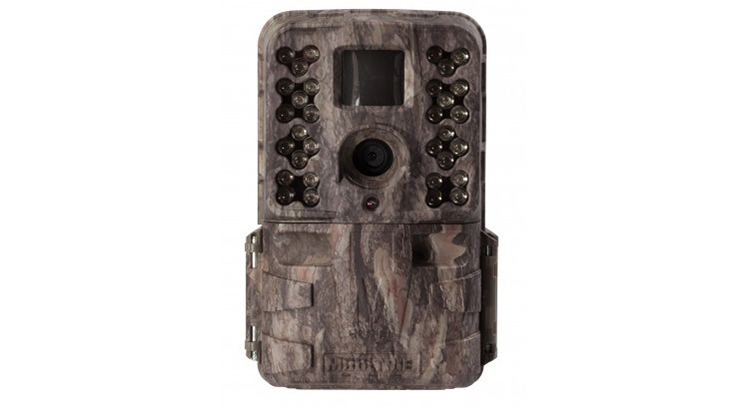 BEST NEW TECHNOLOGY: Spypoint Solar
• MSRP: $199.99
• 12 megapixels
• 100-foot flash range
• 80-foot detection range
• 0.07 sec trigger speed
• 42 LEDs
• HD video with audio
Spypoint is known for developing innovative ideas in the trail cam market. They are the first to market with a solar-powered battery charger—an internal battery needs to be charged for 24-48 hours, which is then kept charged by a built-in solar panel. You can also use AA batteries as an alternative power source, so the bottom line is your camera should never leave you photo-less for lack of power. The Spypoint Solar also features the fastest trigger speed on the market. The daytime photos were vibrant and had excellent color, but users need to play with the adjustable detection range, which can be set from 5 to 80 feet—it makes it longer to set up but it can ensure higher trigger rates.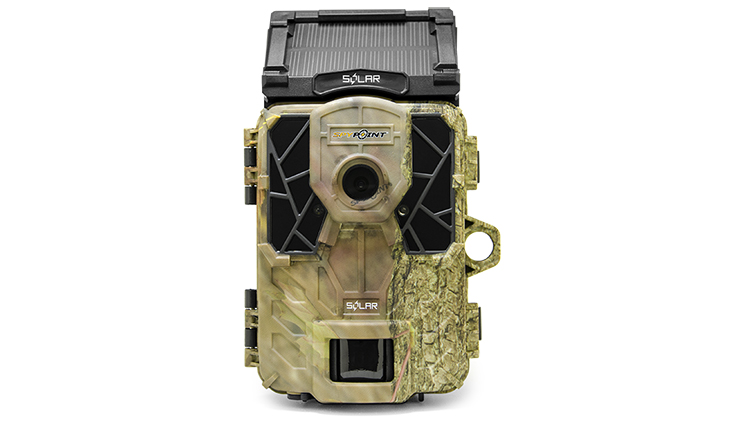 Stealth Cam Memory Card Reader
If you want to simplify the collection of trail camera photos, the Stealth Cam Triple Connection Memory Card Reader will allow you to do it in the field. Equipped with connections for USB, Apple iOS and Android systems, it can be used with any smartphone. With the ability to plug in and read SD cards you can save time in the field and always ensure you have adequate memory space. Plug the device into your smartphone or computer and insert the memory card, then save the photos you want, and delete the ones you don't. The card can then be cleared and put back in the camera. At $30, this economical device will give you a sneak peek at what your camera has been up to.