by
posted on October 3, 2023
Support NRA American Hunter
DONATE
Can you hunt with an AR-platform rifle? The correct answer is yes. If you said no, why do you hate America? Kidding aside, ARs have become increasingly popular as hunting rifles, and for good reason. ARs are no longer relegated to .22-caliber bullets, and large-frame ARs chamber the more powerful .308 family of cartridges. Because of their popularity, modularity, soft shooting characteristics and overall fun-factor, it's not surprising that ARs are increasingly being pressed into service as hunting rifles.
It's not all moonbeams and rainbows though. Because ARs were not designed as hunting rifles, there are some issues to overcome before an AR becomes a wise choice for that role. ARs aren't very streamlined compared to traditional hunting rifles. Their pistol grip configuration, combined with the scope mounting height, a Picatinny rail on top of the receiver and other protrusions result in a rifle that can often snag on packs and gear. ARs have parts, including the upper and lower receiver, which can rattle. The trigger in most ARs isn't usually something to celebrate, and when talking about the large-frame AR-platform rifles, they're usually heavy. Combine this with some common inaccuracy and inconsistency, and it means some effort is needed to set up an AR-style rifle for hunting.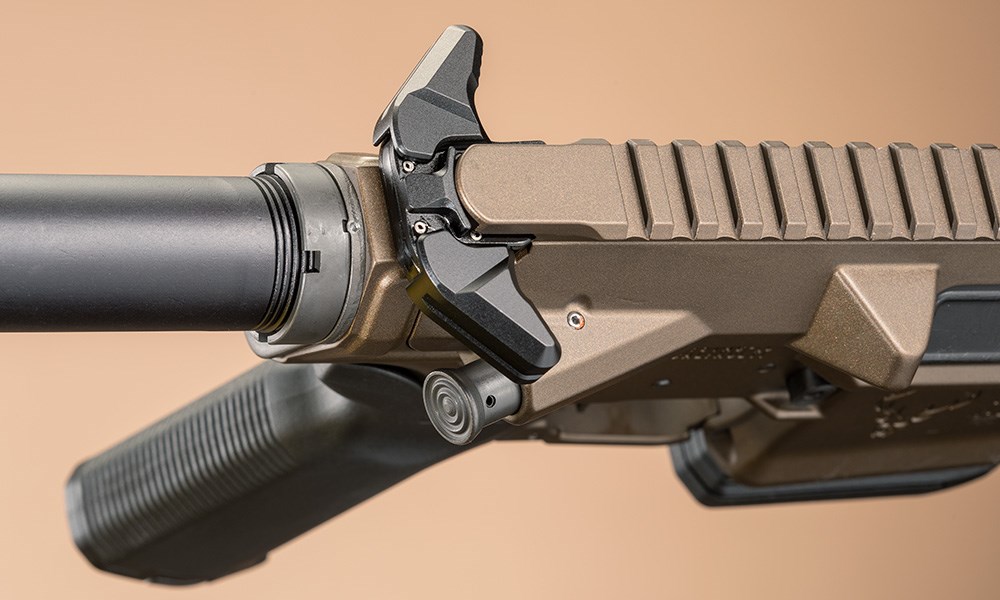 Enter the Stag Arms Pursuit. The Pursuit line is oriented toward hunters by fixing or addressing some of the issues, primarily the weight, overall maneuverability, rattling, and accuracy and consistency. These rifles are well built, nicely configured, attractive, and are available in both AR-15 and AR-10 sized platforms. In the case of the Pursuit in this review, it was a large-frame AR-10 chambered in .308 Win.
The AR-10 platform Pursuit rifles are chambered in either 6.5 Creedmoor or .308 Win. Of course, they use detachable magazines, unless you live in a communist state like California or New York, in which case the rifle will have a magazine fixed in place. The action is a direct impingement, meaning the gas operates the action by directly impinging on the bolt carrier. It uses a buffer/buffer tube arrangement, with the buttstock attached to the buffer tube.
Heavy hunting rifles are about as much fun as a flat tire in the desert, and large-frame ARs tend to be a bit weighty. Fortunately, the Pursuit is fairly light, but it's not ultralight, which isn't a bad thing. Neither the receiver nor components are skeletonized, which is good because most hunting rifles don't need more places for water, mud, snow or debris to collect. The 16.5-inch Ballistic Advantage Hanson barrel has a thin, lightweight profile, but it's not pencil thin. The 13.5-inch handguard is also lightweight without being something that looks, or is priced like it was designed for SpaceX. It has a full-length Picatinny rail on top with M-LOK slots running the entire length of the bottom and sides. These components get the weight down to a manageable 7 pounds, 12 ounces, which isn't much heavier than many traditional hunting rifles.
The .308 Win. chambering is a solid choice. While it may not be the favorite cartridge of some of the more adorable and opinionated outdoor writers and editors, it's a known entity with enough horsepower to reliably take most North American big game. The astounding selection of bullet weights and loads from most ammunition manufacturers all but guarantees that you can find something that will shoot quite well in the Pursuit.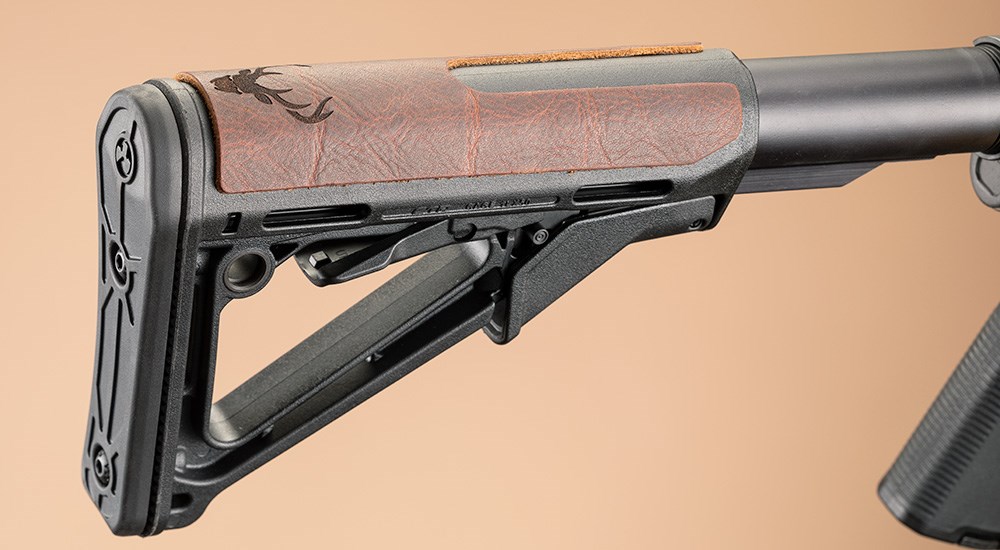 Adding to the hunting orientation of the Pursuit is the Midnight Bronze Cerakote finish, which is a refreshing change from basic black. A comfortable leather cover over the cheek weld area of the Magpul CTR stock adds some traditional appeal while also being comfortable in hot or cold weather. This stock is a good choice because it has a locking lever you set in place once the length of pull is adjusted, and it minimizes rattling. The overall length, collapsible stock, ambidextrous controls and weight make the Pursuit a very handy rifle, easy to maneuver in and out of vehicles, blinds, stands, etc. The integrated QD sling attachment points also make it easy to carry in the field.
Overall, the Pursuit is a premium AR with other features you would expect at this price point such as ambidextrous safety selector, ambidextrous magazine release and a very tight, non-rattling fit between the upper and lower receiver. A two-stage Timney trigger is also part of the build list. The charging handle is notable because it's ambidextrous and large enough to easily pull back, even with the eyepiece of your scope mounted directly above it.
It looks fantastic, is easy to operate, and it is light enough to negate a set of wheels to drag it around. So far so good. But how does it shoot? In a word, great.
Accuracy testing was done at 100 yards using a Burris Veracity PH 4-20x50mm scope, an Atlas bipod and rear support bag. The ammunition consisted of Hornady 168-grain ELD Match ammunition and Sierra Bullet's 168-grain HPBT MatchKing loaded ammunition. The rifle consistently turned in groups ranging in size from 1.5 MOA to 1 MOA, with a few even in the .75-MOA range. All told, the groups averaged right around 1.25 MOA with the various loads. But it's a hunting rifle, so I also shot some Hornady American Whitetail and Nosler 150-grain Ballistic Tip ammunition. Both hunting loads shot well, averaging about 1.25-1.75 MOA. The Stag Arms Pursuit does in fact come with a sub-MOA guarantee, so the results are not surprising. I also did some shooting in a more civilized manner via a Silencer Central Banish 30 suppressor. It slightly moved the point of impact, but accuracy for all loads tested was as good if not better while using the suppressor.
With some minimal load development or testing of various flavors of .308 Win. from your favorite ammo manufacturer, finding something in the 1 MOA range shouldn't be an issue.
Obviously, bench testing accuracy is necessary, but I also wanted to test it a little bit out in the field to see how the ergonomics checked out, how it felt in the rain, with some mud on it, etc. So, with a quick trip to an area I hunt in the coastal range of Oregon, I also shot the Pursuit from a tripod, a pack, and from rocks and stumps as the terrain and my old joints would allow. This showed that the weight and length of the Pursuit make this a handy, maneuverable hunting rifle. It's also worth noting the pistol grip configuration of an AR makes it easy and comfortable to shoot from a tripod. One thing to keep in mind: While the 16.5-inch barrel helps keep the weight down and increases the maneuverability of Pursuit, you are going to lose some velocity with your favorite .308 Win. load. It's not a deal killer, it's just something to be aware of.
When I first received this Stag Arms Pursuit for review, I thought it would be just another AR finished in a natural color to appeal to hunters. Now that I have shot it, I am thinking about what guns I might sell to fund adding this rifle to the mix. It shoots well, has great ergonomics and is a manageable weight for a large-frame AR. Something else to consider about using an AR for hunting is the modularity. At some point if I want a different stock, I can swap that out in minutes. If I get lazy and want the rifle to weigh even less, I could add a Proof Research carbon-fiber barrel or something similar. But for now, I don't intend to change anything. This is a great AR right out of the box.

Technical Specifications
• Type: gas-operated semi-automatic rifle
• Caliber: 6.5 Creedmoor, .308 Win. (tested)
• Magazine: Magpul PMAG 10 LR/SR Gen. 3; 10-rnd. capacity
• Barrel: 16"; Ballistic Advantage Hanson; button rifled; 1:10" RH twist; threaded muzzle
• Gas-System Length: mid-length
• Trigger: Timney curved short two-stage
• Sights: none; full-length Picatinny rail for optics
• Safety: Stag Arms ambidextrous selector
• Stock: Magpul CTR-Pursuit Leather Edition; 10.8"–14.6" adjustable length of pull; Stag Slimline handguard, 13.5"
• Metal Finish: Midnight Bronze Cerakote
• Overall Length: 34.25"-37.25"
• Weight: 7 lbs., 12 ozs.
• Accessories: none
• MSRP: $2,199; stagarms.com