by
posted on October 30, 2023
Support NRA American Hunter
DONATE
Chassis rifles are commonplace in shooting competitions, tactical applications and even as hunting rifles, and for good reason. They are usually very accurate, being built from the ground up with features such as heavy, free-floated barrels, and they have rigid stocks and bedding systems. Most also have a significant degree of modularity, which adds to their functionality. Because they're usually machined from solid aluminum, the bedding is impervious to environmental factors. From an ergonomic standpoint, chassis designs have a pistol grip configuration and a lot of adjustability, which is well suited for shooting prone from a bipod or from a tripod.

However, some of the features that make chassis rifle systems accurate and useful also work against them from a hunting rifle standpoint. An all-aluminum chassis and a heavy barrel tends to be, well, heavy. The pistol grip configuration isn't necessarily as comfortable in every shooting position as a conventional rifle stock, such as shooting from a pack or bag where height above the ground may be minimal. Adjustable cheekpieces and protruding pistol grips also can get hung up on straps, gear, etc. Last time I checked, a heavy rifle that can snag on things and maybe isn't comfortable to shoot in some positions doesn't exactly scream "pick me" to take hunting. Christensen Arms makes chassis rifles and hunting rifles with conventionally shaped stocks. It seemed like a natural direction for them to combine the two in an attempt to offer a rifle with the best of both worlds. Their new MHR, or Modern Hunting Rifle, is the result of their effort.
So, what is the MHR? Well, it's a carbon fiber-barreled, bolt-action hunting rifle that combines a partial chassis with a conventional, and modular, buttstock and fore-end. It's a hybrid between a chassis rifle and hunting rifle. The machined aluminum chassis makes up the center section of the rifle stock, running from the back of the action to about a few inches past the front of the action. The buttstock and fore-end are securely bolted to this center chassis. There is zero movement in the stock setup. The stock and fore-end are made using the company's Flash Forged Technology, which is omni-directional carbon-fiber strands and resin formed in a compression mold. This makes strong, lightweight parts in shapes it would be difficult to produce with a layup or prepreg carbon-fiber manufacturing process. Our test rifle weighed approximately 7.5 pounds. It is an interesting looking rifle. If Darth Vader had a hunting rifle, it would probably look like the Christensen MHR bolt action.
MHRs are currently available in short and long actions in a selection of cartridges for bougie and boomer alike, specifically 6.5 Creedmoor, .308 Win., 6.5, 7 and 300 PRC, 6.8 Western, 7mm Rem. Mag. and .300 Win. Mag.
The MHR feature list is strong and reflects its nature as a hybrid competition-hunting rifle. The action is Remington 700 compatible regarding stocks, scope bases and other common items. That said, the MHR is obviously not a Remington 700 action. It is solid on top, making it more rigid—aiding accuracy—and is topped by a single-piece, Picatinny scope base. It utilizes a Sako-style extractor and dual plunger ejectors. Extraction and ejection are not an issue with the MHR. It does use a two-lug bolt with a 90-degree throw that will be familiar to most shooters. The two-position safety does not lock the bolt closed, but that means you can work the action to load and unload the rifle while it is on "safe." Our test rifle, in 6.5 PRC, has an internal box magazine that holds three rounds. A detachable box magazine is also available. The carbon fiber barrel keeps weight down while also allowing the barrel to cool off quickly. It has a very effective muzzle brake made from titanium.
Aside from the fact that the stocks are a two-piece affair made from carbon fiber, they also have some additional well-thought-out features that deviate from most standard hunting rifles. The adjustable cheekpiece is easy to move up and down and locks in place with a push button, no tools required. An aluminum Picatinny rail section graces the bottom tip of the fore-end. This is great for using some of the high-quality bipods on the market that attach to a Picatinny rail instead of the traditional sling-swivel stud. Both the fore-end and buttstock have push-button QD sling swivel cups, bringing the rifle's sling options and functionality into the current century. M-LOK slots grace both sides of the fore-end, allowing the user to attach accessories as needed. The stocks are also modular, meaning that when Christensen Arms releases new variants (they are on the way), you can easily swap them out to suit your shooting style.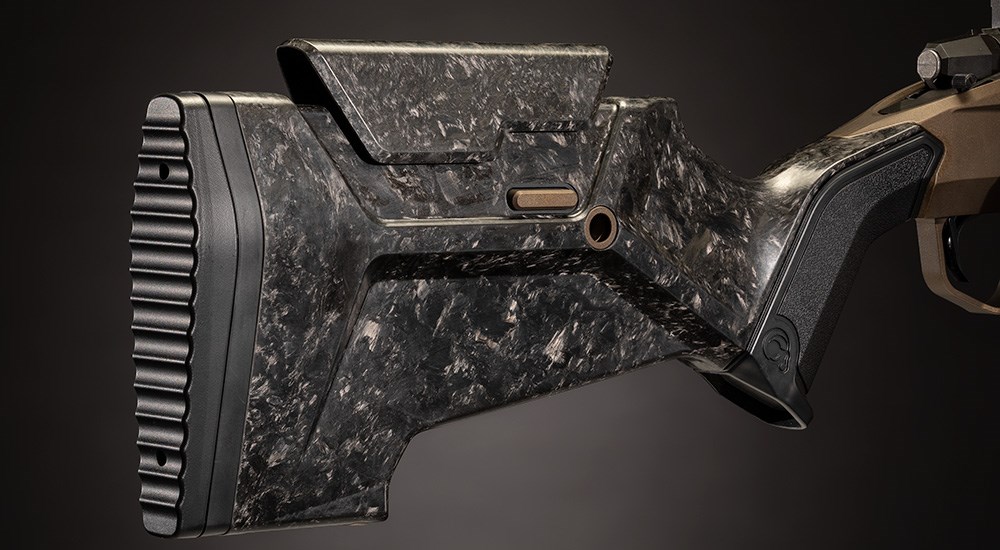 The rifle has some great features, but they're all for naught if it doesn't shoot well. The testing setup was a Leupold Mark 5HD 3.6-18x in Leupold 35mm rings. I used Hornady, Nosler and Barnes ammo.
Accuracy was on par with what you would expect for this genre of rifle. Most of the groups were just under an inch, which is good, because Christensen Arms gives a sub-MOA guarantee. For a rifle with an MSRP of $3,499, that seems like a reasonable expectation. One thing to note however, this is a hunting rifle, not a tactical or competition rifle. Once the barrel gets hot, the accuracy does open up a bit. It's not ghastly, but it's something to keep in mind. Group size stayed the same or slightly improved while using a Silencer Central Banish Backcountry suppressor.
As well as accuracy testing, I took the rifle into the coastal mountain range to shoot from a tripod and from some stumps to see how it felt and functioned. Overall, it was great. Loading and unloading was easy, even with cold wet hands and gloves. The action is smooth, and it was easy to keep on target while cranking in another round. The ergonomics are good, too. The rifle was easy to get behind and shoot, even in some less-than-ideal shooting positions, although the carbon-fiber fore-end is smooth and slick when wet. Some texture in this area would be an improvement. The adjustable cheekpiece is great because you can move it up and down to get proper eye alignment when going from prone to shooting with your head in a more upright position such as shooting from a tripod.
Overall, the MHR is an exciting rifle. It shoots well and sports features that I appreciate because of my competitive shooting experience. The mini-chassis format should help the rifle maintain consistency in all climate conditions. It's not light by hunting rifle standards, but it's not heavy either. It is, however, light by chassis standards, and that's the whole point—getting a rifle that has the benefits of a chassis as well as some of the ergonomics and weight of a conventional hunting rifle. If that sounds like something you're looking for, then you probably want to check out the Christensen Arms MHR.

Technical Specifications
• Type: bolt-action centerfire rifle
• Caliber: 6.5 Creedmoor, 6.5 PRC (tested), 6.8 Western, 7 PRC, 7mm Rem. Mag., .308 Win., .300 Win. Mag., 300 PRC
• Magazine: internal w/hinged floorplate; 3-rnd. capacity (6.5 PRC)
• Barrel: 22"; carbon fiber; free-floating; button rifled; 1:8" RH twist; threaded muzzle ⅝"x24; muzzle brake 
• Trigger: TriggerTech; single-stage; 3 lbs. pull weight
• Sights: none; drilled and tapped for 700-pattern optics bases; Picatinny rail included
• Safety: two-position lever
• Stock: FFT Carbon-Fiber; modular, adjustable comb; black hard-coat anodized w/Cerakote (brown, black or tungsten); adjustable LOP
• Metal Finish: black nitride
• Overall Length: 43.5"
• Weight: 7.4 lbs.
• Accessories: stock spacers
• MSRP: $3,499.99; christensenarms.com