by
posted on February 17, 2017
Support NRA American Hunter
DONATE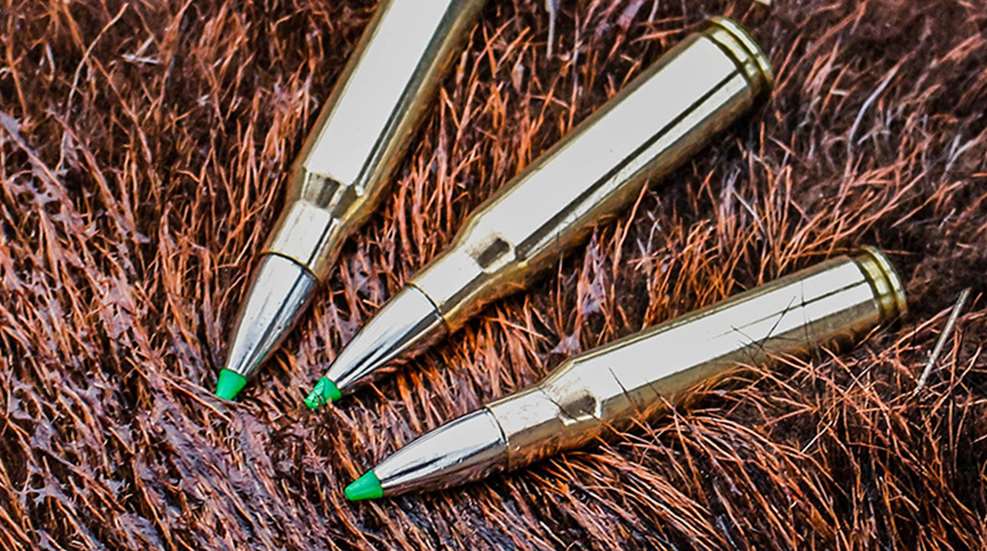 My phone rang—or buzzed, or chirped, whatever—and on the other end was my good pal Ron Petty, from Norma USA. In his no-nonsense manner of speaking, a manner which I truly appreciate, he told me what we were about to embark on. "I need you to join me down in Texas, at the Champion Ranch, to test some new ammunition from Norma. We'll be hunting fallow deer and blackbuck. Sound good?"
Well, Ron didn't have to ask twice; I've always admired the little spiral horn antelope from India, and Norma ammunition has always been a personal favorite of mine. We met in Austin—Ron, myself, and fellow gun writers L.P. Brezny and Jon Sundra—and drove northwest for a couple hours to Brady, Texas. Along the way Ron explained the new ammunition we'd be testing on this hunt. "Norma's developed two new bullets, the TipStrike and the EcoStrike. Our TipStrike is an orange polymer-tipped, flat base, lead core bullet, while the EcoStrike is a green polymer-tipped copper bullet. These have shown excellent accuracy in our testing, as well as proper terminal performance. I think you guys are going to like them."
Brezny and Sundra would be hunting whitetail deer, while Ron and I would be hunting fallow deer and blackbuck, respectively. We met the good folks at the Champion Ranch—an 8,000-acre slice of heaven located in the exact center of Texas—and got a tour of the grounds. I'd be hunting with a Champion Arms rifle in .300 Win. Mag. and 170-grain TipStrike ammo, while Ron would be using his .308 Win. and the 150-grain EcoStrike stuff. It was apparent, while we checked the zero of our rifles, that Norma's new projectiles were certainly accurate; it took very few shots to zero, and the groups that followed were under or at one MOA. We were in business.
My blackbuck hunt was a spot-and-stalk affair, in the hills that were equal parts open mesquite woods and thick brush and cedars. It was no easy affair, as Champion has many different species on the ranch; sometimes the wind would change to ruin things, other times it was the kudu or a rogue blesbuck that would catch us off guard and blow the stalk. It was fantastic though, to see those African species that I love so much, as well as other rarities like the Pere David's deer and barasingha in Texas; operations like the Champion Ranch that allow us to hunt an animal like the blackbuck or barasingha, as there is no hunting in their native environment. My guide Gerhard and I finally spotted a good blackbuck ram, with a harem of females, but that morning it wasn't meant to be. A female spooked, and our ram followed, and try as we may we lost him. We backed off and decided to return later that afternoon. A bit of rain had passed through, and the sunny skies that followed seemed to have game of all sorts out feeding. We spotted a blackbuck ewe, and stopped to glass for the ram. He showed himself shortly, and at first we had no shot, for fear of a pass through and a wounded ewe. We waited for him to clear, but he slipped into the thicket. We used a game trail for quiet walking, for maybe 100 yards, when to my surprise, the ram stepped out of the thick patch again. I got him in the crosshairs of the Champion Arms rifle, broke the trigger, and that old ram fell out of the scope. Blackbuck are not huge animals, and the shot was a complete pass through, with no chance to recover the bullet for examination. However, it was an instantaneous kill.
The TipStrike performs as a polymer tipped spitzer should, and I like the flat base design, as it helps keep the tapering jacket and core together. The expansion is rapid up front, and slows as the jacket thickens toward the base. I can see the TipStrike being the perfect deer bullet, as Brezny and Sundra both found out; they each took wonderful deer at Champion, with a one shot each.
Ron had much the same experience with his .308 and the EcoStrike ammo, when he took both a fantastic chocolate-colored fallow buck and a Corsican ram, each with one shot. The EcoStrike is perfect for those areas where the use of lead core ammunition is prohibited, and like so many monometals, their weight retention is very high. Expansion is reliable, even at longer ranges when velocities slow down. For those who embrace the monometal bullets, the EcoStrike is a dependable design, with the consistency that is associated with the Norma name.
The TipStrike line is available in .308 Win., .30-'06 Sprg., .300 Win. Mag. and .300 WSM, all loaded with 170-grain bullets.
The EcoStrike is available in 7x64mm, 7x65R, 7mm Rem. Mag., .308 Win., .30-06 Sprg., .300 Win., .300 WSM, 8x57 JRS, 8x57JS, 9.3x62mm and 9.3x74R.
Based on the successes of the other proprietary bullets from Norma—the semi-bonded Oryx and the Kalahari—I'd be willing to bet the TipStrike and EcoStrike will make a lot of believers in the near future.